Want to discover the best Clickbank alternatives for affiliate marketers right now? Then you're in luck because that is exactly what this article is going to teach you.
The Clickbank marketplace has been a staple of the affiliate marketing industry for many years. However, as the internet evolves and more changes are happening all the time, it is important to have an idea of what Clickbank alternatives exist in order to continue growing your business. In this article, we will discuss 10 Clickbank alternatives that you can use to replace or supplement ClickBank!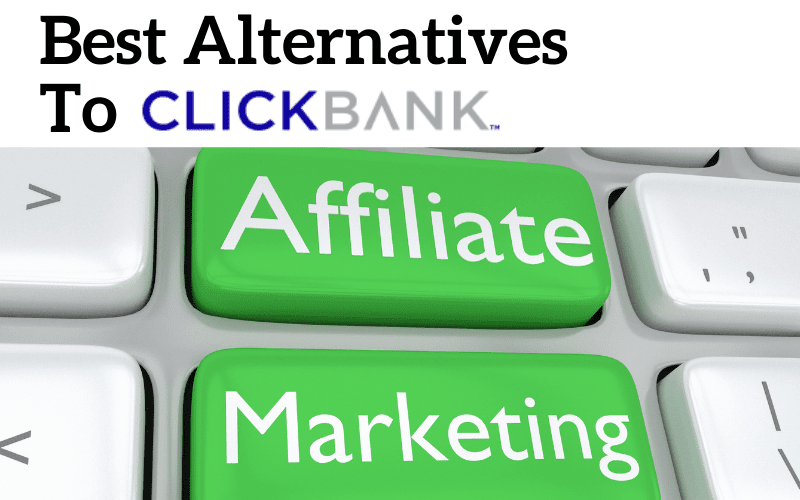 What is Clickbank anyway? A Brief History
ClickBank is an affiliate company that provides a marketplace for digital products and services. ClickBank offers access to over 50,000 products from thousands of vendors across the web who use their service to sell things like software, online courses, or music downloads.
You can also buy advertising on Clickbank's website if you have something to offer in return such as your own information product or course package etc.
The best part about this market place though is that it allows anyone with any type of business model (not just those using affiliate marketing) to effortlessly publish digital content and make money!
Since its inception back in 1998, Clickbanks' reputation has continued to grow because of the fact that they pay commissions upfront instead of having to wait weeks or months before getting paid. They are super trustworthy.
What are the PROS and CONS of Clickbank?
There are also plenty of positive things about Clickbank! One great thing is how flexible their system is, meaning that nearly anyone can participate without any previous experience (you don't need to know HTML code).
Clickbank PROS:
Clickbank has a large selection of digital products to choose from. You can find anything your customers might be looking for!

The commission rates are higher than most other affiliate marketplaces, which is great because it means you will make more money in the end. They also offer payouts upfront and not on some kind of recurring payout schedule like some other companies do which makes managing cash flow easier.

Clickbank's reputation speaks for itself as they have been running strong since 1998 with zero downtime or security breaches (which is really rare these days!). Everyone knows that when we're talking about our business; trustworthiness just cannot be compromised.
Clickbank CONS:
There are easily some things that could be better with Clickbank.
Firstly, Clickbank's customer service is a little slow. The slow response time and limited resources make them less helpful than other companies with 24/hour support lines and more knowledgeable staff members available at any given moment.

Secondly, they are not nearly as active on social media when it comes to answering questions. They don't have the best presence on Instagram or Twitter where you can usually find all kinds of answers in real time from other users just like yourself; making it hard to reach out if something goes wrong because there will always be someone else.

Lastly, Clickbank does not offer an affiliate program of their own which might be disappointing for some people who want that extra commission boost!
Top 10 Best ClickBank Alternatives To Make You Money
ClickFunnels: This is a product of one the most popular software companies in all of Silicon Valley, and it has been called "the world's best eCommerce sales page builder. It will allow you to build high-converting landing pages that are designed for maximum conversions. Clickfunnels does not offer affiliate marketing like ClickBank, but they do have an easy way to integrate with other platforms you use such as WordPress or Wix.
Leadpages: This company produces some of the highest-performing conversion capturing tools on the internet today. They specialize in creating lead generation forms which can be used by both affiliates and marketers alike. They have a good affiliate program and should be on your list.
Unbounce: If you are looking for landing pages that convert (and look really nice), then this is the platform to use. They have some of the best converting templates around and you will be able to build your page quickly without any coding skills needed.
Instapage: The beauty of this system is that it was designed by marketers so it has everything an online marketer needs in order to capture leads – including great lead generation forms and conversion tools like popups.
Legendary Marketer is a high ticket affiliate program where you can make huge commissions from each sale. I would say this is the best program to promote. The affiliate program offers an affiliate dashboard that allows you to promote your offers in a variety of different ways and they have some great features such as automatic drip feeds, so it is easy for affiliates to stay on top of their promotion.
JVZoo affiliate marketplace
JVZoo: This is an affiliate marketplace which means that you have to be accepted as an affiliate in order to promote their products. I would recommend this if your audience has a high buying intent because these are usually the people who want information on making money online and they're willing to spend more than most others. Plus, it's really easy to use with lots of different options for promoting content too!
JVZoo vs Clickbank
JVZoo offers an affiliate dashboard that allows you to promote your offers in a variety of different ways and they have some great features such as automatic drip feeds, so it is easy for affiliates to stay on top of their promotion.
Clickbank's marketplace isn't just restricted to products from JVZoo either – there are tons of other merchants out there who use Clickbank too which means you're going to be getting access to more traffic than if you were using another service provider alone.
ClickBank has been around since 1998 and was one of the first marketplaces designed specifically for promoting digital goods online like ebooks and software packages back when people weren't really buying these types of things yet (no Amazon or iTunes at that time). Today they are somewhat lacking in some areas, but all in all, it's a great way to make money.
Why choose JVZoo as a Clickbank alternative?
JVZoo has a ton of great Clickbank product alternatives for affiliate marketers. One reason we love them is that they have more than just digital products in their marketplace – which means that you're going to be getting access to lots and lots of new traffic sources as well! JVZoo also provides constant support, tutorial content, daily deals on popular items, and so much more.
We think one of the best things about JVZoo is how easy it is to get started with your own offers (you don't need any technical knowledge!).
You can start out by simply uploading an offer or even using someone else's lead capture form template if you want it all done for you. They also provide free training videos and so much more.
CJ Affiliate marketplace
In terms of affiliate marketplaces, there are a few different players in the game that you can use to promote your offers. CJ has been around for quite some time and continues to be an excellent option for those who want access to high-quality products at competitive pricing with no monthly subscription fees or hidden costs!
What's great about this particular company is that they offer more than just digital products – which means that you're going to get lots of new traffic sources by using them as well. They also have tons of other features like 24/365 support, live chat, detailed statistics on sales data, etc.
CJ Affiliate vs Clickbank
One of the biggest reasons that CJ Affiliate is a great alternative to Clickbank is because they offer a lot more than just digital products. This means you'll get access to new traffic sources and be able to promote your offers in various formats like audio, video, e-books as well as physical items!
When it comes down to comparing these two affiliate marketplaces though, there are some differences between them that can make one better for certain needs or purposes over the other.
For example, Clickbank charges their sellers either $60 per month (for only 20 clicks) or 56% commission on every sale – whereas with CJ Affiliate there's no monthly subscription fee and what commissions you pay varies depending on whether you're an individual or business.
I have to say that there are some things I don't like about CJ. The biggest dislike with CJ is that the affiliate dashboard is not very user-friendly and can be difficult to navigate. Clickbank on the other hand has a more streamlined, easy-to-use platform for affiliates in which it's much easier to find your way around – plus you also have access to everything you need at one glance!
When I'm looking for a new place as an affiliate marketer, however, my decision will largely depend on what type of customer or traffic source I want (ie: US or international) and how much work experience I've had with each company.
If you're still trying to decide between these two eCommerce giants then here are some final points that might help make up your mind.
WarriorPlus affiliate marketplace
WarriorPlus is a Clickbank alternative that offers various e-commerce tools for affiliates to use. One of the great things about Warrior Plus, in particular, is how they offer multiple ways for you to promote your links and make money on them: through solo ads (a campaign where an affiliate sends traffic to their own link), co-ops (where other marketers work together), or PPC campaigns with Google Adwords. You can also create landing pages that will help convert more people into buyers!
Another great thing about WarriorPlus is what's inside its warehouse of products – it's got everything from video games and software programs all the way down to weight loss supplements and beauty creams! They offer over 40 different categories so there are lots of products to choose from.
Udemy affiliate program
The Udemy affiliate program lets you earn a commission by promoting and selling courses on their site. The best part about the Udemy affiliate program is that it's open to anyone with an internet connection. All you need is a link to share your referral code!
What I also like about the Udemy affiliate program is you can customize your own unique page and banner to promote the courses.
You're probably wondering how you make money from Udemy's affiliate program, right? It's really simple – just add a link on your site that directs people back to any course they want! The company then pays you for each new user who purchases the course using your referral code.
If you have an email list or social following, it's even easier because all of those followers will be notified about the deal when they sign up through your link. Just imagine if one of them tells their friends about this great opportunity…your potential earnings would go up significantly!
Market Health
Market Health is a popular affiliate network that funds hundreds of health and beauty products. The company was established in 1998.
The first stop for any affiliate marketer should be Market Health. With hundreds of products, the company is a great partner to help you make money with Clickbank alternatives.
MarketHealth offers an intuitive dashboard that has tons of features like real-time sales data and clicks statistics (which gives you insight into where your clicks are coming from). There are also options for uploading videos or images to promote these products.
You can create campaigns by product type as well as country, which helps target specific markets and demographics – it's easy! The network also runs contests throughout the year in order to increase its reach among affiliates.
Maxbounty one of the better CPA affiliate networks
MaxBounty offers a wide range of different types of targeted products to promote. This means you have more control over your affiliate marketing campaigns and what type of traffic you want to attract in order to make money with Clickbank alternative networks like this one.
Maxbount also has a strong reputation as an effective network, which is important for CPA marketers who are looking for high-quality leads that will turn into conversions.
The company guarantees their affiliates the highest payout rates on all purchases made through their site (currently at 70%), but note that there may be some exceptions depending on the terms listed in each offer's individual contract. They even provide free tools such as LTV calculators and ROAS calculators, so they really care about their affiliates.
Final words on Clickbank alternatives
So, which Clickbank alternative would I recommend? Well, that depends on what type of affiliate products you like to promote. If high ticket sales are your goal then Legendary Marketer is the way to go. But if you're looking for a wider variety of product types and categories with excellent customer service, JVZoo may be more up your alley. Either way, there's no shortage of good options out there so it won't hurt to do some research before making a final decision!