Welcome to our Aweber pricing plans overview. In this article, you will learn everything you need to know about this email marketing and autoresponder tool. Aweber is one of the most known email marketing tools available for entrepreneurs and small business owners around the world.
Did you know that Aweber was founded way back in 1998? I bet you didn't know that. That is how long this company has been in the email marketing game. So let's start discussing the price and the many impressive features that Aweber has to offer.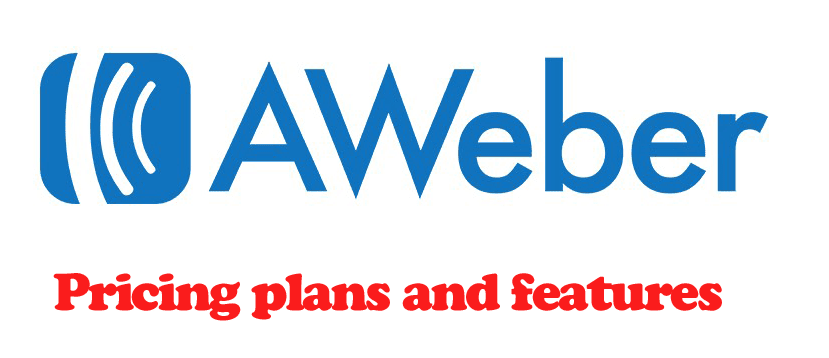 Aweber Pricing Plans Overview
All the people who want to start using Aweber can try out the 30-day free trial offered. During this time period, you can analyze the features that you will be getting for the amount of money you spend. Based on that, you can come up with the decision to buy one of the premium plans offered. The premium plans will provide you with the chance to experience the maximum out of these email marketing tools.
There are three main premium pricing plans offered by Aweber
The biggest difference that you can find among premium plans is the number of subscribers. Here's a quick overview of the three premium plans offered.
Aweber 500 subscribers pricing plan – $19 per month
If your email subscribers are under 500, this is the right plan available to proceed with. You can send an unlimited number of emails to them. All the email automation and segmentation capabilities are available to you as well. On top of that, you can receive email analytics. However, this plan doesn't provide you with the chance to maintain multi-user accounts.
Aweber 501 – 2500 subscribers pricing plan – $29 per month
If the number of email subscribers you have is between 501 and 2500, this will be the perfect plan available to proceed with. It also offers unlimited email marketing capabilities. On top of that, you can get email automation, email segmentation, and email analytics features as well. It doesn't offer multi-user accounts.
Aweber 2501 to 5000 subscribers plan – $49 per month
The third pricing plan offered by Aweber would help you to have up to 5000 subscribers. You will need to pay $49 per month on this plan. It provides unlimited email sending capabilities with automation, segmentation, and analytics.
You can pick the best plan out of these and proceed to make your payment. Payment can be made with debit cards, credit cards, money orders, and checks. On top of that, you will be able to receive a discount by paying on an annual or quarterly basis as well.
After starting any of the subscription packages, it is very easy to either downgrade or cancels your account at any time. There is an option available in your Aweber account settings that say "close my account". You can simply select it and close your account at any given time.
If you paid for Aweber and if you used it just for one day, there is a possibility to get a refund as well. All you have to do is to get in touch with customer support. Then you will be provided with additional information related to refunds.
Features of Aweber – Worth the cost?
Before you get your hands on Aweber, you should compare the features offered by it with the amount of money you spend. Then you can figure out whether this is the worthiest email marketing tool available for you to consider as well.
The following are the most prominent features that are available to you with Aweber. It is also important to notice that the number of features offered along with Aweber is increasing along with time. You just need to keep an eye on future updates.
| | |
| --- | --- |
| | |
| | |
| | |
| | |
| | Yes, around 700+ templates |
| | |
| | |
| | |
| | |
| | Yes, easy to move to Aweber |
Easy to use email campaign builder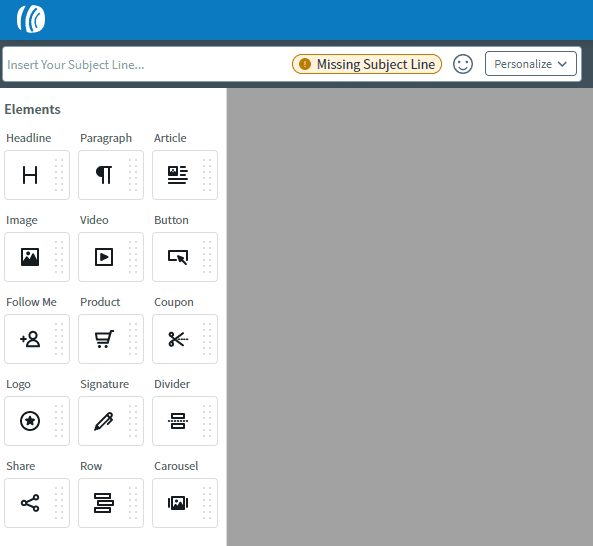 The email marketing campaign builder offered by Aweber is extremely easy to use. You don't need to be a technical person to use it. That's because you will be provided with a drag and drop interface. By using this interface, you are provided with the freedom to create email marketing campaigns according to your preferences. It is extremely easy to use.
There are three main features available to you with the drag and drop interface. They include a message, apply the tag, and wait. Along with these features, you can create a basic autoresponder as well. Moreover, you can get hold of some advanced automation capabilities as well.
The add or remove tag can be used based on the action of the subscriber. For example, you can configure it to trigger when a subscriber clicks on a link to your email or opens it. It will help you to trigger a new campaign based on an email marketing campaign that you run.
Even though Aweber is designed for entrepreneurs and small business owners, you can find many advanced functionalities inside the drag and drop builder. You just need to learn how to use the different functions.
Aweber email builder templates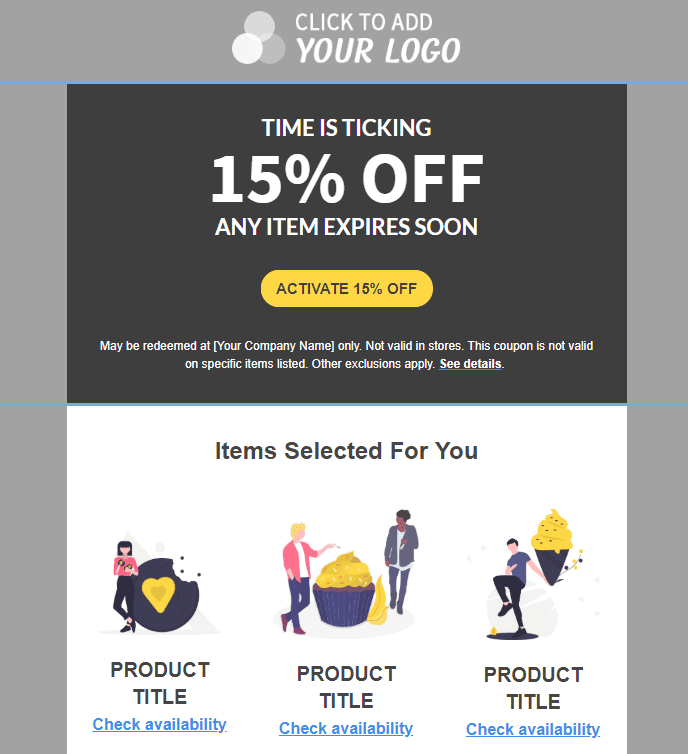 Here you can see what a typical email template inside Aweber looks like. They are clean and easy to modify to your own liking. Since everything is built around drag and drop, you can move all the different elements around. There are many different styles of templates and you can also code your own templates if you know how to do that.
Split testing
Split testing is one of the recently launched features of Aweber. You will be able to use this tool and optimize the results that you are getting out of the email marketing campaigns that you run. This feature will help you to determine the percentage of subscribers who should be sent out with each email. You are provided with the chance to select up to three different emails with this option.
The split testing feature is not as advanced as you can find with other email marketing tools. However, it will help you to get the basics correctly set up. Therefore, you can use it and figure out the best approach that you should follow in order to get connected with your audience.
Integrations
Aweber provides you with more than 850 different integrations. These integrations will help you to get maximum results out of the email marketing tool. For example, you can integrate Aweber with the eCommerce platforms that you use such as Shopify, WooCommerce, and BigCommerce. On top of that, you can integrate it with the website builders, such as WordPress, Weebly, Wix, Joomla and so much more.
If you want to automate emails with SMS, you can integrate Aweber with the SMS platforms such as CM Telecom SMS and Callfire SMS. It also provides compatibility in integrations with social media platforms such as Twitter and Facebook.
Email signup form builder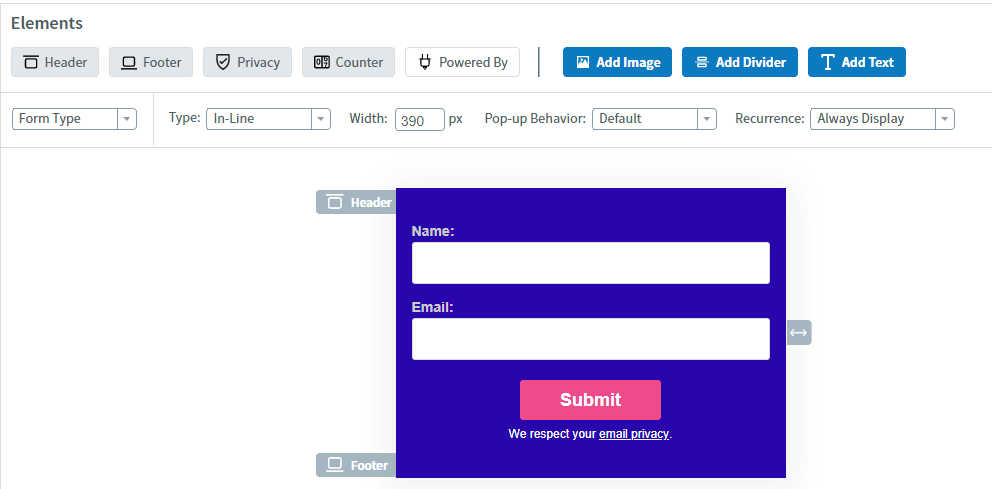 The signup form builder inside Aweber is highly customizable and easy to use. The default form templates provided to you with Aweber are not very appealing. So if you know how to use CSS and simple coding, you can make the forms look the way you want. The default templates get the job done though. It will help you to transform the appearance of the forms and design them according to your specific preferences.
Aweber Mobile App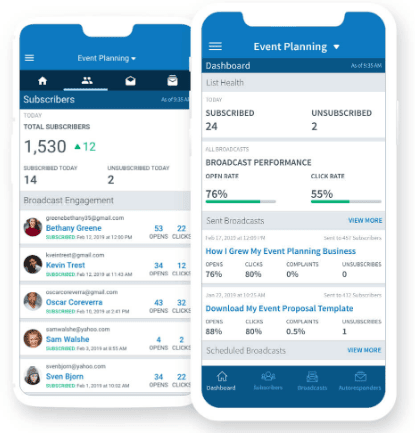 Mobile applications are a new feature of many email marketing platforms these days. You can download an easy-to-use mobile app with Aweber too. This mobile app is compatible with both iOS and Android.
The mobile app is something that you should have installed while managing your email marketing campaigns with Aweber. That's because it can provide you with the chance to get maximum results out of your email marketing campaigns. For example, you can take a quick overview of the statistics of your email marketing campaigns with the mobile app.
One very useful function is that you will be able to add new subscribers to your campaigns manually from the mobile app. In fact, the mobile app can help you to get all the basic features done on the go.
Comprehensive opt-in control
The opt-in control feature offered to you with Aweber is outstanding. That's because you can determine whether the new subscribers to your email marketing campaigns need single opt-in or double opt-in. You can get the most out of this feature when you have high-quality subscribers. That's because you can go ahead with a single opt-in and get maximum sign-up conversion rates at the end of the day.
FAQ (Frequently Asked Questions)
Is there a free Aweber plan?
No, unfortunately, there is no free account. You can however get a 30-day free trial.
Can I change my pricing plan later?
Yes, you can visit the billing section anytime you want and change your pricing plan with Aweber.
Does Aweber have any discount or coupon codes?
Yes. There are some discount options. Students can get a 20% discount and Non-profit organizations can get 3 months free and then a 25% discount after that.
Aweber Review
Verdict
Reliable email marketing service that is very easy to use for anyone.
Aweber Pricing – Final words
When it all comes down to it, this is an excellent email marketing tool. Entrepreneurs that are into blogging, e-commerce, consulting, affiliate marketing, etc. will find it easy to use. People doing affiliate marketing will especially like Aweber since they are just fine with adding affiliate links in emails. The pricing plans are ideal for small to medium-sized businesses as well.
You will find it an easy task to afford one of the Aweber pricing plans and start experiencing the benefits offered by it. Once you start using it you will not need to get the help of an expert to manage your email marketing campaigns.
That's because the tool is extremely easy to use. The interface is self-explanatory and is great in this aspect. Considering all the features you are getting, the cost is definitely worth it.
Aweber provides you with complete control over the subscribers. You can allocate multiple tags to the subscribers that you have. You can also automate this functionality and add the tags.
Along with that, you can start sending out customized emails with minimum hassle. There are many email templates to choose from, so you will find one that you like in no time. You can try it out for free and see how you like it.