Here is our complete, honest, and extensive Builderall review on why this software needs to be given a chance. If your online business is going to have a chance on thriving in this digital age, you need to stay on the cutting edge of new technology.
There are a great amount of different internet marketing tools, plugins, and services to choose from. Today you are about to learn why Builderall could replace some of your current tools and become the next best thing.

A Marketing Tool That Will Make Your Life Easier
The main disadvantages of relying on too many internet marketing tools and services are many. If you have a tool for SEO, website design, and email marketing, it is costing you both time and money. It can be a frustrating experience managing so many tools at once.
By coming to this review you might have already heard about tools like ClickFunnels used for sales funnel building. This widely-known funnel builder costs about $97/month or $197/month. Builderall on the other hand has many of the same features but comes at a lower price point.
It is because of the disadvantage of having to acquire and switch between numerous separate online marketing tools the reason why there has been the creation of a solution in the form of Builderall. This digital marketing platform has been specifically designed for digital marketers who do not have the time and money to opt from one marketing tool or service to another.
The History Of Builderall
The digital marketing platform is a creation of Erick Salgado and it was introduced in 2011. The platform is an all-in-one solution since it has been able to incorporate numerous digital marketing and web design tools daily relied on by experienced and beginner digital marketers into its design.
Therefore, with this all-in-one online marketing platform, marketers are able to build their own sales funnels, websites, landing pages, etc.
The marketing platform enables you to run a successful and sustainable online business without a huge investment required. Consequently, this Builderall review explores its various features so that you understand what you will get with this online marketing platform.
Best Features Of Builderall
Drag and Drop Website builder.
In this our Builderall review, one of its highlights is that it is possible to create virtual stores, professional websites, lead capture pages, sales pages, or just other internet or online marketing page using the Sitebuilder which is unbelievably intuitive.

With the drag and drop technology and integrated applications adopted by Builderall, building a website you imagined has been made possible and easier. The tool fashions websites suitable for mobile, tablet, or desktop to give users unique experiences.
Professional Email Marketing
The responsive email builder is also another important highlight of this Builderall review. Using the MailingBoss feature, you are not only able to create but also automate existing and new contacts of customers.
The feature also lets you write and send unlimited emails that are highly converting and customizable quickly. The templates and campaigns can be utilized for demonstrating the value and quality of your expertise, product, and service to the people available on your email list.
The Builderall Page Builder Review
The use of this particular feature allows the managing of pages within the minimum possible time. The tool helps your online business or service to be organically visible in top search results of search engines like Google and that is possible because of its optimized system.
Presentations Builder
Using this tool, you are able to create professional website digital presentations for communicating with your website visitors in an interactive way. Its working is similar to PowerPoint with the exception being that a presentation builder offers you more options.
Floating Video Creator
As the name suggests, using this tool enables your created video to float on your site.

Animated Video Tool
This tool is for creating full animated videos that can be used for promoting your business. This tool enables you to use different effects such as animated pictures, text, and sound for creating an animated video.

App Creator
You can use this app-building tool to design and build apps for not only yourself but also for others. To make money with your created apps, you have to create an account with Amazon, Apple, and other app stores.
Sales Funnel Builder Software – Builderall Review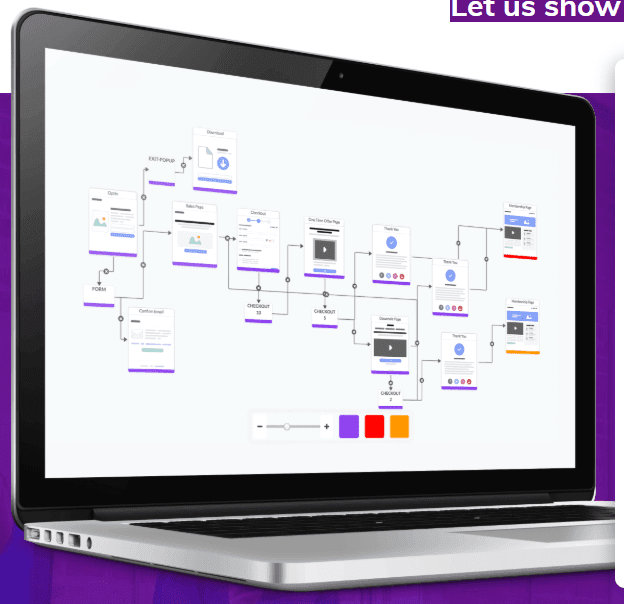 This feature is important since it helps a business build a relationship with prospects through the use of its numerous templates. The templates offer a variety of funnels that you may want to build including sales letter funnel, lead magnet funnel, and webinar funnels. Basically Builderall is a great choice for building out any type of sales funnel and therefore can be a cheaper alternative to Clickfunnels, which obviously is it's largest software competitor.
Browser Notifications
This feature of Builderall helps you inform your visitors, clients, and followers about an offer, a promotion, or even an event whenever they are online. This helps in efficient relationships forging.
Facebook Integration
This builderall review also established that it is possible to integrate seamlessly your Builderall websites with your Facebook fan page. This is important for gaining more customers and leads automatically from your Facebook followers.
Heat Map Tool
This particular tool is often available as a paid tool from other companies. This service enables you to track or monitor how your website visitors behave and this is important for eventually enhancing or increasing the conversion rate. When you know your hottest website layout area, you will know where to strategically position your Call To Action or Buy Now buttons.
SEO Tool
This tool enables you to optimize your website pages to boost your visibility in search results.

Design Studio Mockups
It is possible and easy to design incredible videos, images, and Facebook posts to help you grab attention and increase viewer action. This method use is much more effective compared with a typical Facebook post. This tool also enables you to design your own info products, e-book covers, etc.
Builderall Pricing Review
There are 3 pricing options offered for you to choose from. These monthly pricing options are:
Web Presence
This website only plan costs $9.90 per month. With this subscription package, it means you will not get MailingBoss, apps, and only connect one domain.
Digital Marketing
With only $29.90 per month, you are able to access all the different tools required for online marketing success. The features of this package includeMailingBoss, SSL, website builder, etc.
Builderall Business
This complete solution for online entrepreneurs and companies costs $49.90 per month. This package offers you all the apps and the entire platform. You have access to a webinar tool, FB chatbot app, affiliate program, etc.
Pros of Builderall review
Exceptional customer support.
Simple and easy to use platform.
Numerous marketing tools offered for business marketing.
Very affordable and reasonable pricing.
It provides unlimited web hosting.
Possible to build your own apps.
The product is catered to suit the needs of a wider audience including bloggers, digital marketing agencies, product creators, affiliate marketers, etc.
30-day free trial guaranteed.
Numerous video tutorials.
Cons of Builderall
As a fairly new tool on the market, you may encounter technical glitches.
The page builder can sometimes become unresponsive. Will likely be fixed soon.
Has an overall inconsistent feeling between the numerous tools.
Builderall Review & Conclusion
Definitely, Builderall is not a scam like some other available digital marketing products. The platform provides you will numerous tools that you would normally require to run an online business that is sustainable.
Builderall offers you the much-needed convenience in terms of getting and using different online marketing tools and saves you money that would have been incurred in buying the different and separate digital marketing services, tools, and plugins. For that reason, you should try the use of this marketing platform today.