Are you looking for a great Clickfunnels alternative? Maybe you think that Clickfunnels is a bit too expensive right now. Then this guide is going to be perfect for you, as here I will show you some of the very best alternatives on the market. You can still get a sales funnel software that is rich in features at either a cheap price or even for free!
Clickfunnels has become a highly popular online marketing tool that every marketer should at least know about. But with time, many Clickfunnels alternatives have also emerged on the scene and they are giving tough competition to Clickfunnles, thanks to their many added features.
A major plus with many of the Clickfunnels alternatives is that their pricing is much lower. Everyone likes to save money.
Luckily you don't need to worry about missing out on many features if you decide on cheaper software. Because many of the new competitors to Clickfunnels understand very well what the customers want, they are ready to give you all that you need and more. In this article, we will consider different Clickfunnels alternatives and their price and feature advantages.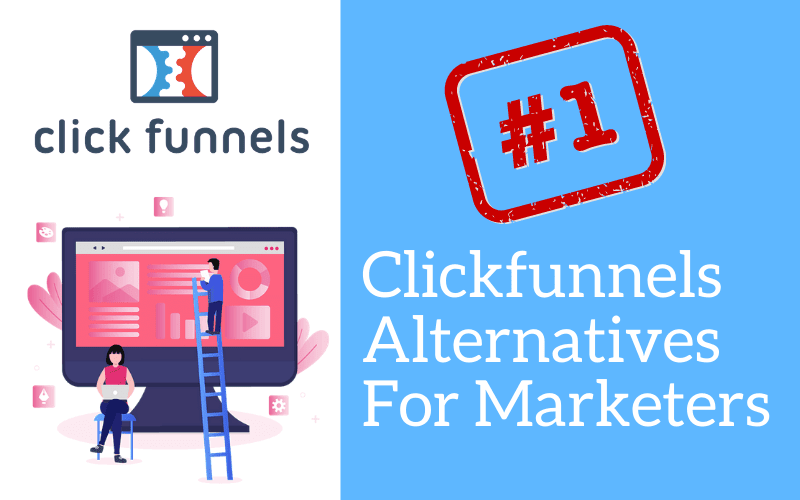 Best FREE Clickfunnels Alternative
GrooveFunnels is possibly the best free ClickFunnels alternative. The funnel does not come for free as such but you can open a lifetime account on GrooveFunnels for free and you get a lite version of the page builder and a landing page to get you started.
GrooveFunnels is a wonderful all-in-one online marketing tool. Mike Filsaime, a digital marketer and software developer who founded GrooveDigital, is the creator of this, and many other online marketing tools. It is a complete suite of online marketing tools that can help you with building sales funnels and landing pages.
It comes with landing page builder GroovePages, shopping cart GrooveSell, email service provider GrooveMail, and more. Mike Filsaime has made a reputation for being a hugely successful and master digital marketer. As a developer, he has been trying to develop software that makes starting up and scaling easy for online businesses.
Here's Who Will Benefit From Using Groovefunnels
Online marketer
Online content creator
Seller or promoter of products
Membership site
Funnels & landing pages makers
GrooveFunnels Is A Huge Suite Of Marketing Tools
GroovePages
GrooveAffiliate
GrooveSell
GrooveMail
GrooveBlog
GrooveMember
GrooveCalendar
GrooveSurvey
GrooveVideo
GrooveDesk
GrooveQuiz
Clickfunnels Alternative For WordPress
CartFlows is the best Clickfunnels alternative for WordPress as it is a WordPress funnel builder. This helps every WordPress website with more leads, better conversions, and higher profits. This makes your WooCommerce website a virtual selling machine by offering one-click sales funnels and frictionless checkout.
Cartflows Works Great For Businesses That Focuses On:
Online Courses
Event Tickets
Services
Info Product
Physical Products
Dropshipping
Cartflows is in my opinion the best Clickfunnels alternative plugin for WordPress, the world's most opensource platform.
Some of the great features of Cartflows include:
Ready Templates: You can choose from a huge range of templates. This helps you craft a professional and multistep funnel with the utmost ease. You can also build your funnel and make use of individual templates.
Use Page Builder: CartFlows works with the most popular page builders. It plans to offer templates for Elementor, Beaver Builder, Divi, and Thrive Architect. But that does not stop you from using CartFlows with your templates and builder.
Conversion Tested Checkout pages: CartFlows brings in a smooth and efficient checkout process that helps conversions and makes you more money.
Custom Thank You Pages: Cartflows offers a thank you page after your customer's checkout so that your customer does not check out too soon. Your customer's experience does not end with buying and checkout. There is more.
Best FREE Clickfunnels Alternatives
As mentioned earlier in this post I can thoroughly recommend it to you Groovefunnels. With this software, you can get started with a free account. Check out my post on Groovefunnels pricing for more on the plans. But free is always the best choice to go with if you don't need all the features it has to offer.

My second best free Clickfunnels alternative has to be systeme.io. It is a fully capable landing page and sales funnel builder that will give you everything you need too!

My third and final free Clickfunnels free alternative has to be using good old WordPress with a free sales funnel plugin. Here you can choose from these plugins:

– Woofunnels
– WPFunnels
– Cartflows
Overall Best All-in-one Clickfunnels Alternative
Kartra is the overall best all-in-one Clickfunnels alternative. It comes with a whole host of essential features that makes external integrations redundant. This includes sequence builder, email marketing, and automation. Kartra offers a translated checkout page as per the user's geographical location. It supports multiple currencies. It helps you drip the content and offer different access levels for membership sites.
With Kartra, you can create an engaging and high-value help desk. You can customize the help desk by adding your logos and images. This can help you develop trust with your members. Kartra allows you to work as an agency, meaning you can deal with many client accounts. You can manage these accounts in a single dashboard.
Kartra's page builder is powerful and helps you build beautiful opt-in forms, pages, and checkout pages. Each section and component has its own set of templates. This makes your design easy and efficient. Needless to say, this also saves you a lot of time. This feature is not common among other Clickfunnels alternatives.
Kartra's range of templates includes:
Landing pop-ups
Lead capture pop-ups
Exit pop-ups
Checkout pop-ups
Info pop-ups
Video pop-ups
Responsive editing options
The pages can be optimized for different devices such as PC, tablets, and smartphones.
Cheap Clickfunnels Alternative
Getresponse Conversion Funnel is a cheap Clickfunnels alternative. It has a multitude of pro features. With competitive pricing, offering pro features is quite a bold step. The company's services are accessed in 182 countries with nearly a billion subscribers using its services every month. That must be a hell of a lot of emails.
In terms of features, it has many more features in its email marketing bouquet than its competitors. It also offers landing pages and A/B testing. Design testing as well as video email marketing solutions are also in its bouquet.
The most interesting aspect of this Clickfunnels substitute is its Conversion Funnel feature. It's a new feature that promises traffic generation. It acts as an online store with payment processing facilities. It also offers advanced automated campaigns that are based on triggers such as location and sales.
If you buy more expensive plans, you get Webinar and CRM features, something not very common with email marketing services.
Key Features For GetResponse
Helps you capture customer leads
Helps with your eCommerce operation
Offers sophisticated automation
Choosing A Funnel Builder
Funnels are a sure way to increase your business and sales. And the greatest thing about them is that they are very easy to work with. Clickfunnels has been a market leader since its launch in 2014. For a long time, it has been a favorite marketing tool for all kinds of online businesses.
However, over time many new products have come into the funnel business. Most of these new funnel and landing page builders mimic the main features of Clickfunnels. And because of this reason, these new funnel builders are also called Clickfunnel alternatives.
In this article, you have seen 4 main different funnel builders that are either cheap or even free. So you should have no problem finding one that you like to use. These are some of the finest funnel builders and online marketing tools on the market right now.
Rest assured that these software companies will work hard on innovation to bring you more features, so it's good to keep a close eye on all of the mentioned builders above.
Final Thoughts on Clickfunnels Alternatives
There are several alternatives to Clickfunnels that you can consider. Finally below are some other popular Clickfunnels alternatives:
Leadpages: This is a landing page builder that allows you to create high-converting landing pages for your website.
Instapage: This is another popular landing page builder that offers a range of templates and design tools to help you create professional-looking pages.
Unbounce: This is a landing page platform that allows you to create and A/B test landing pages to optimize conversion rates.
Hubspot: This is an all-in-one marketing platform that includes various tools, including a landing page builder, email marketing, and CRM.
ConvertFlow: This is a marketing automation platform that allows you to create targeted campaigns and personalize the customer journey.
Thrive Architect: This is a popular WordPress plugin that offers a range of design and conversion tools for creating landing pages and other types of web pages.
Ultimately, the best alternative for you will depend on your specific needs and budget. It's a good idea to compare the features and pricing of different platforms to find the one that best fits your needs.