Are you trying to figure out how Clickfunnels hosting works, or if the hosting solution offered to you is good enough? Most know that having fast Webhosting is crucial for getting high conversion rates. But many are not also aware of how important this is for getting your sites to perform well in the search engines. One of the many great things about Clickfunnels is that it comes with blazingly fast hosting.
In this article, I will cover everything you need to know about getting your sales funnels up and running. As a marketer, it's important that you know how the tools of the trade work and operate. This includes page builders, hosting, email marketing tools, and more. Because then you can start to configure and optimize them for your business. To build a site that is successful you're looking for a number of things, from webhosting to landing page software.
Clickfunnels provides a complete suite of tools and hosting is one of these services. ClickFunnels is an internet service that allows one to build web pages focused on sales funnels.
One of the very best things about Clickfunnels is that they will host everything for you. All your content is on the same server and you don't need to worry about setting up advanced hosting settings.
This includes everything from sales funnels, email servers, split-testing software, and membership pages, etc. You will never need to install anything else, and you are really leaving everything up to Clickfunnels for handling this.
Sales Funnels Hosting
Hosting all your valuable content in one single place is quite convenient. I got to say I always prefer having my webhosting solutions as simple and fast to manage as possible. Here you don't need to worry about contacting other companies like Cloudflare to set up CDN or anything else.
And you certainly don't have to mess around with hard to understand hosting settings. The pricing for Clickfunnels is always really easy to understand, and you won't see any additional costs in your billing with regards to hosting either. They have a very flat pricing structure.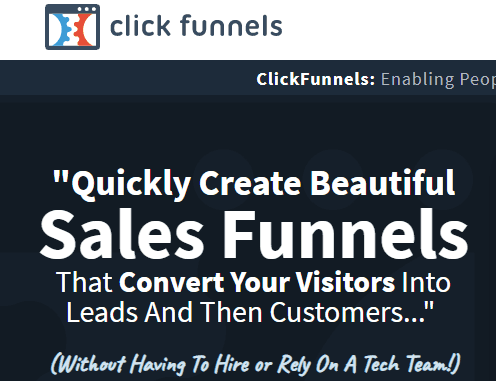 A sales funnel is an effective marketing tool that is becoming extremely popular in the online business community right now. You are helped by it to make your target customers into repeat purchasers. The sales funnel has stages, and you may tell the number of potential prospects at each and every stage.
How To Get Started With Clickfunnels Hosting
As soon as you register, you will get a unique Clickfunnels subdomain. This will be the address for all your pages until you integrate your own domain. You could buy and install your own domain directly with Clickfunnels. So you don't have to integrate a domain from somewhere else. It's all up to you really.
If you wanted, you could buy your domain from like Namecheap, Godaddy, Google Domains, or anywhere else and then point your domain to your Clickfunnels account.
Your website's landing page is usually the very first thing that your potential customers view. You need to produce an impression that is good to make it as effective as you possibly can. Clickfunnels enables you to modify and customize your page centered around what you offer. It is possible to pick the kind of funnel you want, the design, text, pictures, and videos as well.
All-in-one Marketing Tool
Clickfunnels will let you easily build sales funnels, opt-In lead funnels, launch funnels, membership funnels, homepage funnels, webinar funnels, and lots more. You will also be able to integrate many of the best tools using Zapier. Clickfunnels also enables you to create up rules for your web page. For example, you can easily set a guideline allowing only specific individuals to see communications from your own website.
You can segment customers based on the products they've purchased. Along with their location, social networking, broadcast, the stage they have reached into the funnel, and many more. The neat thing is you do in a few moments, exactly what would bring your technology group weeks to accomplish. All you are helped by these abilities to manage your web site better and boost your company.
FAQ
Does Clickfunnels include hosting with your account?
YES, they give you everything you need to host all your pages.
How do I contact hosting support?
Just contact their usual support. They cover all aspects of your account.
Does Clickfunnels host my domain too?
If you buy your domains directly from Clickfunnels, then the answer is yes.
Final Words on Clickfunnels Hosting
Clickfunnels web hosting is way better than many other website hosting services while offering great benefits. That's because you are taking full advantage of using a platform that has spent millions on upgrading their services. In order to ensure that your experience using the software is going to be as good as possible.
The landing page builder is superior to anything else in that they're giving you much flexibility. My guess is that with all the tools you are getting here, you will find that the Clickfunnels web hosting is very fast and reliable. If you are ready to get started, then just click the button below.