Want to learn how to create Clickfunnels membership sites fast? Great! Then you have come to the right place. Here I'm going to show you what you need to know about Clickfunnels and memberships. If you want to have a recurring revenue business, then this is the perfect way to do it. In fact, it's one of the best business models to have on the plant. Just think about businesses like Netflix, Spotify, Dollar shave club, Shopify, or many more. They all have in common that they get paid monthly by their customers.
Build recurring revenue with Clickfunnels membership sites
So why not start a recurring business using Clickfunnels? It's so much easier than you think, and you could get started today already. The platform will take care of product delivery and support you with all of the technical stuff. The best way to get started is to create a membership area and a sales funnel and make people subscribe to your digital products. Below you can read more on how to get started. You will also learn about many different benefits of using Clickfunnels, and get some ideas on what you can do from here. In general ClickFunnels membership sites have received a lot of positive attention, mainly because of how easy and fast they are to get started with. So don't miss out on this chance and take action today.
How to create ClickFunnels membership site
The ClickFunnels membership site will provide all the support and assistance needed by you to lock the appropriate areas of the membership website, based on what the customers of your business have purchased. Along with that, you can drip content accordingly.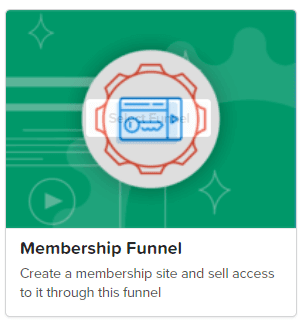 While using the platform you will have full freedom on how you develop all the funnel and membership pages. By learning from the video above, you will see how to add video courses and digital products to a membership portal inside of Clickfunnels.
In order to create your first funnel, you will need to create membership access pages, registration pages, and content pages. All the content will be fully hosted and secure by Clickfunnels. There are many ways to manage your members, but the most important thing is that you learn how to give users access to specific products. If you want to send out notifications via email, you can do this easily if you have an upgraded Clickfunnels account, or you could connect your own autoresponder software. I do highly recommend connecting GetResponse to Clickfunnels for handling all email marketing.
Free and paid membership funnel templates
You can start with a free template if you are a beginner funnel builder. Later you can consider upgraded to a paid template and set up a more advanced sales funnel and membership. We all have to start somewhere. The most important thing is always just to start. Always remember that:
You don't have to be great to start, but you need to start to be great.

– Zig Ziglar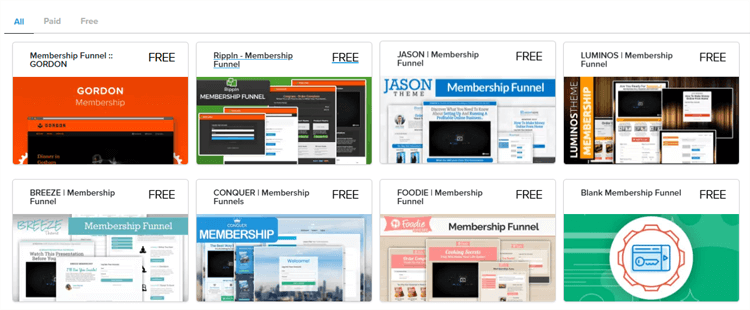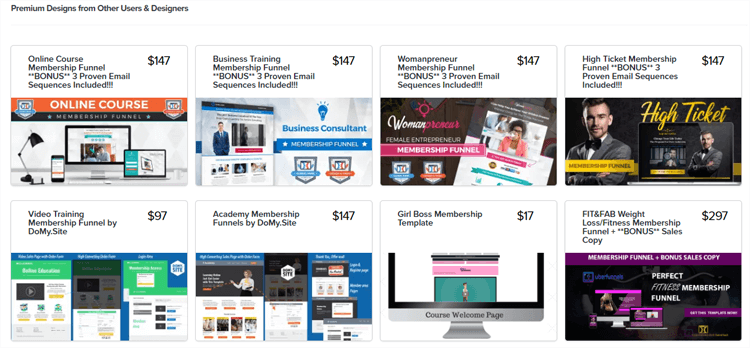 Pros of ClickFunnels Memberships
Now let's take a quick overview of some of the biggest pros of Clickfunnels membership sites. There are many other alternatives for creating a membership site, but Clickfunnels has really taken the world by storm the past years, so no one can deny that they know their stuff. After considering all these pros of creating membership sites with Clickfunnels, it's up to you if you want to go with a free trial account and try for yourself. There is no risk, only a huge potential upside.
Sell membership access with one-click upsells
By having a Clickfunnels account, you also get to sell your membership access using one-click upsells. This is the best way of selling different membership levels. You could potentially have a standard, silver, and a gold membership level, and sell each of the access levels as upsells. Clickfunnels has made the upsell process easy and users will only get access to the specific package that they buy.
You can create and scale a consistent stream of income
One of the most obvious and best pros of Clickfunnels membership sites is that you are creating a business that can easily be scaled up if you do things right. And the income is recurring, meaning you only have to acquire the customer once, and then they are locked in at the price points you set in the backend. Your first priority is to set up your products and deliver value to your customers. All the technical stuff will Clickfunnels handle for you.
Use complete and readymade membership templates
As I mentioned earlier, you can create a membership site in no-time using some of the fantastic Clickfunnels templates. All templates are proven to be high converting, so you don't need to waste time testing conversion rates. Just install a template that you like and do some minor modifications to it. Then you are good to go! If you are new to creating membership sites, you are guaranteed to love this feature.
Clickfunnels membership sites are user friendly!
If you have experienced in the past that creating an online membership can be difficult, then you are about to love this platform.
It's super easy to set up membership sites and get going fast.
The great thing is that you don't need to have any development or coding skills to create a Clickfunnels membership site. It's very easy to do if you can just funnel some simple instructions. There are free videos on youtube like the one above, or you could get more training on this on sites like Udemy. If questions come up, then Clickfunnels support will surely help you get these membership sites set up in no time.
You can easily figure out how you should be proceeding to set up the sites. All you have to do is to follow the directions and it can help you to end up with securing the results you wanted. Any person can set up membership sites on his own. After your membership site is done you will find it easy to maintain them too, and you always have access to the Clickfunnels support staff, should have any questions along the way.
You can easily grow your community
Clickfunnels membership sites make it possible for you to grow your own community of loyal customers. It's one thing to have a community with let's say a Facebook group, but having paid members is always going to be the best asset for any business.
The platform supports a great variety of payment gateways
The Clickfunnels platform supports a good number of different payment gateways. Some of these include PayPal, ClickBank, NMI, Stripe, Warrior Plus, Apple Pay, Easy Pay Direct, Recruly, JV Zoo, and Bluesnap. All you have to do is to sign up and integrate the payment gateways that you and your customers prefer using. Then you can make life easy for all your warm potential customers to make their payments and join your membership site.
What are some cons?
There are some drawbacks linked with ClickFunnels membership sites as well. The following are the most common drawbacks out of them.
No in-built video hosting
You will currently unfortunately not get an option to host your videos within the Clickfunnels platform. However, this doesn't mean that you will not be able to include any video content. You can upload the videos to a third-party platform such as YouTube and Vimeo and embed them. It works great and you will be just fine using third-party solutions for all your videos. I also can highly recommend upload videos with Amazon S3 storage.
It doesn't track the user progress
One of the most prominent drawbacks that you will encounter with ClickFunnels membership sites, is that you can't track user progress in your courses. This can be useful because you want to know how engagement is like among your members. So you could improve and deliver better content.
End user experience can be somewhat overwhelming at first
If you create a large Clickfunnels membership, then it can ultimately be a bit overwhelming experience for the end-users. This becomes especially true for mobile devices, where the experience is not that great. On desktop the experience is great though, so you have to think about how many of your customers will actually access their membership using a phone. This percentage is usually not that high anyway.
Final words
You have now seen the benefits as well as some of the shortcomings of using the Clickfunnels platform to create your membership sites. In any case, there are many examples of businesses that have created amazing revenue using Clickfunnels. So there is no excuse for not giving it a try. If you start today you could have your first sales funnel and membership business up and running in just hours from now. Let me know if you have questions or if you need help getting started on your journey. I wish you all the success in the world with this amazing opportunity!