Are you thinking about getting a sales funnel builder? Then this Clickfunnels pricing plan guide will be of great help. As you might already know, Clickfunnels is one of the most innovative funnel builder solutions on the market today. In the past, these kinds of tools would cost you an arm and a leg to get started with.
But the great thing about Clickfunnels is that it is very affordable. There is a small investment you need to make, but this guide will show you everything you get.
Clickfunnels Pricing Table
| | |
| --- | --- |
| | |
| | |
| | $97 per month to $297 per month |
| | |
| | |
| | |
What Is Clickfunnels?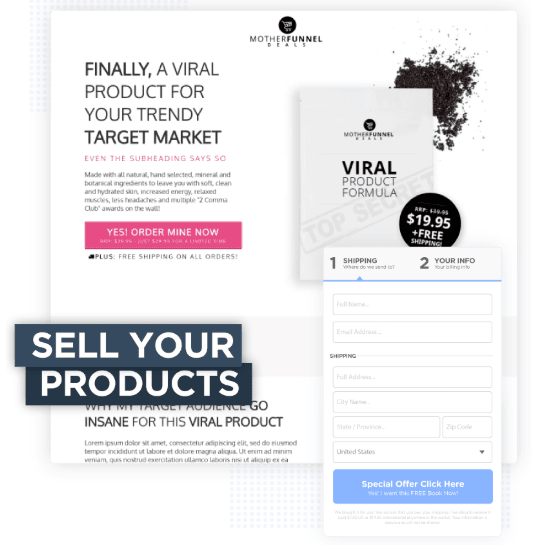 ClickFunnels is an online software tool that comes with integrated systems offering features for eCommerce. These include building up webinars, sales pages, landing pages, billing pages, and others. With the help of customizable templates, you can get the right funnels and pages you want for your business campaign.
ClickFunnels allows people to take an idea or a product, and quickly make a complete sales funnel in just minutes. What if you could launch your product to the market the same day the idea popped into your head? Wouldn't that be great? Well, this is very much possible with this fantastic funnel builder software.
One of the biggest pitfalls of business, in general, is being a perfectionist. That is in combination with overthinking the sales process or how to market a product or a service. The thing is that most often what you want to do, could be done easier than you originally thought.
Clickfunnels are made by entrepreneurs who value time and need to get things done. Therefore you will get fantastic templates you can use with a drag-and-drop editor.
Stop wasting time and money on expensive website developers. For a small investment, you could get a complete all-in-one marketing and funnel builder. Only at the fraction of the cost of many other tools on the market.
Clickfunnels Pricing Overview
There are mainly two pricing plans offered by Clickfunnels. A 14-day free trial is available for you to help you choose which plan is best for you without wasting your money. The platinum plan is the high-tier plan costing you $297/mo while the Starter plan costs you $97/mo.
There is a third option too, but it's only meant for large businesses and elite users. Beginners and entrepreneurs that are first starting out, will usually decide to go for the price of $97.00 monthly. You can check out the options below. Keep in mind that you are getting a whole lot more than just a software tool, which I will touch on more in detail later.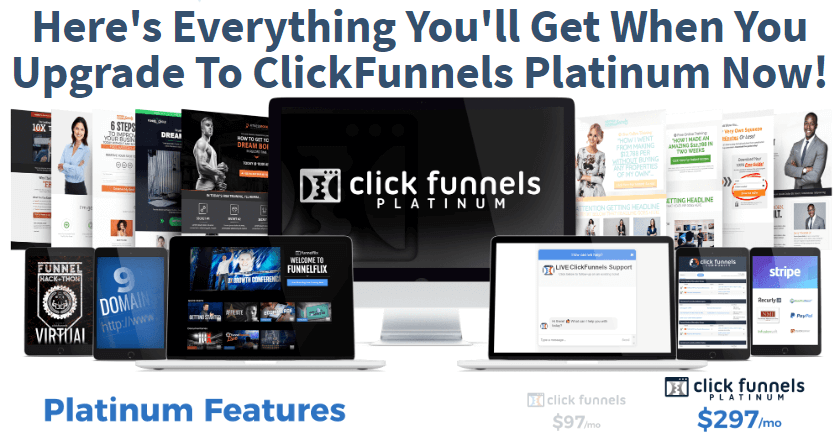 If you don't have a clear idea about the return that you can get out of the investment, you can sign up for the Clickfunnels free trial. During the 14-day trial period, you can determine whether it is worth investing your money and going ahead with this tool or not.
Clickfunnels Pricing For The Starter Package – $97 Per Month
The starter plan is best suited for people having small businesses or for those who are new to sales funnel building. For the amount you pay, you will be able to get up to 20 different funnels. These funnels span 100 pages and you can get up to 20,000 visitors. It will provide you with the chance to integrate up to 3 different custom domains and have unlimited contacts.
With a starter trial account you can get the following features for free:
20 sales funnels
More than 20,000 visitors per month
Maximum landing pages – 100
Unlimited leads
Custom domains – 3
Payment gateways – 3
Optin funnel system
Email integrating system
Split testing A/B
Auto webinar system for funnels
SMTP integration
Funnels for membership sales
Funnel share feature
Upselling and down selling pages
Funnel hacking forum
Limited access to FunnelFlix
Chatting support
Order pages
The Clickfunnels Pricing For The Platinum Package Is Set At $297 Per Month
If you are not happy with the features offered by the Clickfunnels standard package, you can go ahead with the platinum package instead. It is recommended for well-established large-scale businesses. A large number of innovative tools are also provided to ensure your convenience in the long run.
Since you can upgrade your account anytime you want, the best solution is probably to just start out with the starter plan and then later upgrade to Platinum.
This package can provide you with unlimited contacts, unlimited visitors, unlimited funnels, and unlimited pages. It is compatible with up to 9 customized domains. Some other exciting features with the Clickfunnels platinum package include; subscription plans, branded affiliate area, in-built affiliate system, priority customer support, follow-up sales funnels, and Funnel Fix.
Backpack – A Done For You Affiliate System
"Backpack" is what Clickfunnels calls its affiliate system that you can set up with your sales funnels. That way you can contact potential affiliates and give them the option for promoting your products or services. It's basically complete and done for your affiliate management system.
This is usually not a function offered by similar software solutions, but Clickfunnels has built this in. This is a feature provided in only the Platinum plan. You can read more about Clickfunnels Backpack if you want.
A Platinum Account Gives You Access To Everything
The higher-tier plan gives you the advantage of getting access to all the latest features of the ClickFunnels system. You have all features included in the Starter plan, in addition, you also get access to:
Unlimited sales funnels
Limitless page visitors
Unlimited landing pages
More custom domains
No limits on the number of contacts
Unrestricted access to follow-up funnels
Full automation services
Building an email list for integration
Affiliate center
Payment gateways – 9
Domains – 9
Peer review hackathons on a weekly basis
Unlimited access to Funnel Flix
Priority customary support through chat
Unlimited Access
This one is a pretty obvious factor you might have observed from the basic features given in the two plans: limit and no limit to access. This is one of the main deciding factors for many business owners who plan what they want to get for themselves when it comes to choosing one.
Email Marketing With Follow-up Funnels
Email marketing is easily integrated with your funnels inside Clickfunnels using its very own follow-up funnels function. While many businesses do need an email marketing plan, not all business people might need it.
This in-built feature for the Platinum plan allows you to communicate with your leads and customers. Set up automation, send broadcasts, and use an automatically developed email list to run these campaigns.
Is It Possible To Get An Even Cheaper Pricing Plan With Clickfunnels?
After having gone through the pricing of Clickfunnels, you will still maybe think about if there exists an even cheaper way of getting your hands on this tool. It is not possible to get a cheaper Clickfunnels plan besides the options discussed above. However, you will be able to receive a Clickfunnels discount on some products.
The cheapest Clickfunnels paid plan comes to you at a price tag of $97. It is quite restricted. So the best thing you can do is to use the sales funnels as much as you want in the free trial period and then decided if you want to keep using them. By the end of the 14 days, you will most likely see if this is right for you or not. So there really is not much you can lose here.
The Clickfunnels free trial period: 14 days
As mentioned earlier, any person who wishes to get hands-on Clickfunnels without spending any money to try out the features can think about moving forward with the 14-day trial period. During these 14 days, you will have more than enough time to figure out whether it is the right tool available to take your online marketing efforts to the next level or not.
After the 14-day trial period, you can make the decision on whether it is the right option available for moving forward or not. If you feel that you can go on a long journey with Clickfunnels, you can buy any of the two plans and move forward. If you see people online offering you 60-day trial periods, then this is not true. Clickfunnels simply does not offer this.
More Products You Can Get With Clickfunnels
Clickfunnels can provide you with access to some extra products as well. These extra products make it totally worth the amount of money that you are spending out of your pocket. Here are some of the most prominent third-party products that you can get along with Clickfunnels.
Online marketing has become an inevitable source of revenue buildup for a lot of businesses across the globe. While platforms such as Google, Facebook, and other social media forums are integral to running a business online, handling online business sales is an essential part of running the business digitally.
Although it is possible to run business campaigns and manually handle transactions, installing software capable enough to tackle these situations can significantly improve the ROI of the business. This is where ClickFunnels come to play.
Funnel Builder Secrets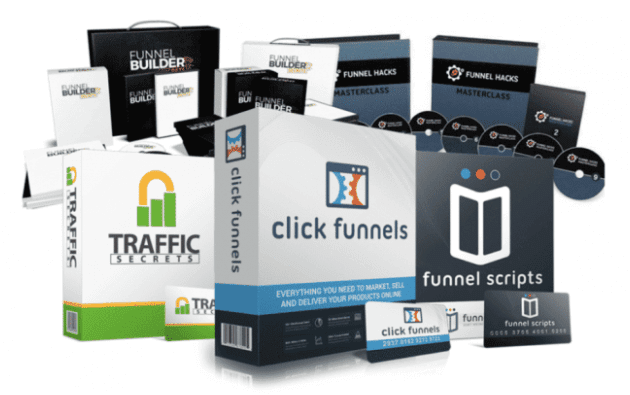 Funnel Builder Secrets is an excellent training program on how to become a sales funnel expert. Learn all the latest tactics and best ways to use software to get the most out of every sale you make. A highly recommended package that gives you so much value.
Funnel Scripts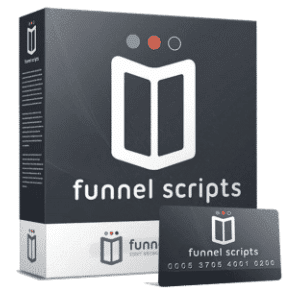 Funnel Scripts is a web-based tool. Along with the assistance of Funnel Scripts, you will be able to create a web copy, which would sell and provide you with outstanding returns in the long run. It will address the major pain points of your audience. Hence, you can keep on generating sales with minimum trouble. Become an expert copywriter fast!
DotCom Secrets book
DotCom Secrets is written by Russell Brunson. You will be able to get this book for free and understand the best method available to go ahead with creating a sales funnel to secure receiving profits online.
FunnelFlix – Funnel training courses
FunnelFlix has many informative courses for training given by a lot of honed professionals in the marketing field. They will provide you with an in-depth insight into the business and marketing campaign fields. It is a feature available only in the Platinum Plan.
If you are interested in learning all things applied in the online marketing world in detail, then it is not a bad idea to get the Platinum plan, get a thorough understanding of how the online marketing system works, and then apply your knowledge using the same plan from where you have learned it.
Are There Any Clickfunnels Discounts?
ClickFunnels come with a discount package for its users called the Secret MasterClass. According to the CEO of the program, Russell Brunson, a total of 787 users for ClickFunnels out of 100,000 have gained a Two Comma Club award, which means 1 percent of the ClickFunnels community has become able to earn a million US dollars from one sale funnel built using the software.
This MasterClass is aimed at giving free training to teach and show how the system works for those lucky people. It includes three secrets:
The Funnel Secret
The Conversion Secret
The Traffic Secret
The traffic secret involves a presentation to build high-converting funnels giving access to the platinum plan for six months. With the package, you get the plan for 997 USD, which is 785 USD lesser than the price you would have to pay for the monthly subscription which adds up to 1782 USD. Broadly speaking, this offer is great for those who want to subscribe to the platinum plan for the long run.
The Funnel Builder secrets come with a six to twelve-month subscription for a platinum plan that comes with a more vigorous training program and resources. A lot of training courses such as auto webinar funnels and other funnel-building developments are taught in the course. It also handles your ad copies, slides, and headlines.
These are the only discount packages available for the plans, and we would surely give a thumbs up to the Secret MasterClass as it is an excellent investment for established business holders. However, you can invest in the Funnel Builder Secret plan for training sessions or buy the courses separately.
Clickfunnels Pricing – FAQ
How does ClickFunnels pricing work?
ClickFunnels offers a range of pricing plans, including a basic plan, a standard plan, and an etison suite plan. The basic plan includes features such as landing page and funnel templates, email integrations, and basic analytics, and it is priced at $97 per month. The standard plan includes additional features such as split testing and membership areas, and it is priced at $297 per month. The etison suite plan includes all of the features available on the platform, including access to the Actionetics marketing automation tool and the Backpack affiliate management tool, and it is priced at $297 per month.
Can I get Clickfunnels for free?
You can get a free 14-day trial, but there is no free account option.
Is there a free trial available for ClickFunnels?
Yes, ClickFunnels offers a 14-day free trial for all of its pricing plans. During the trial, you can access all of the features and tools available on the platform and test out the software to see if it meets your needs. After the trial period, you will be asked to choose a pricing plan and start a paid subscription.
Can I upgrade my Clickfunnels account?
Yes, you can anytime you want to upgrade or downgrade your account.
Is there a money-back guarantee for ClickFunnels?
Yes, ClickFunnels offers a 30-day money-back guarantee for all of its pricing plans. If you are not satisfied with the software for any reason, you can request a full refund within the first 30 days of your subscription. This guarantee is intended to give you the confidence to try out the software and see if it meets your needs.
Are there any discounts or promotions available for ClickFunnels pricing?
ClickFunnels occasionally offers promotions and discounts on its pricing plans, such as discounted annual billing or special offers for new users. These promotions may vary and are subject to change, so it's best to check the ClickFunnels website for the latest information.
Final Words On Clickfunnels Pricing
Now that you have looked through the benefits and the Clickfunnels pricing scheme for each plan, we hope it has become pretty much convenient for you to figure out how ClickFunnels works and which program is the most suitable for you. In short, small and mid-size businesses require a more straightforward, starter plan, while a company demanding a high influx for traffic requires a much-elaborated plan, the platinum plan.
Although the price difference is significantly high between the two, it should not be considered the only deciding factor in choosing a plan, especially for businesses that rely heavily on online marketing.
Clickfunnels is an amazing all-in-one tool that can provide you with everything you need to build an online business. Most importantly, it will make sure that you can get the most out of your online marketing. If you make this small investment today, you will get all the support that you need to grow your business along with time.
Once you start experiencing the benefits offered by Clickfunnels firsthand, you too will start to love how powerful this software is, and what it can do for your business. Get started with a free trial today and upgrade once you see how it works.