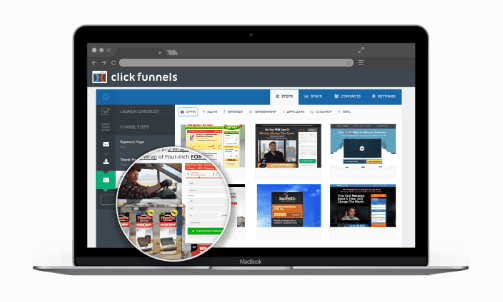 In this ClickFunnels review, I'm going to reveal to you why this software is truly a game-changer. For just about everyone selling something online. If you are trying to sell products online, then you know that generating leads and converting them into customers can be hard. However, things become a lot easier if you create a sales funnel. The idea here is to offer customers as much value as you can and ensure that they are happy with the results.
The most important aspect regarding sales funnels creation is that you can customize it for your business.
Clickfunnels

All-in-one sales funnel builder software.
Summary
As this Clickfunnels review has shown you, this is simply an amazing software that you need to try. You will love creating highly effective sales and landing pages fast and easily. To fully understand how it is going to grow your business, you need to try it for yourself.
What Is Clickfunnels?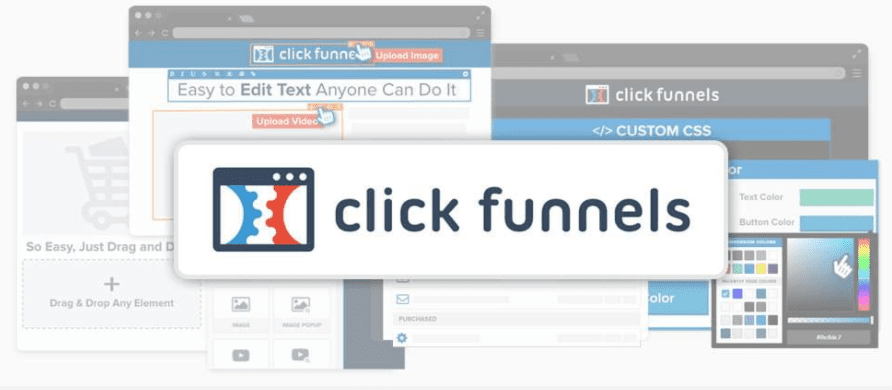 Clickfunnels is a software company that helps you create sales funnels. The platform was created in 2014 by Russell Brunson. From its humble beginnings, it has managed to get just about 115000 active members. The business itself makes more than $100 million per year.
At its core, the main idea behind ClickFunnels is to help create landing pages. But there is so much more you can do as well. You can easily create membership websites, webinars, squeeze pages, or any other type of page to generate leads and customers.
They also have a premium version of the service that allows you to create your own affiliate program. There are so many entrepreneurs that have used ClickFunnels with great success. It's clear that you can do the same too if you put in the work. Keep reading this Clickfunnels review and we will certainly show you the essentials you need to know about.
The One Funnel Away Concept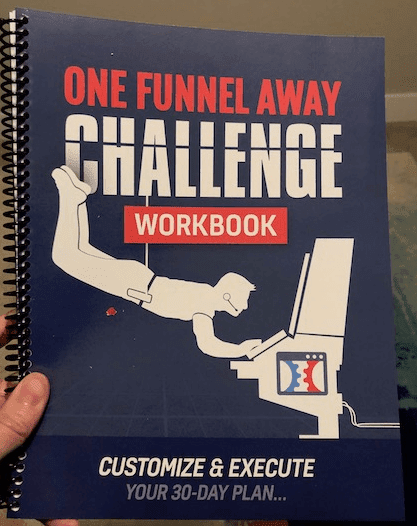 The slogan for this software company for a long time was "You are just a funnel away." Essentially its purpose is to be an online builder for sales funnels that helps businesses to sell, market, and deliver their services and products. It comes with an easy drag-and-drop interface which has made it easy to use for everyone.
It provides businesses with amazing pre-built funnel options according to the specification of the businesses, services, and products. With ClickFunnels, marketers, entrepreneurs, and other people associated with the industry of the digital world can create marketing sales funnels with ease.
Who Is Clickfunnels For Anyway?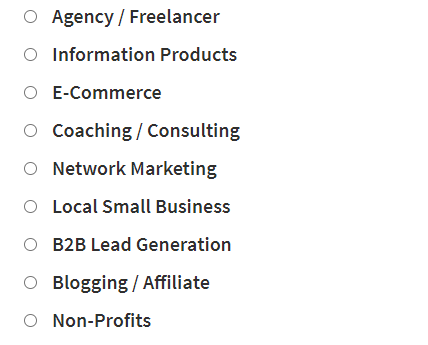 The software is mostly going to be for people that want to create a simple, efficient sales or email funnel for their business. Not only is it very convenient, but the system itself can be fully adaptable and customized to suit your needs. In addition, you can design the pages to make them look any way you like. That means anyone who wants to promote a product or service and generate leads via a dedicated sales page will need to use this solution. It's great for marketers, business owners, and even freelancers, and affiliates. Simply put, if you want to generate a sales funnel and make money, this is going to be the right tool for you.
All-In-One Marketing Solution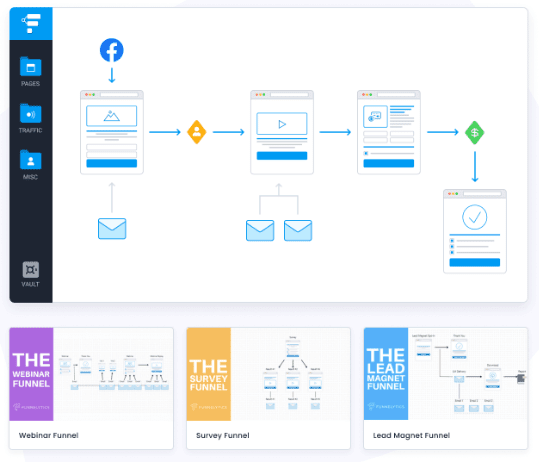 Hopefully, after reading this Clickfunnels review, it has become crystal clear to you about all the different things this marketing tool can do. At its core though, it's made to be a sales funnel builder, designed to bring you more leads and customers. Once you bring in more leads, there's a good chance that a good number of them will end up becoming a customer. That means you need to create a very good sales funnel which will entice people to buy from you. It's the challenging part when you try to do all of this alone. But with the ClickFunnels tool, you can do it without a problem.
One of the top benefits of this tool is that it allows you to create sales pages that really show the value of the product. This really helps and it certainly brings in front a very good and comprehensive experience. Every page created with ClickFunnels can be different since you can design webinars, checkout pages, sales and order pages, and many others.
With ClickFunnels you also have the option to host courses. Either that, or you can have a dedicated membership area for your courses. This is a great approach because you can manage the marketing process, payments, and marketing from a single dashboard. You can't upload marketing videos here, however, so you have to rely on YouTube.
Do More With Fewer Tools
Traditionally you are dealing with a lot of moving pieces when building a sales funnel online. Usually just to get one funnel up and running you will have to deal with web hosting, email autoresponders, landing pages, and a lot of various other factors that you need to work together. This old way of creating a sales funnel was time-consuming and certainly expensive. ClickFunnels incorporates so many functions into one complete package.
There is so much to like about this software, so let's continue this Clickfunnels review on what you are getting here.
There Are 3 Main Reasons For Why You Should Use Funnels


If your online business cares about generating leads, and sales, or maybe you are going to be launching an event. The sales funnels are always (With exceptions) going to give you higher conversion rates, and ultimately a higher ROI. The reason for this has to do with how focused funnels are on delivering results. Normal websites on the other hand are filled with distractions and links that don't get you the sale. You can read more on sales funnels vs websites if you want.
Building Your Email Marketing List
When you establish a business, you need to make sure that you create a good email list. Thanks to ClickFunnels you can actually offer a free incentive right at the beginning of your funnel. You can rely on that incentive to bring you traffic and then you can adapt it accordingly for the best approach. The best thing about this is that you can easily capture email addresses from visitors, then you can use the addresses to send email notifications. It's a very simple process and the platform also makes it super intuitive, which is exactly why you want to test it out and use it.
Launching A New Product With ClickFunnels
Please know that when you are done reading this Clickfunnels review, you could go and create an entire product launch using just this tool. It has everything you need really. All you have to do is put together some kind of digital or physical product offer. What you could do is just create something that this software calls a "Product Launch Funnel".
It's a series of pages that are made for selling products using high-converting templates. Using this type of funnel is a very good investment, as it ends up lowering the product launch costs. Of course, it will save you a lot of time too. That's the thing that makes Clickfunnels so powerful, the fact that you can actually create a vast range of different pages to showcase your product in just minutes.
Sales Funnels Can Revolutionize Any Business
By using ClickFunnels, users can choose one of the many pre-built funnels for sales for their business campaign. All funnels are highly optimized for conversions and have gone through a lot of testing. It helps you not only organize your sales funnels but also speed up the whole process so that you get better ROI in a lesser time than anticipated.
Every business online needs high converting pages in order not to lose money. The great thing about Clickfunnels is that it's an all-in-one sales and marketing tool. You literally can remove several other tools from your business and just use this one SaaS tool for everything. Everything is easy to use and you will design your first funnel in a matter of minutes, not days like before. There are so many different types of funnels you can create, that you will never run out of ideas on how to scale and expand your business. Just check out the opportunities with webinars, subscriber lists, sales pages membership sites, and other functionalities that are quite different from older platforms.
Templates – Clickfunnels Review Highlight
All of the templates available in the software program are tested for performance. Therefore you don't have to be dubious about their performance while selecting one. So, there is no time wasted on weeding out the templates that won't work.
A user-friendly interface is always super welcomed. It means that integrating videos, clocks, and other animation tools for your templates will go fast and without any user disconnect. You also can run A/B tests, to see if you can improve your conversion rates.
Out of many other platforms, ClickFunnels is a tool that builds both sales funnels and landing pages. This makes Clickfunnels software highly competitive in the market. Because when you compare it to let's say LeadPages, it can only really build effective landing pages.
Clickfunnels Pricing Plans Review
The cost of ClickFunnels is very interesting because you do have multiple tiers to choose from. First, you have the Startup tier that costs you $97 per month and with it, you will have sales funnels, A/B split pages, membership, and webinar funnels, upsell and downsell pages and chat support. Each one of the options has limitations like 20 funnels and up to 100 landing pages, not to mention a limit of around 20000 visitors per month on a single account.
If you want more, you pay $297 per month for the Platinum account. Here you get unlimited visitors, pages, follow-up funnels, and funnels in general. They also offer 9 payment integration and 9 custom domains, access to the FunnelFlix and backpack. Simply put, this is the price you need to pay per month if you want to access all the features without limitations.
These are the two most common pricing plans. There is however another plan for elite users that cost $2,497 per month. If you want to check it out, we have written more in detail about Clickfunnels pricing.
A Detailed Clickfunnels Review Of The Best Features
When you use ClickFunnels, there are a lot of different features that you want to use. Each one of them might suit a different category, so it's up to you to assess the situation and figure out which is the better option. With that in mind, having a drag-and-drop page builder is by far one of the best things you can get here. Even if you're not a programmer, you can still create pretty much any page you want and use your creativity to make it even better than you would imagine.
They even allow you to create checkout pages, sales pages, order pages, and many others.
The fact that you're getting templates means you just need minimal work and you can get the job done without a problem. It's certainly worth the effort, especially if you want to save time while still having full control over how your website looks. Plus, you can keep it simple or you can add in a variety of different and more complex ideas if you want. This way you bring in a unique perspective and the value itself is certainly going to stand out from the crowd all the time.
Adding Upsells And Downsells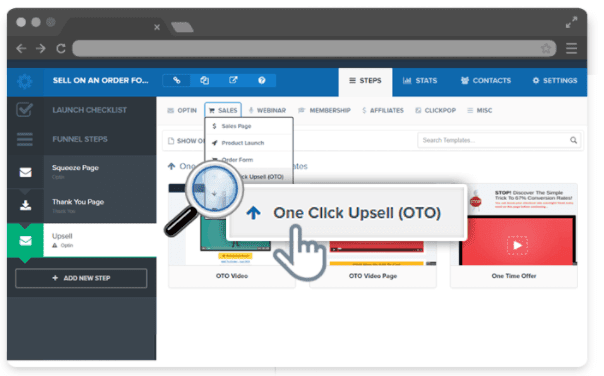 One of the advantages of ClickFunnels is that it allows you to include upsells as well as downsells if you want to. The idea here is to have services related to the product or service you want to sell. Things like faster deliveries, testing the product, and other stuff like that are extremely important.
They will make the process easier and more convenient for you, and you will be very happy with the way everything is coming together. You can also provide links or ads to a product that's similar or complementary. All these little things will eventually help make the process more convenient and the experience of the customer himself will improve exponentially. That's how you end up encouraging people to buy more and it totally works all the time.
Track Sales Data – Review of Clickfunnels Analytics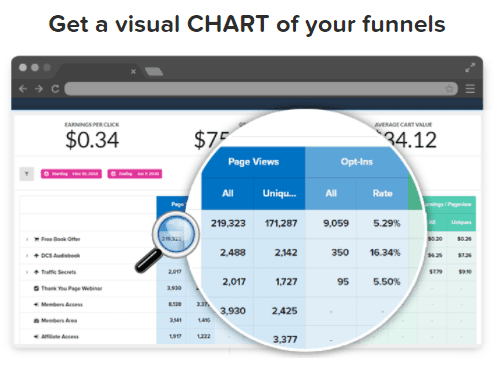 Aside from being great at creating all kinds of amazing opt-in and landing pages, this app is also very good at offering you comprehensive support for tracking sales data. The analytics solution helps you figure out the progress you are making, what is the opt-in rate, what amount of money you get per pageview, and so on. The analytics offered by ClickFunnels is actually comprehensive and they will impress you in ways you would not imagine. That's what makes this such an interesting system to pursue.
Review of Funnel Sharing – A Highly Loved Clickfunnels Feature

It's also possible to share your funnel with others using something called share funnels. This is perfect if you want to create a funnel for someone else. You set up all the pages and everything inside your Clickfunnels account. Then you grab a link to the funnel on the settings page. After that, you can share that link with the person you want to give the sales funnel to, and then all the pages with the content get imported into your friend's Clickfunnels account.
This does mean that both you and the person you are sharing with has an active account with Clickfunnels. This is one of the favorite features of most Clickfunnels users and for the right reason: it opens up many different possibilities of who you can share funnels. That is highly beneficial for people with multiple business partners who want help with new technology, and are not that comfortable with page builders and so on.
Follow Up Funnels
With the help of Follow Up Funnels, you can link your audience and build connections with the visitors on your page even after they leave the funnel. The inbuilt tool for automation enables you to have a follow up on your page visitors depending on the activity of the customers inside the funnel.
Drag And Drop Funnel Builder
The drag and drop funnel builder allows users to drag and drop different elements like texts and videos straight to the funnels according to their choice as they build it. The code is automatically generated. You get the whole setup in a matter of minutes using which you can create a setup made just according to your choice without the need of a web developer or a professional with background knowledge of coding.
Automating The Sales Process
ClickFunnels does a good job integrating with other services like Zapier or platforms like Shopify. Basically, you can create a sales funnel and send the customer data to your Shopify store. Or you could just collect the lead with Clickfunnels and then send them to the purchase page over at Shopify. It's really all up to you, but this opens the door for so many different ways to approach the sales funnel process. It allows you to focus on getting the best results and enhancing the overall experience. You just need to adapt accordingly for the best possible hands-off system and it will certainly be worth it.
But probably the best feature that most reading this ClickFunnels review will be interested in, is how easy it is to generate lots of leads. Yes, lead generation can be a problem nowadays, so having the right tools is crucial for bringing in amazing results.
Beautiful And High Converting Order Forms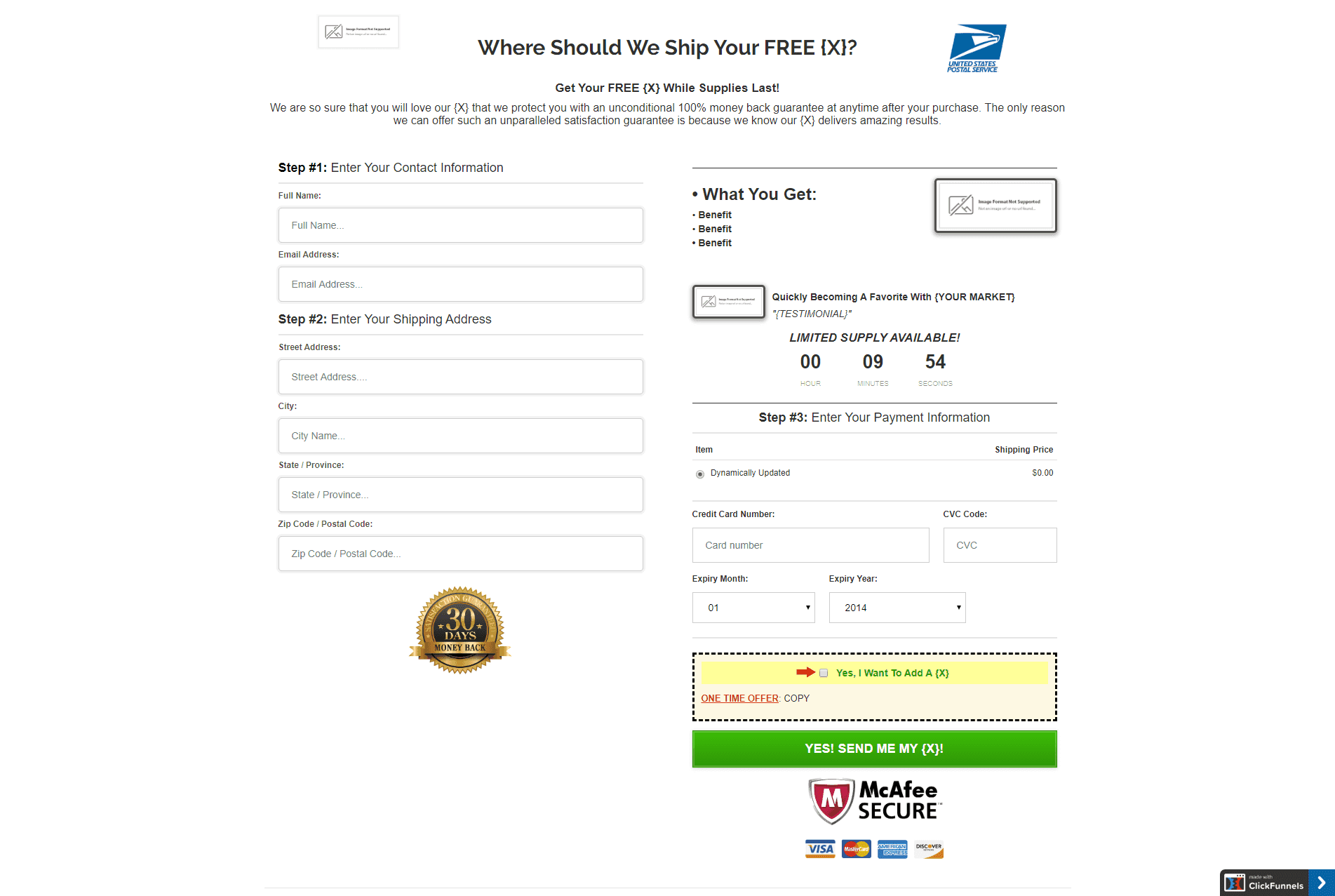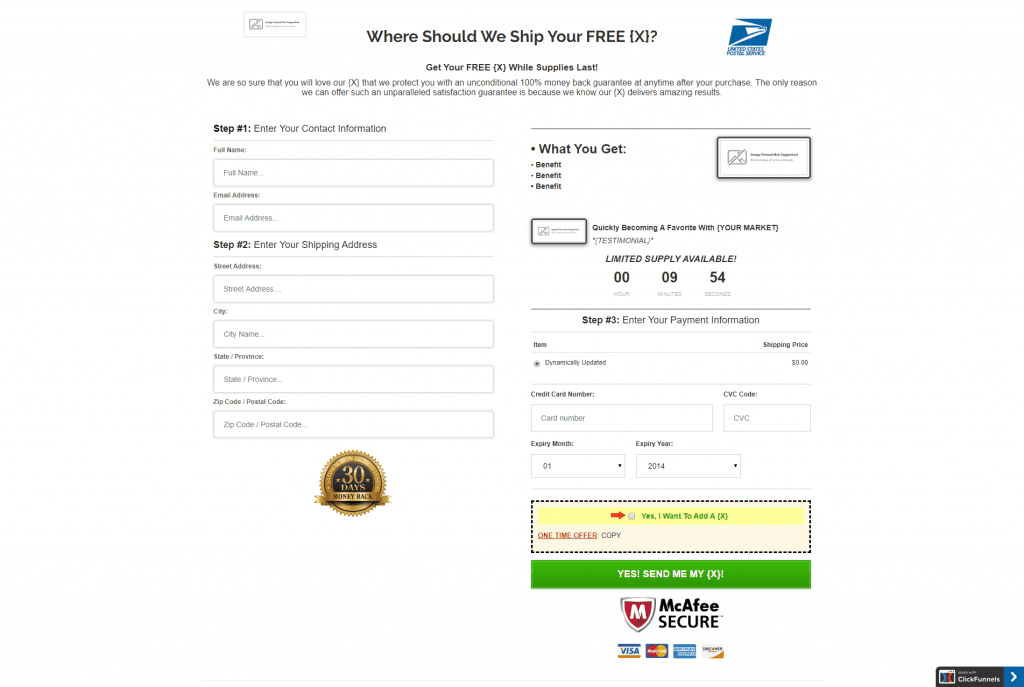 ClickFunnels allows you to develop simple and convenient checkout processes in funnels that make a better impression on potential buyers. Buyers are less likely to buy through carts that have an overly confusing outlook. ClickFunnels saves you from this malpractice. You can also utilize the already built order forms that would also collect the email addresses. Then you later can contact these interested people to remind them of their pending purchases using email marketing. There is also an option to add order bumps having the potential to increase profits.
Creating A/B Split-Tests
What separates ClickFunnels from many other tools is that they have included the option for creating A/B split tests. It will make it so much easier for you to increase sales page conversions. That's the main challenge when you experiment with a sales funnel builder. You need to see what works and what can be improved. Once you do that and start implementing the right ideas, it will certainly be worth the effort in the end.
Thanks to their testing feature you can compare two templates and see which one will offer the better value. Of course, you are not limited solely to templates. You can use this for opt-in pages, media pages, your landing page, and even your ads if you want. It's certainly the best of both worlds and you will appreciate the unique quality and value. Once you start testing out your pages and find where you get better performance, that's what will give you better results and experience. You can offer a premium, top-quality result for your customers quickly.
Go Live With A Single Click
After you are done with all the details of building up a funnel. Then the next step is to launch. Clicking the test mode allows you to make a test purchase. This ensures that your developed funnel runs smoothly without any problems. You need to make sure that your domain is set up adequately so your site can capture sales and leads.
Other Fantastic Features – Clickfunnels Review
Funnel A/B testing: This is a great tool. Built-in A/B testing can help you to make a copy of your page and make changes in both versions and specify the traffic which you want to have on both to see whether version A or B.
WordPress Plugin: Here you can find a WordPress plugin that will help you to add the ClickFunnels pages to your WordPress site. This will save much of your time and effort in managing the things between WordPress and ClickFunnels.
A powerful autoresponder: This tool will help the business to follow up with its users based on their actions within the funnel.
Affiliate system: It has an effective affiliate program management tool that can help you to create the best affiliate programs and scale your business in the best possible way without spending more cash on advertisements.
If you are selling anything online, then you should be focused on doing it in the most effective way. Selling is about having high conversions. If you agree, then there is no better option for you really. Clickfunnels is nothing less of a revolution. Sales funnel software like this will save you a lot of time, money, and energy.
This feature will allow you to rapidly clone funnels that are already working. Saving you lots of precious time. When you have set up the perfect funnel, then you just click on the cloning button and then you can recreate the magic for similar or different kinds of products.
Easy to create page design
Page design is the best feature of the entire platform because of the easiness of creating effective pages and connecting all the dots in the best possible way. With the variety of pre-made databases in its comprehensive database, it is now super easy to set up your required pages within minutes. Although it comes with a huge variety of templates in the marketplace of ClickFunnels you can get paid and free templates too from the other users.
Creating webinar funnels has never been easier using Clickfunnels. Most people who try to set up a webinar for the first time often get stuck fast. But with ClickFunnels you can do this in just a matter of minutes.
If You Sign Up Today – Here Is All You Would Be Getting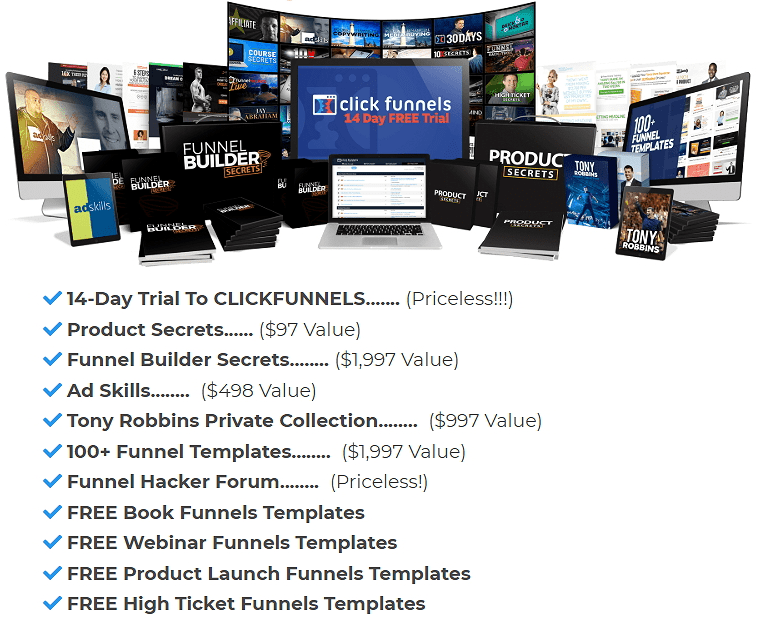 The FunnelFlix Training Program
This training course was made to help you better understand the platform. You will learn different ways you can use it and combine it with your own expertise. Keep in mind that you get way more than just live training with FunnelFlix. There is mindset training, sales- and marketing training, and even some high-end courses. Read more on FunnelFlix.
Pros – Clickfunnels Review
Now comes the part in this review to look at some of my personal favorite functions.
ClickFunnels comes with an easy drag-and-drop builder.
Amazing variety of built-in templates that are planned and tested perfectly to convert.
Email marketing automation tools can help you to deal with email marketing.
Integration with WordPress, custom domains more than 100 e-commerce complimentary programs.
It has an A/B testing solution already built-in.
The software provides you an opportunity to add social sharing buttons, shopping carts, text boxes, video players, and a lot of other things to your landing page.
Clickfunnels will send messages to the subscribers of your funnels automatically.
You will never have to think about bad hosting experiences. This is a cloud-based solution.
Cons – Clickfunnels Review
Here are some of the few cons of this sales builder software:
ClickFunnels is a little bit on the expensive side, for the fully upgraded versions.
To use all of the features, you need to have some form of training. ClickFunnels is not easy for everyone without proper training if you are going to do more advanced and complex projects.
No around-the-clock support service is available.
FAQ (Frequently Asked Questions)
Can I get Clickfunnels for free?
When was Clickfunnels founded?
Clickfunnels was founded in 2014.
Can I use Clickfunnels with Shopify?
The short answer is Yes. The longer answer is that although there is no Shopify app for Clickfunnels, and the two platforms work quite differently, it is possible to send customer and product data to your Shopify store. This way you could create and test sales funnels for selling the same products you have in your Shopify store and see if you get higher conversions and higher shopping cart orders (You most likely will). Then you can send all your details to your Shopify store using solutions like for example Apptrends.
Can I use Clickfunnels with Squarespace?
These are two very different platforms meant for different purposes. If you have a Squarespace account that probably means you were most likely interested in building a more standard website. Clickfunnels is more widely known as a sales funnel builder solution. There currently is no way to integrate the two platforms using any apps. There still always some ways you could get some integration between the two though. First, you would need an account on both platforms. Then you could create your normal website as usual with Squarespace and then link to your sales funnel pages over at Clickfunnels using buttons and banners. There is no good reason to just use Clickfunnels for everything instead though.
Can I use Clickfunnels with WordPress?
Yes, there is a Clickfunnels plugin for that purpose. The way this works is that you would have your normal blog content over at WordPress, and then host all your sales funnels and so on with Clickfunnels. When you set up the Clickfunnels WordPress plugin you can then get the funnels to show up on the same domain as your WordPress is hosted. So that's a nice integration, and many use the two platforms together this way.
Clickfunnels Review – Final Words
After coming this far into what is a rather long and detailed Clickfunnels review, it is my hope that you feel that you have gotten all your questions answered. Overall, this tool does a very good job of offering you the sales funnel-building experience you always wanted. It has a lot of fantastic and unique features. Clickfunnels pricing is affordable considering how many sales funnels you can get, and they do update it very often. If you combine everything you also get tutorials and courses to help you master the tools is great.
Don't underestimate how much this company has gone in order to make you happy with the value. After all, Russell Brunson is the master of delivering more value than other competitors do because he follows the value ladder concept of marketing. In any case, I truly believe this software will impress you and there are so many ways you could use it. I recommend you give ClickFunnels a try. Start creating powerful sales funnels to boost your sales online.