This Clickfunnels vs Leadpages comparison guide will help you see the differences between the two platforms so that you can find the best solution for your business needs. Clickfunnels and Leadpages are among the very best options available for you to create fantastic looking sales and marketing pages. We will compare some of the most prominent features available in these two tools and provide you with the assistance needed to get hold of the perfect tool.

What do you get from these platforms?
Most of the page designs that you can find in Leadpages can be customized. You don't need to have any coding skills at all to customize them. That's because you will gain access to a drag and drop page builder. You will also be able to add images, videos, buttons, text boxes, and many other elements into the pages that you build with ease. However, you don't have the freedom to position these elements in the places that you wish. Instead, you will have to stick to pre-defined placeholders.
Clickfunnels can also provide you with a user-friendly page builder. The visual page builder has all the features that you can find in Leadpages. However, you will be provided with the chance to add custom CSS code. As a result, you can position the elements of your page in any desired place according to your preferences. You just need to access the control panel and adjust padding and margins.
Availability of templates
You can discover a set of stunning templates offered with Leadpages. These landing page templates are clean and crisp. You can customize these templates with the help of drag and drop builder. You will also be able to discover templates that are available for every situation. They include launch pages, checkout pages, thank you pages, webinar pages and 404 pages.
The page templates offered to you by Clickfunnels are quite different. You will notice that there aren't any templates available for individual pages. Instead, you will have to go for a template for the entire funnel. This will restrict you from using different templates for different stages of your sales funnel. The number of different templates available in Clickfunnels are high when compared to the number of templates that are available in Leadpages. They include membership programs, product launch, webinars and many more.
You will have to go through a challenging experience when you are trying to build a funnel with Leadpages. It is true that you will be able to get hands on all the features and elements needed. They include email integrations, payment processors and page builders. However, combining these elements together will require some time.
It is possible to find a streamlined process in Clickfunnels to build a sales funnel. They have done most of the work and you just need to follow to get the job done. All you have to do is to pick a pre-built lead funnel, event funnel or sales funnel and customize it according to the nature of your business. This will help you to save a considerable amount of time.
Split testing can help you with optimizations. You will not be able to find any A/B split testing capabilities with the Leadpages Standard plan and Leadpages Pro plan. If you want to get all the features, you will need to upgrade your account to the Advanced Plan. Then you can enable split testing on your pages.
You can receive unlimited split testing capabilities with Clickfunnels. It's a great feature to have when you are serious about building funnels and plan to send a lot of traffic to your pages.
Analytics can help you to extract useful information. You will be able to find excellent analytics features offered by both Leadpages and Clickfunnels. You will be provided with the freedom to connect Leadpages to the Google Analytics account that you have. Then you will be able to track important metrics such as conversion rates, opt-ins, unique page views, and the total number of page views to end up with securing perfect results.
You can also configure Clickfunnels to Google Analytics. In addition to that, you can also integrate Clickfunnels along with Facebook retargeting pixels. Then you will get the chance to retarget your visitors based on their previous behavior.
Pricing of Clickfunnels and Leadpages


Leadpages offers three different pricing plans. You will be able to sign up for a 14-day trial period and explore the features before you join a paid plan. Along with all the paid plans, you can get a 30-day money back guarantee as well.
The first plan in Leadpages is the standard plan, which is marked at $25 per month. It offers unlimited traffic, unlimited landing pages, and limited A/B testing capabilities. While the pro plan costs $79 per month. It offers unlimited A/B testing, unlimited traffic, and unlimited landing pages.
If you want to get the most out of Leadpages, you should go for the Advanced Plan. Although it's a little expensive at $321 per month. It comes with unlimited traffic, unlimited landing pages, unlimited integrations, and unlimited A/B testing.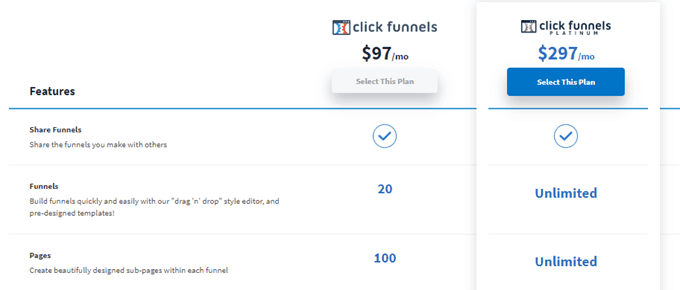 There are two different plans available in Clickfunnels. The Basic plan will cost $97. It provides 20 funnels, 20,000 traffic to landing pages, 100 landing pages, different types of funnels, unlimited A/B testing, and full integrations.
Another option would be to go for the Platinum Plan. At the moment priced at $297 per month. It offers unlimited landing pages, unlimited funnels, unlimited traffic, unlimited A/B testing, full integrations, autoresponder, and backup affiliate management system.
Final words on Clickfunnels VS Leadpages
You can analyze the features offered by Clickfunnels and Leadpages and get to know about their differences. Based on that, you can pick the right tool that is available for moving forward.