This Clickfunnels VS Thinkific comparison will share with you the key essentials that you need to know, before making your decision on what online course platform to choose. If you want to create membership sites, that also have good sales funnels capabilities, then Clickfunnels and Thinkific are two of the very best options available for you to consider. They have some clear differences though, which I will go more into further down. All you have to do is to go through the facts that we share in the article and then after that make up your mind.
What is Clickfunnels?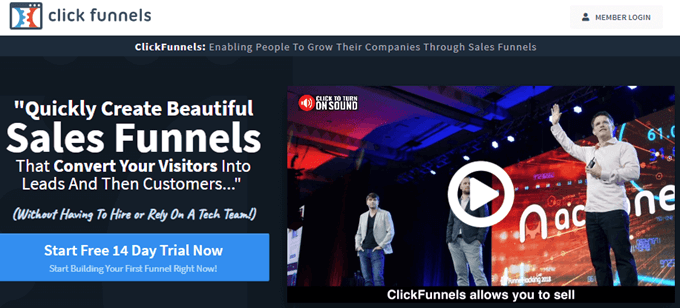 Clickfunnels is a comprehensive platform that is designed to help people improve sales. You will also be able to host and sell online courses along with Clickfunnels as well. This tool was discovered by Russell Brunson. The main objective of Clickfunnels is to help marketers generate sales. Then marketers like you will have the opportunity to combine the sales funnel elements with selling online courses.
While using Clickfunnels, you will find it as an easy task to create highly converting marketing funnels with minimum hassle. In order to do that, Russell Brunson will provide excellent training and education for the users. On the other hand, you can find an excellent community in Clickfunnels, along with an affiliate program as well.
If your main objective is to create and host educational courses, Clickfunnels is not the best platform available. Even if you can create courses, you will have to go through some difficulties, if you are picky about how everything looks. There are limitations to the design and functionality of membership pages inside Clickfunnels. For most people, it will get the job done, but if you have high demands on how your education setup will work, then look more into Thinkific below. Clickfunnels is best at selling digital courses with its amazing sales funnels.
What is Thinkific?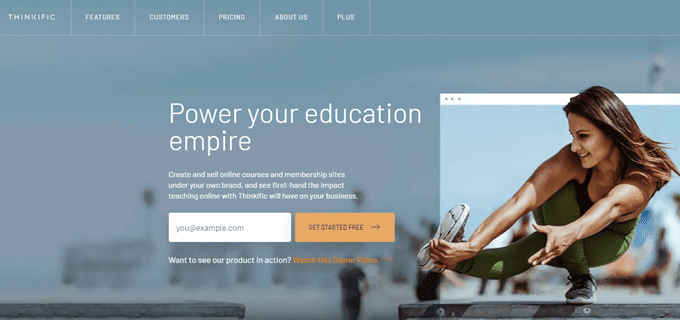 Thinkific is built for the sole purpose to making you able to create online courses and membership sites. It has a great course builder tool, where you can host your own tutoring videos within the platform. You can do that immediately.
Thinkific is an excellent tool available for educators to consider. Moreover, entrepreneurs and coaches will also be able to use this tool and get the best results offered by it.
This tool is quite popular because of its user-friendliness. You can start using Thinkific and create your online courses with minimum trouble. Moreover, it is an inexpensive tool available to consider as well. You can try it out for free, and the cheapest plan costs $49 USD/mo. The development team behind Thinkific is sending out frequent updates. These updates will provide you with the chance to enhance the features of the course builder along with time and get the best results.
Clickfunnels VS Thinkific – Why Choose Clickfunnels?
Clickfunnels is a platform that is made around sales funnels, so if you want the best platform for getting the actual conversion, then you should highly consider going with Clickfunnels. I would say that if you have simple courses that are mostly videos or pdf's, then you can easily host this using membership pages inside the platform.
Best benefits that Clickfunnels will give you:
Clickfunnels provides a fantastic website building tool. It's probably the most user-friendly way of building pages you have seen. A large number of templates are available on Clickfunnels to develop websites. You can go through these templates and build the websites with minimum hassle. You can find modern looking templates on Clickfunnels, which can be used to develop any kind of a website with minimum hassle.
The developer of Clickfunnels believes that you don't need to be equipped with a website in order to generate sales. But if you can start using the templates offered by Clickfunnels, you can get the job done with ease.
Clickfunnels can provide you with a quality email marketing service. The email functions you get inside are much more advanced than what you are getting with Thinkific. However, the email marketing tool offered by Clickfunnels is more complicated. Due to the same reason, you will need to be equipped with some technical skills to use it and get the best results.
The process that you have to follow in order to create courses on Clickfunnels is quite tricky. However, it can help you to create a fully functional course module with ease. It is also important to keep in mind that Clickfunnels is not the best tool available for course creation.
Clickfunnels is providing support via a ticket system. If you come across any issues, you can go ahead and get in touch with the Clickfunnels support team. Immediate customer support is not available. You will have to wait for a duration of up to 48 hours in order to get the support needed.
Thinkific VS Clickfunnels – Is Thinkific The Better Choice?
You can use Thinkific to host the videos straight away. This can provide an enhanced operational experience to you at all times. Here are some of the most prominent features of Thinkific and the benefits that you will be able to get along with them.
Thinkific provides a comprehensive website building tool. You can use this website building tool to develop a website without having any coding knowledge at all. A large number of templates are available for you to get the job done. You just need to browse through the templates and start using the right template out of them. There is a template for everyone among the collection of templates.
The course creation sections are super easy to use with Thinkific. You will be able to create a course with minimum trouble while using it. You have the freedom to create any kind of course with the help of Thinkific. The platform can help students be engaged with rich multimedia course content like:
Video
Text
Downloads
Quizzes
Survey
Discussions
Google Docs
Captivate
Articulate
Thinkific offers decent support to the subscribers. However, it is limited only to the email forum. You can find lots of self-help guides, which are available in the form of a webinar, articles, and resource pages. You can go through these resources and find answers to most of the questions that you may come across.
Final words on Clickfunnels VS Thinkific
At this point, you should have a clear understanding of what Clickfunnels and Thinkific have to offer. So you can make the decision to get the tool you feel is right for you. The conclusion is this:
If you going to host your course somewhere and your primary goal is to have high converting sales funnels for selling, then go with Clickfunnels.
However, if you want to create and host everything inside a membership page, and you don't have high demands on the course design and functionality, then go with Clickfunnels.
Lastly, if your main goal is to create and host digital courses and you have high demands on design and functionality, then choose Thinkific.
I hope you found this comparison article use, and remember if you have any questions or need help setting up a membership site, please contact me right away. I can help you with this.