Inside this Dropfunnels review, you will get a complete overview of the new rival to Clickfunnels. Nowadays, everyone is trying to build a start-up program or business. Most of the businesses are based on online strategy. For the online business strategy, marketing is an important part that you need to be very careful of. For growing your online marketing strategy, you need to take help. Dropfunnels is one kind of marketing funnel builder that will help you to enhance and grow your online business strategy. If you are looking for a trustworthy funnel builder to use for your online business strategy then DropFunnels is something that you need to know about.
However, Dropfunnels is a newcomer in this particular world. But it comes with a wide range of variables such as built-in SEO, link tracker, a page builder, and many more things for the promotion of your online business. Through this funnel, you can easily promote your business online and enhance its growth as well.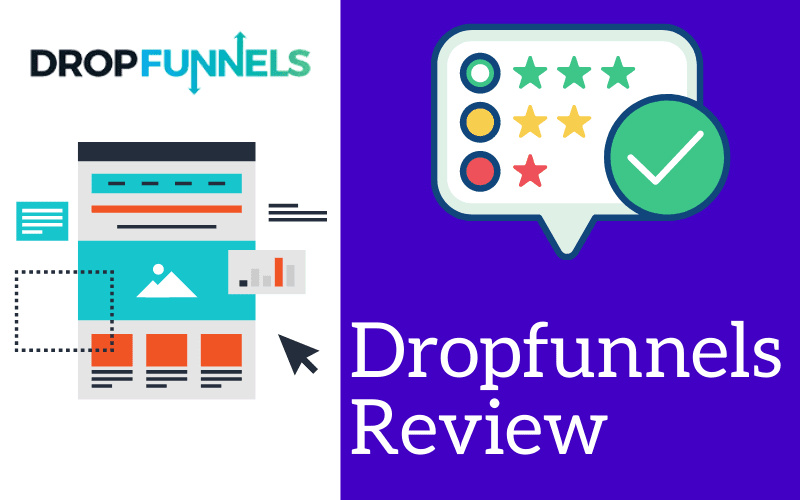 What Is Dropfunnels?
You should know the fact that DropFunnels is one of the newest sales funnel builders. But you can get a compact and complete marketing platform with this sales funnel builder. It was built on the powerful website infrastructure of WordPress. The sales funnel builder was created by Jordan Medirich. It truly is a unique one and it is very much different than the traditional and old funnel building software. This particular funnel will offer you the best and top-notch functionality to rank higher in Google and other kinds of search engines. This funnel is created to use a WordPress plugin. So, this funnel has this option. DropFunnels is one of the best and ultimate online marketing systems that comes with so many features. These features are such as follows:
It has a powerful SEO blogging feature and platform.
You can get fast pages and funnels.
You can get the feature of a simple home site and sales funnel builder.
Available a wide range of courses and memberships.
You can get the built-in CRM feature for lead generation and sales.
My DropFunnels Review & Experience
If you have an online business, then you should need a medium through which you can easily promote your products and services. You can also get the necessary information to reach a wide range of customers. DropFunnels come in this place and play an important role. DropFunnels is a sales funnel, a website, a website maker. Apart from this, Dropfunnels is also an SEO blogging platform. You can use this to cushion the base of your customers. This is perfect for those businesses that want to enhance the base of their customers and revenue as well. It is an all-in-one website. As it is an SEO blogging platform, it can erase the old methods of business promotion through telemarketing and email marketing.
Apart from this, you can also use its wide range of features such as websites with sidebars and widgets. So, this will give you benefits over other websites. Though it is newly launched, the company has worked very hard to please and satisfy their clients. You can check this website. It will surely meet your needs and requirements.
Let's check some features of it. This will help you to understand it better.
Main Features of Dropfunnels
If you know the features, then it will help you to enhance your business. Dropfunnels provides you with so many features or benefits. These features are such as follows:
Unlimited products and services
Limitless blog posts
Unlimited landing pages options
CRM with limitless leads and contacts
Fast page loading speeds
Customized domain mapping facility
Limitless funnels and funnel steps
So much choice of professional and corporate theme design
Sales and also order tracking benefits
Customized headers and footers options
Drag and drop facility
Dynamic menus
Apart from this, there are so many more features inside Dropfunnels.
The Best Part of DropFunnels
Here are some best parts of DropFunnels. It offers you so many customized options. You can create anything you want to build. So, as you can see, it is one of the top-notch sales funnel builders. Apart from this, Dropfunnels is search engine optimized. So, it helps to grow your online business.
1. Unlimited Landing Page Options
With DropFunnels, you will be sure that you can access so many options for landing pages. So, compared to other websites, it is one of the best. Here, customers will get continuous upgrade benefits to create more to more sites. This is very much efficient to design your marketing funnels and also helps you to customize it as per your choice and need. So, as you can see, you will get so many luxurious benefits to create unlimited sales funnels. You can choose various templates, drag and drop features, limitless membership courses, and sites. If you are thinking of creating so many blog posts then DropFunnels is the best and top-notch option for you. You can get all these features with advanced SEO advantages. It is very much efficient for beginners and entrepreneurs.
2. Build Sales Funnels With SEO In Mind
With the help of Dropfunnels, you can start ranking in the popular search engines for both your blog and funnels. It also helps you to optimize your title, meta description, image, videos, HTML sitemaps, and all. It helps you to connect to your social networking sites and you can track everything about your site with the help of Google Analytics. You can get the advanced SEO option here with DropFunnels. You can get so many SEO settings to build your business online and handle it successfully.
3. Link Tracker
DropFunnels is just about the icing on the cake at the time of baking. It comes with in-built link tracker benefits. This link tracker can help you to track any kinds of links
Dropfunnels Pricing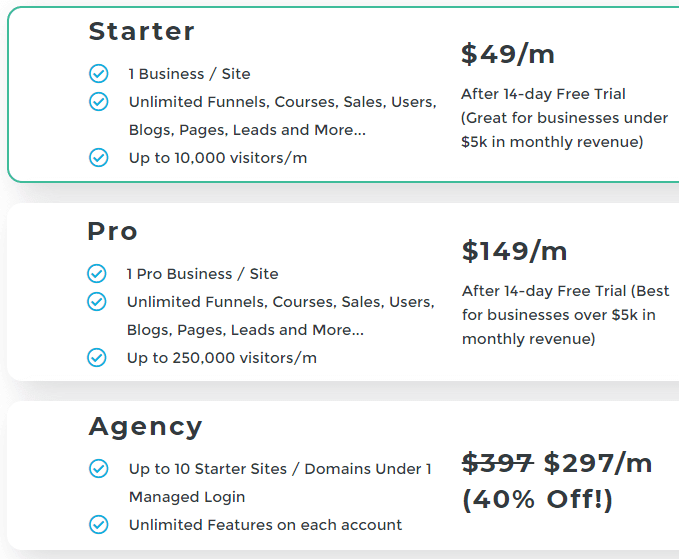 It permits the user to enjoy the free trial but just for two weeks. In the meantime, the user can decide whether it helps them to meet their requirements or not. The pricing package is such as follows:
Starter plan
In this plan, you can access the basic benefits. For this starter package, you need to pay $49 per month. This is one of the lowest rates in the market. It comes with 10000 visitors per month and a built-in drag and drop editor. It is the best and affordable price that you can get.
Pro plan
For this plus or premium subscription, you need to pay $149 per month. It helps the business that generates revenue of 50000 per month. This plan gives you efficient customer support. It can bring up to 250000 visitors per month.
Agency plan
This is one of the most popular pricing plans of Dropfunnels among customers. You need to pay only $249 per year for this plan. You can get the features of 10 sites and also get the limitless features of account design.
Now, you know the capabilities of this particular platform. But Dropfunnels is not at all suitable and perfect for you if you want to manage things easily. But if you are looking to learn the marketing strategy and try to make your brand popular then this platform works best. Apart from this, you need to think about your budget. DropFunnels offers you a reasonable budget scheme. We all know this is a big investment. But it is an act of stupidity if you spend all of your money on one plan. Overall, your business will suffer if you spend more than your earnings.
DropFunnels is a worthy investment and you should go for this. It is one of the best and ideal software for business owners. It is best as the streamlined SEO tool and also can rank your sales. So, DropFunnels is one of the best tools if you want to try it out for the growth of your online business. But it is a relatively new one and you need to face some learning curves. But there are some rooms for improvements and enhancements. Above all, you can get the best and possible results from this software as they have promised you.
Best Dropfunnels Alternative?
If you are looking for the perfect alternative to Dropfunnels then you should choose Clickfunnels. You can easily grow your online business through Clickfunnels. It is also an all-in-one marketing and online sales funnel tool. It can also help you build marketing funnels. Apart from this, you can create a landing page, webinar funnel, capture page, opt-in page, membership and course sites, and much more. You can turn the traffic and give rise to leads. It is very much important to increase your revenue. It helps you to build high-quality landing pages. This is also a popular sales funnel builder that is used by thousands of marketers and business owners.
Recommended reading: Check out more Dropfunnels alternative software solutions here.
FAQ (Frequently asked questions)
Does Dropfunnels have a share funnel option like Clickfunnels?
Yes, and that is truly an amazing feature that let's you share your funnels to clients, friends, or whoever you like. If you like this Dropfunnels review, please also check out the features for Clickfunnels. There are many features that are similar.
How much does Dropfunnels cost per month?
Basically there are 2 main plans for Dropfunnels. They are set to $49 per month or you can go with a $147 per month plan.
Can I get a DropFunnels free trial account?
Yes, you get 14-days to tryout the software for free.
How does DropFunnels work?
DropFunnels works pretty much like most sales funnel builders, but there are some clear differences here. What this SaaS company has decided to do is to try and combine the best from WordPress and link that up to the best of sales funnels. In this way you will be able to easily create both an authoritative blog, but it's made specifially to make your brand stand out.
Dropfunnels Review Ratings
Dropfunnels
Summary
This sales funnel builder tries hard to become the best all-in-one marketing platform in the world right now. It does many things right, but it's not perfect. It has some flaws, but since you can try it out for free with a free trial, you owe it to yourself to give Dropfunnels a good run and see how you like it.