Are you considering starting dropshipping in 2023? Then you probably already know that this is a business model where you can make money without having to buy inventory or worry about shipping.
It has exploded in popularity over the past few years, and many people are making a decent living off of it. In this blog post, we will give you the best tips for starting your own dropshipping business.
There are several reasons why dropshipping is a good business model. One of the most obvious advantages is that you don't need to buy inventory upfront – which means you can start your business with very little capital investment.
Another big advantage is that there's no need for an eCommerce store, and all the associated expenses like website hosting or design fees. You simply use sites like eBay, Amazon, or AliExpress as your virtual storefronts where people place orders on your behalf (and they take care of everything else).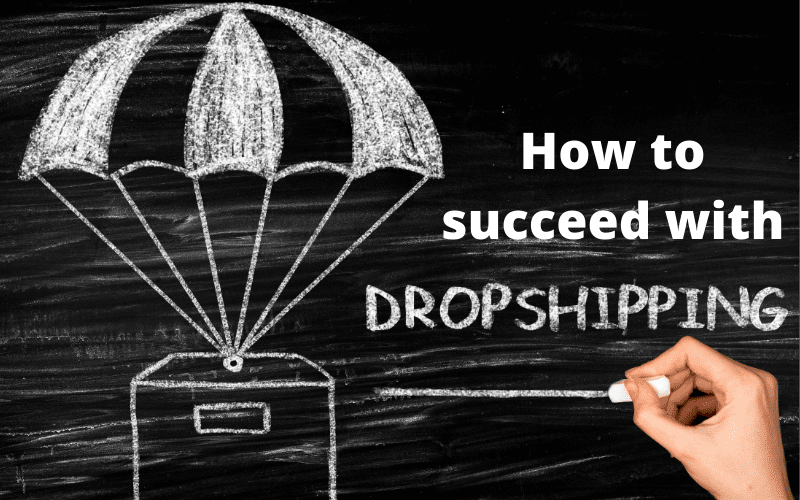 The disadvantage of this kind of business model comes when it's time to ship items from supplier to customer; unlike if you were running a traditional eCommerce retail store in-house. That being said, we will discuss some of the best dropshipping tips to make money from home in 2023.
Dropshipping 2023: Tips For Success
The first tip for making money with dropshipping is to create a focus group or beta-test panel that can give you feedback about what works and what doesn't. You should be looking for people who have experience in eCommerce, retail marketing, or even just plain old customer service – basically anyone willing to offer their thoughts on your business.
This will help guide your decisions when it comes down to selecting products and deciding how much inventory you need at any given time (and if that's something worth investing in).
Another good strategy would be building up an email list by offering rewards like discounts or free shipping above certain spending thresholds each month; this way you can have your finger on the pulse of what products are selling best or which items need to be introduced.
Remember that you're in this for the long haul, so don't try and make a quick buck by dropping prices – keep them where they are and just focus on building up traffic through social media channels instead. Eventually, all those visitors will convert into sales (and then some).
Make sure to watch out for competitors' pricing too! One way is by using an app like Keepa – it tracks competitor prices automatically via barcodes from Amazon listings as well as other third-party sites such as Walmart, Best Buy, and Target. It'll send you alerts when there are significant price changes between stores or if there's any new product available.
You can also use a tool like Feedvisor to monitor Amazon prices and get notified when they change. It'll even let you set up an automatic repricer so that your products always sell for the maximum price possible – especially helpful if there's a lot of competition in your niche on Amazon.
Best Dropshipping Tools:
– Keepa: it tracks competitor pricing automatically via barcodes from Amazon listings as well as other third-party sites such as Walmart, Best Buy, and Target (free)
– Feedvisor: lets you set up an automatic repricer so that your products always sell for the maximum price possible (paid subscription service at $15/month)
– Jungle Scout Web App: it's an analytics tool for finding and analyzing profitable products to sell online (paid subscription service at $49/month)
Details:
– Keepa: free
– Feedvisor: paid subscription service. Costs $15 per month.
– Jungle Scout Web App: Paid Subscription Service costs $49 per month.
The best time period to dropship is the 30 day window before a product goes out of stock or has their inventory run dry since there are usually plenty of units still available from suppliers and retailers alike during this timeframe.
Best Time Periods To Dropship Products: It's important when you're doing any kind of retail arbitrage that you always dropship within the bounds of Amazon policies so as not to get slapped with a penalty or have your account banned.
The best time period to dropship is the 30-day window before a product goes out of stock or has their inventory run dry since there are usually plenty of units still available from suppliers and retailers alike during this timeframe.
Finding dropshipping products using Salehoo
Salehoo is a great site for finding dropshipping products.
It's easy to take advantage of their free sign-up and then browse through the categories listed on the left side.
For example, if you want to search for clothing items, click "Clothing" which will bring up a list of subcategories like Women's Clothing or Men's Clothing. You can also use filters in order to find what you're looking for more quickly (e.g., tapping on size). When you have found something that interests you, just press it once and SaleHoo will show some information about how many other people are currently selling this product as well as its average reviews score from customers who bought it previously.
Pros of Using Salehoo For Dropshipping
– You can use the SaleHoo newsletter to find new dropshipping products that are trending in your niche.
– When you have found something on SaleHoo, it's easy to compare prices and see which listing offers the best price for this product.
– Another great feature of using SaleHoo is its "SalePulse" social media tracker where you'll be able to keep up with current trends and what people are talking about online. The company also tracks how many mentions a particular item has gotten over time so that they know when an item has been recently popularized or if it's currently experiencing a bit of a lull.
Salehoo cons
– You're limited to one person's niche and you may have difficulty finding relevant products.
– It is difficult to research where the product will be shipped from because it only lists all of its dropshipping suppliers in order by their popularity.
– The customer service could be better as they do not provide phone numbers for contact information or live chat hours, but they are regularly online on social media platforms such as Facebook Messenger.
– SaleHoo does not accept returns so if there is an issue with a purchase then the buyer must work this out with the supplier themselves.

This can prove difficult when contacting overseas companies about problems that would normally be handled directly at an e-commerce site like Amazon, Walmart, etc. because these companies usually have a customer service team that can handle these issues.
– There is an opportunity for sellers to make money by being affiliates with other companies such as Amazon, Walmart, etc., and then linking your affiliate codes on the site's product pages instead of using their own dropshipping code so you are making commissions off of sales from those links.
Pros of Using Shopify For Dropshipping
– Easier to set up than other e-commerce platforms,
– Easy integration with a number of third-party apps and plugins, including Amazon.com.
– When you're not sure what products to sell on your site or which ones will be successful, it's much easier to use Shopify since the company lets you test new ideas without risking any financial investment in inventory.
Once they've determined that their idea is worth pursuing, they can easily increase the size of their orders and give it more time if necessary – even months later!
– Shopify is a secure environment that can be upgraded to meet your specific needs.
Are There Any Shopify Cons?
Shopify's cons include a very steep learning curve and expensive monthly fees. It can be difficult to navigate the Shopify admin interface, especially for beginners who don't have any prior experience with e-commerce or web development.
Another important thing to note is that there isn't as wide a variety of templates available on Shopify compared to other platforms like WordPress.
There are ways around these limitations if you're creative enough and willing to put in some work – but it will take more time than choosing an easier platform (like WordPress).
You'll need skills in HTML, CSS, JavaScript, etc., plus access to design resources such as Photoshop or GIMP if you want something really customized.
If your budget allows for it then just go for it.
What Causes Dropshipping Businesses to Fail?
– Operating on too small of a scale, without the capital or support structure in place for success;
– Ignoring competitive forces and business trends;
– Not understanding their customer base well enough and not meeting their customers' expectations. These are often referred to as "quick buck artists" who see an opportunity but don't want to put in the work required overtime for long-term gains.
In other words, they're preying off people's desires, lack of knowledge, or desperation and cannot sustain themselves when those factors change;
– Making mistakes such as sending out the wrong products
Dropshipping VS Affiliate marketing in 2023
– Dropshipping is a service that allows you to sell goods without having them in your possession. The products are shipped directly from the supplier to the customer, and you get paid for providing this service. In essence, dropshipping companies do not own any inventory; they can only make money when their customers order items from one of their suppliers. This business model relies on an established network of reliable retailers with good product reviews – which means it's important for businesses looking into this strategy to ensure they're partnering with trustworthy merchants who produce quality products at competitive prices.
Dropshipping business model tips:
– Be flexible enough to stick with your plan if you don't find quick results or get a negative reaction on social media. Some people will be eager customers while others may confuse your dropshipping company for something different than what it actually provides (e.g., reselling)
Affiliate marketing
– Affiliate marketing is more complex than traditional advertising or retail because affiliates, don't just advertise someone else's services but also provide the products for sale.
– The business model is a natural fit for blogs and content sites that have an extensive network of readers who are primarily interested in the product being sold. That means it's not necessary to sell one type of product.
– Affiliate marketers can promote anything from high fashion apparel to pet food, as long as they're willing to provide their followers with more information about how those items could benefit them personally.
Reasons Why Affiliate Marketing is Better For Beginners
– Dropshippers have to carry the inventory and manage customer service for their products. Doing so takes time and resources that are better suited to more experienced sellers who know how to do those things well.
– On top of carrying an inventory, they also need a store with plenty of traffic coming in on a regular basis because without it, their business will never get off the ground.
Fortunately, affiliate marketers don't have this problem because all they need is enough information about what's available from other companies or individuals who sell similar items in order to make sales themselves. Affiliate marketing can be done virtually anywhere at any time as long as there's access to high-speed internet.
Final Tips on Dropshipping in 2023
Now that you have some of the key points in dropshipping, it's time to get back into action. The best advice I can give is to not be afraid and take risks. Keep yourself updated on all changes with your shipping carriers by reading their blogs or following them on Twitter.
Read up about how other people are succeeding with this strategy as well so that you know what they did differently from you and if there were any pitfalls for them too. Never stop trying new things because sometimes when we think something won't work, we're proven wrong! It pays off to experiment at times–you never know what might happen next!
Keep everything as simple as you can. Choose products that will not easily break and that are not too big. Ship things in smaller, more cost-efficient quantities to get the best rates and keep your margins from getting squeezed.
It's all about being persistent with a long-term view of success–even if it takes some time for you to gain traction or find that one product that sells like hotcakes (especially when people don't think it will).
If there was anything I learned since starting out is that this business requires patience and perseverance. There were plenty of times when my confidence wavered but luckily I kept at it because now we're on our way up!!
The key points in dropshipping are as follows:
Stay informed on shipping carriers updates by reading their blog
Keep your costs as low as possible to maintain margins
Find and sell products that are in high demand (e.g. trending)
We love these tips for making money with dropshipping! We're excited to see how this is going to pan out in the next year or so! Maybe you now will start your very own dropshipping business someday soon — In any case, you should keep reading blogs like the one you are on right now. Since it will help you stay motivated and make smart decisions.
Most importantly: Stay positive!
And good luck on your dropshipping journey in 2023!