This FG Funnels review post is going to discuss its features, prices, and everything else you need to know about this new funnel software. As an entrepreneur, you may often find yourself with grand ideas and new schemes that make you feel stoked and motivated to launch your business plans straight away. But sadly, a great idea and the excitement to pursue a business aren't enough for it to be successful.
An entrepreneur must be aware of the newest and most effective tricks and strategies to ensure the success of their business. That's where sales funnels do their magic.
The funnel design needs to be promising and effective to build trust and credibility among the consumers. The level of trust you build with your visitors influences the sales of your product. FG Funnels helps you do all that and so much more.
FG Funnels
Complete funnel suite software for anyone wanting to launch their online business with ease.
What are FG Funnels?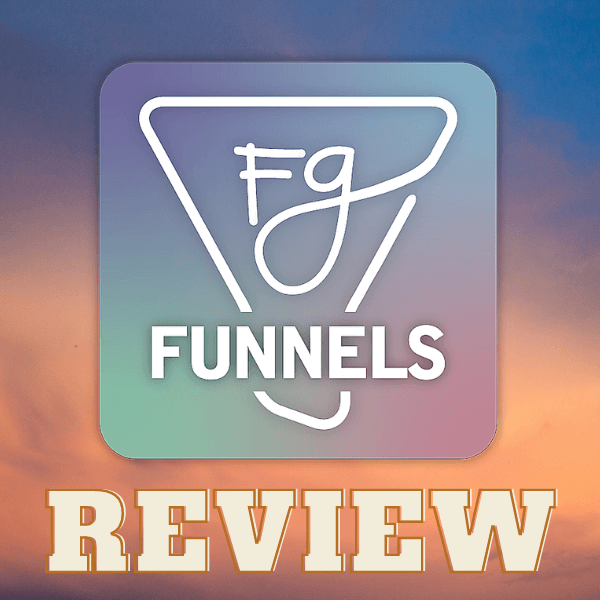 FG Funnels is a marketing software founded in late 2020 by Julie Stoian (digital marketing expert) and Cathy Olson (designer).
This marketing software is designed to build your business empire and ensure its growth by making tech and design accessible and understandable. It provides an affordable subscription-based tool that saves your money to build and grow your business.
It is the real triple threat as it provides great software, really great design, and an epic support system to help you succeed.
If you're familiar with High level, you'll see that FG funnels is a white-labeled version of it but with an addition of Julie and Cathy's brand, Funnel Gorgeous.
This Provides You With The Following Extra Features:
Gorgeous Templates
Funnel Gorgeous Support
Funnel Gorgeous Education
FG Funnels has got it all, and it aims to replace a large number of marketing products and provide core foundations like customer relationship manager (CRM), booking calendar, customer messaging tool, membership area, and most importantly, automation. So if you're looking to spike up your sales, FG Funnels has got some strategies for you.
FG Funnels review – How Will It Actually Help You?
If you are looking for marketing software to create attractive funnel designs, FG Funnels is the right choice for you. Due to its user-friendly design and diverse features, FG funnels are picked by many business owners. It is especially popular among small business owners as it allows you to develop promising funnel designs without causing any issues.
Its amazing design facilitates a bunch of different software tools, which makes it an even better option for medium and small businesses that don't have the option to hire marketing teams because of the budget.
Unlike other funnel software, FG funnels provide you with its own:
Video hosting tool
Web hosting service
email marketing tool
Moreover, if you are familiar with Funnel Gorgeous and want to use their branding and designs for your funnels, then FG funnels are made for you.
FG Funnels vs ClickFunnels: Which One Is Better?
ClickFunnels used to be every entrepreneur's best friend until FG funnels appeared and made its mark with a much better, easy-to-use, and budget-friendly platform in the world of digital marketing.
When clickfunnels was first introduced, it proved to be a great software, but it required its users to have different additional software for managing email lists, websites, and courses and to schedule calls with the clients, another software was needed separately.
On the other hand, FG funnels provide all these services under one roof. It eliminates the hassle of using multiple software and houses all your contacts and automates your proposals, contracts, and reports. This is why FG funnels are much more loved today, and it's a much better option than clickfunnels.
Here's a list of a few items that you're able to do with FG funnels without needing any additional software.
Build websites and funnels
Send text messages
Send emails
Contact people through Facebook Messenger
Call people
Send voicemails
Create advanced triggers and automation
In-page chat widgets
Manage your calendar
Receive reviews from your customers
Create sales-pipelines
Membership area with video hosting included
sub-user
Built-in task functionality so when a customer performs a certain action, it assigns the task to one of the sub-users
HTML- formatted designed Email newsletter builder
Pay plan limiter on pay plans
Sounds incredible, right? It is clear that the Clickfunnels has run its course, and now it is time for FG funnels to shine.
Can FG Funnels Replace Other Software?
Before I answer this question, let's take a peek at the services FG Funnels offers.
User-friendly funnel builder
Quick and easy drag and drop editor
Membership area with native video hosting
Email and text services
Calendar scheduler
CRM
Pre-designed templates
Free training for newbies
40%affiliate commission
Chat widget
Given the notable services FG Funnels offers under one roof, YES it can replace other software and also free you from the hassle of using multiple software at the same time. FG Funnels can efficiently replace Active Campaign, zapier pro, vimeo pro and Learndash and save you up to 600$/year.
FG Funnels Review – Best Features
Let's now go over why this funnel software is different than many of its competitors and what it has to offer.
Customer Relationship Manager (CRM)
FG Funnel facilitates you in building unique funnel designs without coding. It also helps in designing websites, and membership areas for courses and oversees email marketing. and it provides you with a platform to store all of your customer information. This tool manages and stores all of the relevant information and conversations with your customers via phone, email, text, or even private messages in one place.
Furthermore, you can get the leads through the funnels, calendar appointments, or assigned popups and get access to leads using the contacts dashboard.
This feature keeps you updated with any leads on your customer's contact details, their product viewing history, and sign-up details.
It also provides the feature of an automation campaign by allowing you to add any of the contacts. You can even send emails and SMS from this dashboard. A sales pipeline can also be created using the opportunities feature.
Having this feature avoids the hassle of using other software for client information and helps you save up to 1000$/m.
Fundamental Automation Tool
FG Funnels provides all five foundational tools such as CRM, Calendar scheduler, website and funnel builder, membership portal, and messaging capabilities under the same roof. But to make these features do their magic, another tool, automation, is necessary. It allows these five features to communicate with each other. This ability of automation is the key to a well-run system that helps you grow.
This feature lets you automate between apps, funnels, forms, and courses without any limits.
The triggers section makes it convenient for you to transfer your data or specific information from one place to another. When you create a trigger you choose what must happen once that trigger sets off, as well as what specific action must follow. What's more, Triggers can facilitate you in moving contacts and convert into campaigns so that you can send SMS and emails automatically.
Unlimited Services
Most funnel-building Software has categorized pricing plans with their lowest plan having certain limits, and it doesn't include all the features.
If we compare the pricing plans of other available software with FG funnels, you'll find a significant difference. Some platforms such as clickfunnels give you access to a limited number of funnels, domains, and sub-accounts.
Unlike most funnel-building software, FG Funnels gives you access to unlimited services if you are a new member. By subscribing to FG funnels, you'll be able to use all of its features without limits.
FG funnels deliver the following services, all under one platform.
unlimited contacts with a customer relationship manager (CRM)
unlimited forms & surveys
unlimited sales pipelines
unlimited calendars which can be synced to google calendar or outlook
unlimited funnels & websites
unlimited sub-users
unlimited domains
unlimited courses in the membership portal
unlimited automation services
integration with FB messenger and Instagram messages
It is unclear if this is always going to be this way, but it is a pretty good opportunity to take advantage of this offer by signing up for their unlimited account.
Easy Switching Between Platforms
FG funnels make switching from clickfunnels way easier for its users by providing a couple of interesting features.
FG funnels let you import your previous funnels design from clickfunnels in just a few clicks through their page importers.
Without this feature switching from one platform to another would be way difficult and inconvenient. Luckily the importer lets you transfer your data efficiently and conveniently.
Most importantly, there is a noticeable similarity between the editors of both platforms, which makes the transition even more convenient. So if you've used clickfunnels before, switching over to FG Funnels will not require much learning.
Attractive Funnel and Web Builder
Using FG funnels, you can build different websites and also funnels under one roof with minimum hassle. It provides unlimited domains that let you create as many funnels as you want and link them to one central website.
FG funnels premium designs, drag/drop editor with global color, and sections make sure you never have to hire a designer again, as it makes designing your websites and funnels much easier and simple for you.
The funnel section on the dashboard already has some funnel templates for you to work on. Just like other different funnel-building apps, you can clone an already made template that is present on your account instead of selecting one during the funnel creation process.
You can also import funnel templates from other software, such as clickfunnels, in case you're thinking of moving things over.
FG funnels make it easy for you to customize your funnel design by providing user-friendly editing options. Thumbnails along with funnel stats will also be displayed. Other than this, it also allows you to update pages individually.
Moreover, It has a pretty inclusive library of elements that you can drag and drop using the element panel feature. These elements include basics like text bullets, buttons, images, videos, and forms, as well as Countdown timer service and progress bars. It also provides the following services
Mobile design
SEO metadata
live previews
triggered popups
custom CSS
At last, It also allows you to switch between different stages of your funnel while avoiding the hassle of leaving the page builder. This makes it much more user-friendly than it's given credit for.
Membership Area
This notable function helps you to personalize an individual space in your commercial enterprise and lets you feature as many courses as wanted. By taking advantage of this selection, you could upload videos, and textual content instructions, or add PDFs and files at once to the portal.
You also can take benefit from this platform to tune the general development of its individuals.it additionally lets you inform them if they're in the back in any path.
To start, you should construct a product. Once you pick your product type, FG funnels facilitate you with a fundamental format and save you time.
Everything is laid out intuitively, and in case you're acquainted with a comparable platform, you won't experience any difficulty.
You can edit individual lesson plans using the pencil icon, it lets you customize your lessons by featuring videos, images, and texts. It additionally lets you attach associated documents and materials.
This section appears to be perfect but it does have a few drawbacks
For example, this selection doesn't assist you to optimize your lessons using quizzes, and it gives restricted visible customizations because of this the format of this portal is identical for each member.
Lastly, you could set the fee of your memberships with the aid of developing a proposal that consists of 3 options:
• Free admission
• One-time payment
• Recurring subscription
If I'm being honest, this portal is flawlessly usable at the moment, however, you can easily improve things.
FG Funnels Marketing Campaigns Review
We now continue this FG Funnels review by looking more at how you could use this funnel builder in your marketing. Once you're finished designing your pages and content, it is critical to use certain marketing tools to capture the attention of your clients. For this cause, FG Funnels launches campaigns.
You could make your product handy to the clients with the aid of marketing campaigns. These campaigns take you through different stages to transform potential prospects into treasured clients.
There are stages in every folder that automatically tracks the visitors based on their reply rates.
You may be supplied with a few stages by default, however, you could personalize them with your very own folders and fill them with content you like. Each level will assist you to automate a chain of movements to transform your prospect into clients. These automatic movements encompass computerized various things, such as Facebook messages, voicemails, SMS, and also emails.
FG Funnels review – Other features
We've already become acquainted with the important features in this FG funnels review already. But some features make this platform every entrepreneur's dream. Some of these are shown below.
In today's world, you need more than one channel to attain your clients. Whether it is an e-mail or SMS message, or a voicemail, all of your conversations may be positioned in the conversations tab, and you could reply at once from this interface.
The forms and surveys function lets you feature more than one custom field and redirections, sends a message, and styles the forms
You can easily merge the FG Funnels calendar along with your Google calendar, and it additionally lets you take bills for different appointments as well.
Chat widgets let you speak to your visitors on the web page using chat bubbles on your internet site making it one of the coolest features.
We all recognize that for each product to develop and improve, opinions and testimonials are essential. For this purpose, the review function lets you request reviews out of your clients and additionally keeps them organized.
FG Funnels Pricing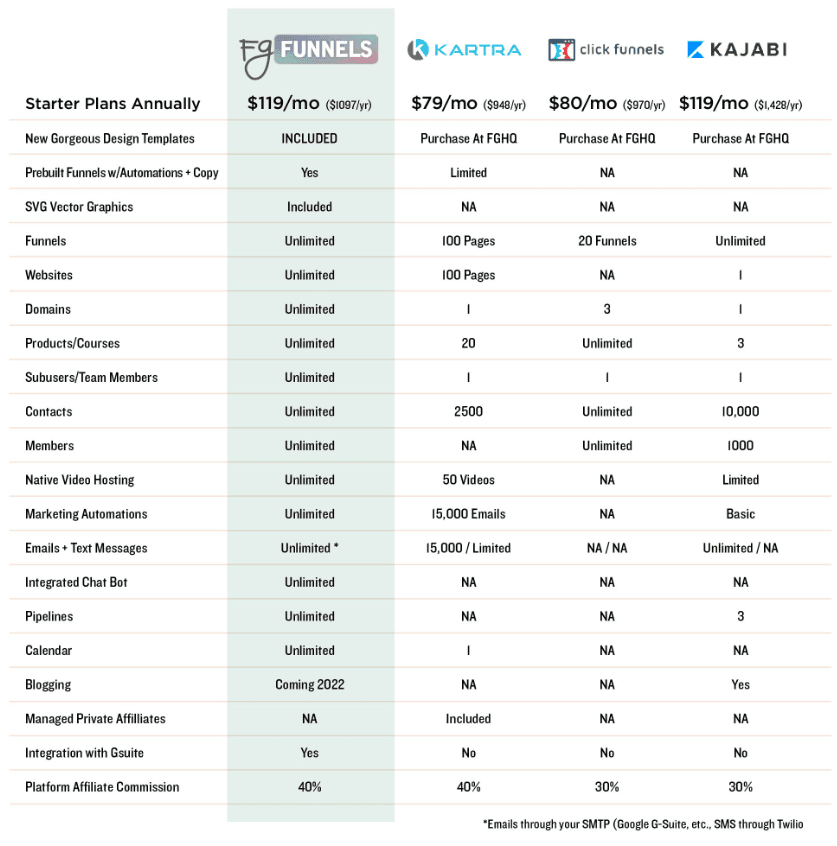 Since it is still in its early stages of development, presently there is only one pricing deal available. It is known as a founding member's unlimited account, and it costs $119/m or $91/m if you sign on for an annual plan.
By subscribing to this plan, you may get:
• Limitless funnels
• Limitless memberships
• Limitless domains
• Limitless e-mail advertising
• Limitless texting
• Limitless services
This pricing is set for its first 2000 members. It is predicted to expire as soon as its limit is reached.
If we examine FG funnels pricing plan to a different software program such as high level, it is truly a great deal. The equal plan with a high level could commonly charge you around $297/ month. But with FG funnels, it is much less than that.
FG Funnels vs Clickfunnels FAQ
FG Funnels is a sales funnel builder and online marketing platform that allows users to create landing pages, opt-in forms, and sales pages. It also offers features such as email marketing, automation, and analytics.
Clickfunnels is also a sales funnel builder and online marketing platform that allows users to create landing pages, opt-in forms, and sales pages. It also offers features such as email marketing, automation, and analytics.
What are the main differences between FG Funnels and Clickfunnels?
Some of the main differences between FG Funnels and Clickfunnels include:
Pricing: FG Funnels has a subscription-based pricing model, while Clickfunnels has a tiered pricing model with different levels of access and features.
Integrations: FG Funnels offers integration with a wide range of marketing and sales tools, while Clickfunnels has a more limited set of integrations.
Templates: FG Funnels and Clickfunnels both offer a variety of templates for creating landing pages and sales funnels, but FG Funnels may have a larger selection.
Customization: FG Funnels allows for more flexibility and customization of landing pages and sales funnels, while Clickfunnels has more pre-designed templates and options.
Which is better, FG Funnels or Clickfunnels?
It ultimately depends on your specific needs and goals. If you are looking for a more flexible and customizable platform with a wide range of integrations, FG Funnels may be a better option for you. If you prefer a more streamlined and pre-designed platform with a focus on simplicity, Clickfunnels may be a better fit. It's important to consider your budget and the features that are most important to you when deciding which platform to use.
FG Funnels Review – Conclusion
Hopefully, this FG funnels review has made it clear that it's far better and an effective alternative to other marketing software such as Clickfunnels. It offers you limitless capabilities and the 5 key foundations needed for a promising online business, all in one place.
Moreover, its sustainable key features make sure that your money would not pass in vain. Its layout lets you design your funnels and websites without coding. This makes it an excellent choice and a clear preference for small corporations and new entrepreneurs.
Interestingly, their editor is very much like Clickfunnels, which makes the transition to FG funnels easier. And in case you are acquainted with Julie's work, you must already be impressed by her designs, and it makes total sense to try her platform for a flourishing business.