Are you blogging or sharing content online around a passion you have? If you are, then why not start earning an extra income from it? In these uncertain times, it's always nice to have some extra money laying around. In this Funnel Challenge review, you will learn how to take your passion to the next level. If you already have a passion, then you are already way ahead of all those that are only consuming content and not producing. The truth is that you need to produce content if you are going to make any kind of substation income online.
If I told you that learning about funnels could mean that you could make your hobby or passion a full-time income, would you be interested? This is basically what the training is all about. Funnels for influencers and bloggers. In any case, I'm sure this read will be informative to those who are planning to use sales funnels for marketing. It also may help those who are finding out ways to get the most out of their blogs and other online content.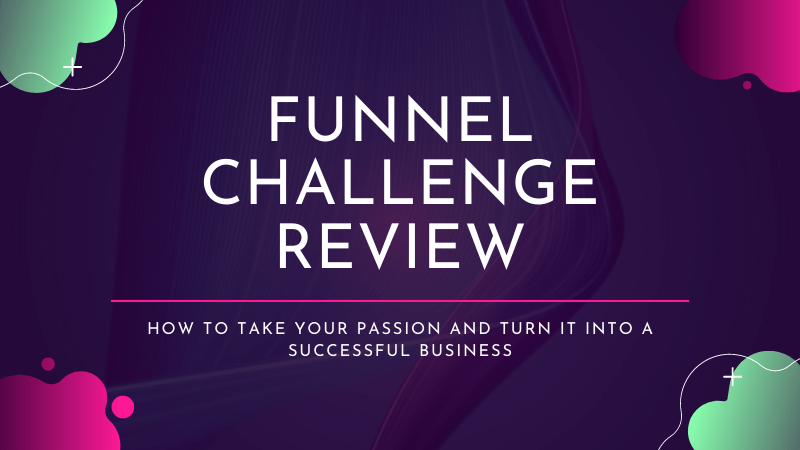 What Is a Marketing Funnel?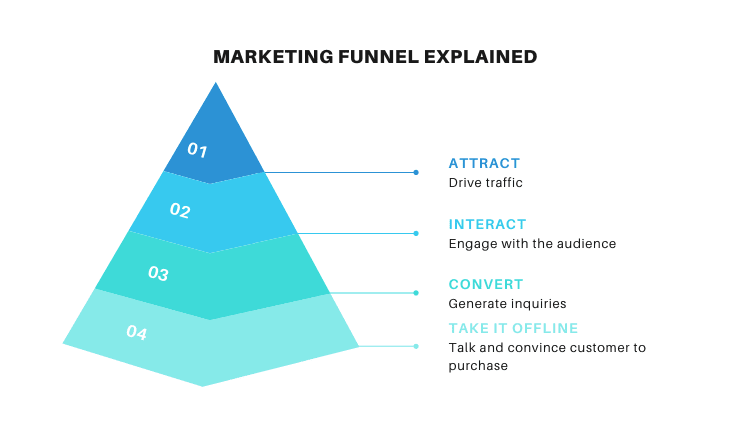 Marketers selling products and services online target prospective customers making use of various options and methods. The main objective at the end of the day is to ensure that they are nearer a sale, thereby making them earn some revenue. They may be using many methods and some of which may be crude. However, at the end of the day, they are making use of marketing funnel in some manner or another. It is referred to as funnel because along the way as you look for new customers, you also end up losing prospects and even some existing customers.
When you use a funnel for targeting prospective customers, it is quite possible that you may be able to generate a certain number of prospective leads. Let us keep this number as 100. However, as you dig deeper and take things forward, you will find that most of the 100 leads would have fallen by the way-side and only a handful of leads will remain for follow up and probable conversion into a serious business proposition. Since the numbers keep decreasing at each level of the funnel process, you need to ensure that you have a scientific and well thought out sales funnel system.
Why Do You Need A Funnel System?
Many people may ask the question of whether your blog or content will be able to survive in an online environment without a funnel. Yes, for sure it will survive as another content amongst the millions that are there on the internet. If you do not know how to make use of the blog, even the best of contents will remain stagnant and eventually die a slow death. We need to bear in mind that there is a huge competition out there and therefore having a good sales funnel for influencers is a must.
However, choosing the best is not easy because there are so many sales funnel systems out there. You need to do your research and then decide. Based on feedback from various sources and going by public perception and other information, there are reasons to believe that Funnel Challenge could be a good product for those who are looking for the best funnel for influencers. Let us learn more about this product.
What Is The Funnel Challenge Training All About?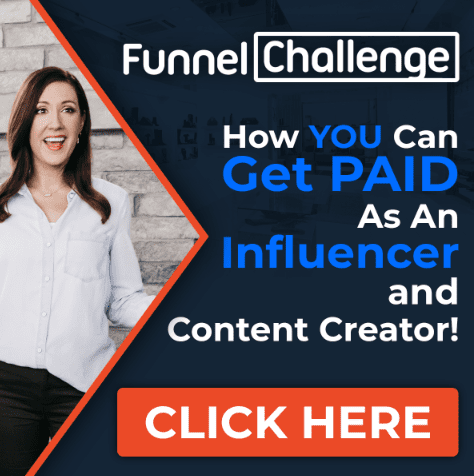 The Funnel Challenge is basically a marketing challenge that has been designed for bloggers and content creators who are on the lookout for creating the right funnels that are profitable and long-lasting as far as their businesses are concerned. This is much more than a challenge and in fact, it is a virtual training program that runs for 30 days. It is supposedly filled with useful marketing information and therefore may help content creators and bloggers to turn their passion and hobbies into profitable businesses.
Who Are The Creators Behind It?
The entire training program has been designed and also is being managed and run by a team of three persons, namely Russell Brunson, Stephen Larson, and Julie Stolan. They would like to call themselves The Strategist, The Executioner, and The Transformer respectively. According to many reviews, the Funnel Challenge has some amazing features and it could be quite useful to bloggers, content creators, and even podcasters.
This Is What You Will Learn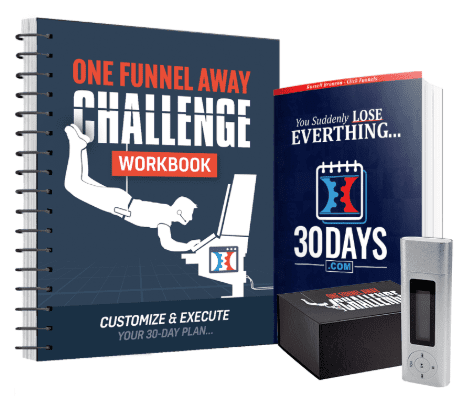 There are many useful takeaways as far as this product is concerned. It contains some of the best training courses along with tutorials. Further, it also helps the bloggers to find out ways by which they are able to create customized content. Finally, they also offer some useful tips on merchandising.
It also comes with some attractive bonuses that include the hard copy of the entire Challenge Workbook, along with an MP3 player and access to interviews with some expert online digital marketers.
Recommended read: Go to the full review of the One Funnel Away Challenge.
Why People Like This Product
The sheer quality and quantity of content is something that makes this a great product according to those who have used it. If you are able to get into the depth of this product, it will not be long before you are able to make profitable use of it. Each and every stage of the funnel has been explained and it is in special context with those who are influencers by way of blogging, content creation, and podcasting amongst other such things.
Here Is a Summary of All The Bonuses You Will Be Getting When You Join The Funnel Challenge Today!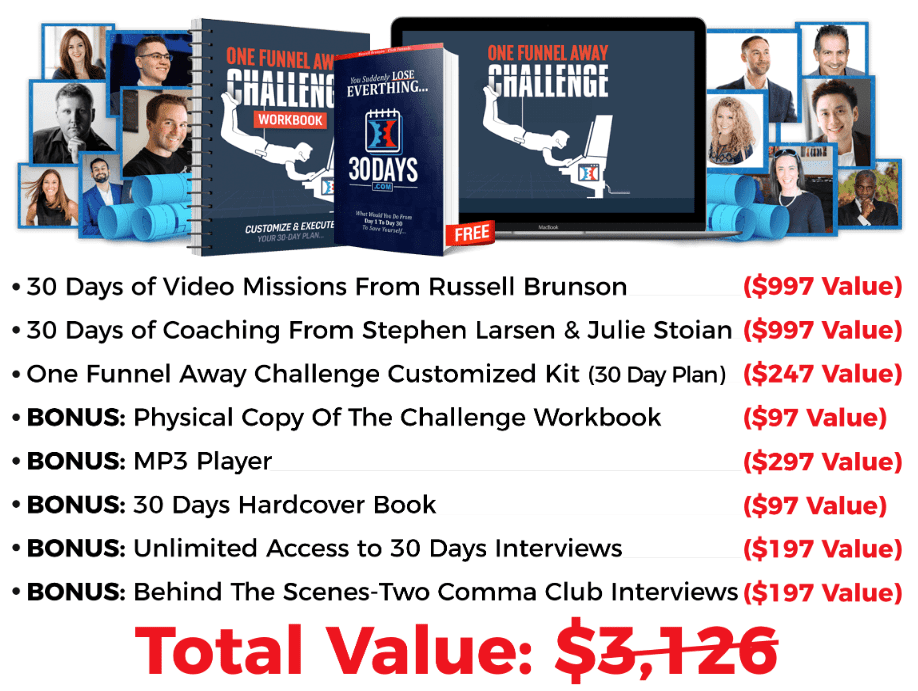 Pros – Funnel Challenge Review
There are some obvious advantages of this product. Here are a few of them:
Pre-training materials and time help you to get into the groove before learning the finer aspects of the product.
It adds tons of value because Funnel Challenge takes inputs from many resources. The training that is offered is based on facts and happenings and not just based on theories.
It is backed by three mentors who have an incredible amount of knowledge and experience. The three mentors will be there throughout the entire 30-day period and you can be sure about the wonderful knowledge and hand-holding that they will provide to you.
You also will be a part of the awesome Facebook community where you will be exposed to the challenge. You will have some of the best brains networking with you and you will be able to learn and also put to use their strategies.
The bonuses that are a part of this program are also quite impressive and they offer very good value for money.
It comes with a 30-day money-back guarantee.
Cons – Funnel Challenge Review
Beginners may consider the information a bit of an overload.
It comes with a price tag of around $100 and this may be a bit high for many.
Conclusion and Final Verdict
Funnel Challenge
Summary
If you are looking for the best training on how to create sales funnels, then this is going to be a perfect match. You get everything laid out in a very user-friendly way. Highly recommended if you are serious about growing your passion into a full-time business.
To conclude, there is no doubt that bloggers do need to learn as much as possible about the importance and significance of a sales funnel. Towards this objective, it is quite evident that this Funnel Challenge review may have helped many readers and information seekers.