Are you sick of writing sales copy all the time? Then this Funnel Scripts pricing guide is going to be a huge timesaver for your marketing efforts online. If you own a business, there is no way you haven't given copywriting a serious thought. A good copy resonates deep down with your audience and converts in a way you never expected it to be. Regardless of how many pieces of content you write, one quality copy can overrule them all.
When you hold yourself too close to the copywriting world, I'm sure you have heard of Funnel scripts at least once. The software has solved the problem just like how you wish to solve it for your audience. It makes sure to understand your customers, content and generate crisp copy that will put your readers in your place and see the potential in your business from your eyes.
So how much would it cost to get you to avail all the countless perks of this software? Well, here's an in-depth Funnel Scripts pricing guide to help answer all your swarming questions.
What is Funnel Scripts?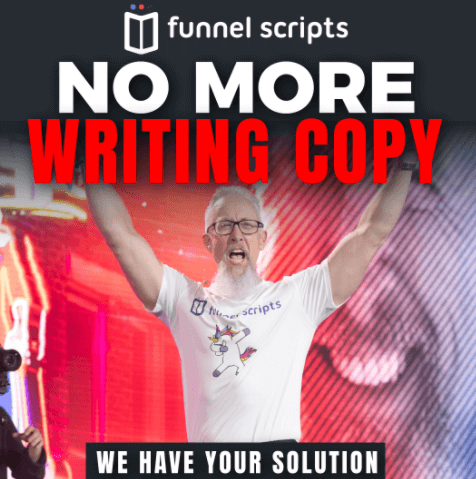 It is sure that simply typing away facts for 1000+ words and calling it a copy won't cut. It needs to have emotions, imagery, connections, and most importantly, a story to convey to your audience.
This is what Funnel Scripts excel at.
Writing a high converting sales letter, webinar copy, Facebook ad, and email script requires patience and practice. Therefore, Funnel Script comes to the rescue with its copy-generating SaaS platform by marketing experts like Russel Brunson and Jim Edwards to make it a product under ClickFunnels. It mainly focuses on drafting scripts for people like you and me to fill and enjoy the benefits of a clear-cut copy rolling in.
They believe copywriting is a mindset where you have to understand your audience better than they do themselves and use that to unleash your inner copywriting pro without breaking a sweat in years of professional training. With this, you will be sitting on your PJs, sipping coffee by the side and typing an excellent copy in a few minutes, which would otherwise take years of practice to write.
Many people associate Funnel Scripts with ClickFunnels, which has many affiliates; it is actually a standalone company with high customizability to help cut. Let's go a little deeper to wrap your head around its fundamentals.
How The Funnel Copywriting Software Works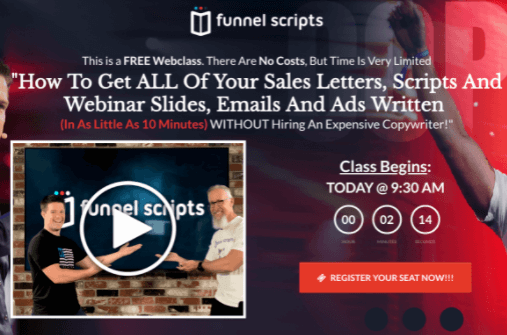 Although it may look like software for the tech-savvy, it actually offers one of the very few software with a user-friendly dashboard. All you have to do is create an account, enter the details of your offer, reply to the questions by the software, hit the "Submit" button and voila! You're all set to have your first copy.
It now features training videos, a downloadable wizard and a wide array of scriptwriters to ensure you are always satisfied with the work. It generates content for:
The scriptwriters include content generation for:
Sales copy
Email copy
E-commerce
Video sales letter
Brunson bullet scripts
Call to action scripts
Special Offer scripts
Ad copy
PPT Optin scripts for video
OTO Next Thing scripts
You name it!
It would generally take you around 30-45 minutes to set up the funnel in ClickFunnel and generate a copy sequence to get high conversion rates. Want to learn more about how Funnel Scripts actually works? Then read our Funnel Scripts review guide.
How Much Does Funnel Scripts Cost?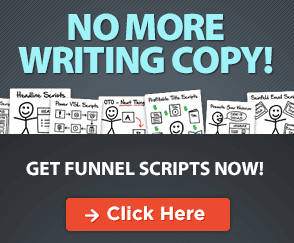 Here comes the question you have waiting for. Considering how copywriting is dense with personal human work, Funnel Script sounds like the software that would break your bank. And why wouldn't you think that after all, getting one copy done on Fiverr costs around $50 each?
Previously, Funnel Scripts was for $66/month. However, now they have changed it to a $797-lifetime price. Other than that, you also get to have access to innumerable features and exclusive bonuses, which are actually worth more than $127,394.
The best part, as ClickFunnels improve with time, Funnel Scripts never fails to catch up with the pace of emerging businesses and make sure you have a one-stop platform for all your writing tasks.
However, there is also a time when the price changes to $497. Brunson's parent company Etison LLC is still experimenting with a few pricing strategies to pick the best one. However, when you get quality content from a platform like Funnel Scripts, it doesn't just boil down to money. It is also about the customers who vouch for its services and the clear value you will get by opting for the software.
Sure, it may sound like a lot of money. But if you think about it, you really do. That's when you realize that one of the copies generated by Funnel Scripts can get your desired conversion. Is it worth it to spend a few extra bucks into a software e that can become your #1 secret to success?
Can You Get Funnel Scripts for $297?
If you don't know this already, Funnel Scripts started with a $297 deal initially. However, with consistently high results and advancements, Clickfunnels has raised the price from the initial $297. However, there is still a chance you can get the software for a relatively better deal. This, till today, remains as one of the things that not many know about Funnel Script. If you choose to invest in programs like Funnel Builder Secrets, you will get access to both Funnel Scripts and ClickFunnels all at once. This leaves you with a 6 month trial for each marketing tool. Not just this, you also get to have:
Access to Funnel Scripts
Free Funnel Builder Secrets Training
Traffic Secrets Membership
Free Funnel Hacks Masterclass training
Final words on Funnel Scripts Pricing Guide
All in all, where Funnel Scripts can be your key to unlock the best copy ever written, it also has a slightly grey area in its pricing strategies. The version of $297 is also 2.5 times less than the current price of $797 pricing. This means no one can really predict the prices and bonuses attached to Funnel Scripts in the future.
As long as you are fine with that, nothing can stop you from enjoying the convenience of scripts and professionally written copy that can get your business to heights.
Cheers!