In this GetResponse conversion funnel review, you will discover why Clickfunnels, Kartra, and all the other funnel builders, now have gotten some serious new competition in the market. If you are currently investigating on what platform to choose for building your leads and sales, then this review will be what you are looking for.
Like many others, you might be wondering if there is a tool out there, where you don't need to pay and integrate multiple tools to run the business in a smooth manner? Then you should think about getting your hands on GetResponse conversion funnels. It is one of the best lead funnel software applications available for you to consider right now.
What Is a GetResponse Conversion Funnel?
The best way to describe it as: Ready-made, automated step-by-step system to build landing pages, automate your emails, sell your products, recover abandoned orders, and earn you more money.

Conversion funnels will provide you with the chance to integrate numerous GetResponse features to a single smooth flow. It can provide you with access to some amazing features. You can now in a much better way to use this email service to sell your products, automate the emails, and recover abandoned emails. As a result, you can generate more money with ease.
How Does Conversion Funnels Work Exactly?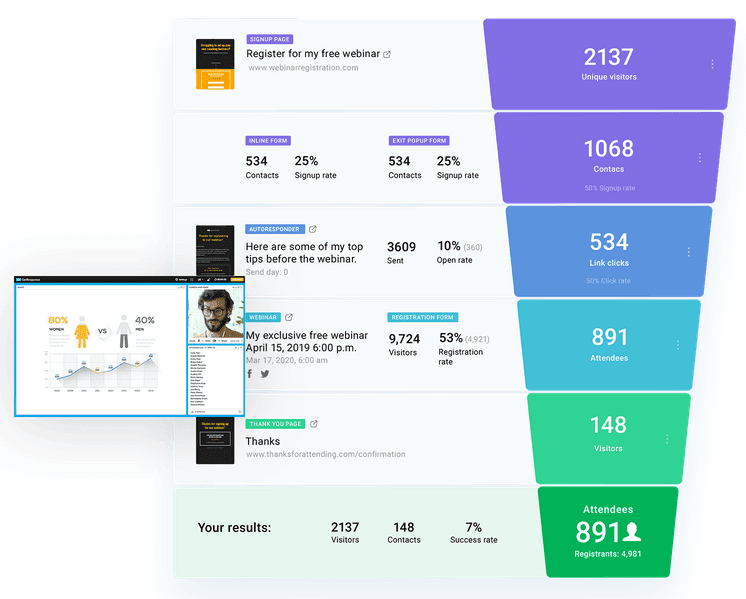 If you where looking for a full walkthrough of the tool in this GetResponse conversion funnel review, then I can really recommend to watch the video below. It shows you to create a complete automated funnel from scratch using the new conversion funnels. (This tool was previously called Autofunnel, but has now changed name).
Funnel Flow And The Different Stages
Now you have a basic understanding of the functionality of GetResponse conversion funnels. While keeping that in mind, you should figure out how the GetResponse works as well. We are breaking down the functionality of GetResponse conversion funnel into several stages so that you can understand it with ease.
Generate traffic
GetResponse conversion funnel will assist you to set up Instagram and Facebook ads within the GetResponse account. Along with that, you can drive high-quality traffic to the pages that you have as well. This will eventually help you to define the target group. You can also add advertisement content and set up the budget with ease.
Then you will be able to monitor the campaigns and then do the optimizations accordingly so that you can receive the best possible performance at the end of the day.
There are many ready-made templates to choose from with GetResponse. You can use them to create excellent quality pages for social media profiles and advertisements within a few minutes. There is no need to hire a designer to get the job done, which is great.
Send traffic to landing pages
So, you need traffic? The good news is that GetResponse conversion funnel will easily help you to generate traffic to your landing pages. In here, you will be provided with the assistance to create industry-specific landing pages.
These are landing page templates that have been highly optimized to ensure the best conversion rates. You will also notice that they are designed according to your industry as well. You can fill up them with ready-made content so that you can customize them according to the needs.
Convert more visitors to leads
GetResponse conversion funnel can help you to convert the visitors that you have into leads. To help you with that, in-built web forms will be made available to you. They will be built right into your landing pages.
Hence, you can set up the campaign automatically. All you have to do is to add the fields that you need. Moreover, you can have access to exit-intent popups, which will help you to secure more conversions with minimum hassle.
Nurture the contacts and transform them into fans
You can pick the contacts as soon as they sign up with your subscription forms with the help of. Therefore, you can immediately start sending them automated and engaging emails. This will deliver all the support needed to get them to purchase.
Moreover, you can run both free webinars as well as paid webinars for the audience. They will be integrated seamlessly with the emails and pages. There is no need to have a third party webinar application. Or else, you don't need to have any browser plugins as well.
Increase Your Sales With Funnels
The conversion-focused sales pages offered by GetResponse conversion funnel will be able to deliver all the assistance needed for you to buy the products. Here, you can get stores for the products, which will help you manage both physical products and digital products with ease.
You will also be able to include them in the emails and pages with minimum trouble. Moreover, you can integrate with e-commerce, including Woocomerce, Magento, and Shopify.
Reducing cart abandonments
While you are using GetResponse conversion funnels, you will be able to reduce the cart abandonments up to a great extent as well. You can send out perfectly timed emails and make sure that you don't have to worry about cart abandonments. Moreover, you can retarget the advertisements to ensure that you are receiving effective results at the end of the day as well.
Many payment integrations to choose from
There are numerous payment processors available with GetResponse. They include PayPal, Stripe, Qiwi, and Square. These are easy to get working without having to leave the app. Moreover, you can send out automated order confirmations as well.
You will be able to send the order confirmation emails to customers within a few seconds of making a purchase. This can help you to impress your customers.
There Are Templates For All Industries
No matter what your industry is, you can start using this platform to achieve most marketing goals. That's because you are getting more than 40 different conversion-optimized scenarios, which are designed by the industry experts. You can use them to build the contact lists, sell, and then showcase the offers. As a result, you can eventually get the support that you need to ensure your growth.
Related article: Getresponse Review.
Final Words – GetResponse Conversion Funnel Review
GetResponse conversion funnel is ideal for coaches, e-book writers, e-commerce store owners, local businesses, event planners, photographers, designers, and many others. Every single scenario will provide you with high-quality designs, images, and professional marketing copies.
Moreover, you can add more details about your business and the offers that you are giving to the customers. If you can do these small scale changes, you will be good enough to move forward with.
You have the freedom to easily develop six different types of sales funnels using GetResponse conversion funnel. Therefore, you can get the chance to automate the process of selling your products or services to the customers, while maximizing the returns.
Many experts now prefer to only use GetResponse for all their list building and landing page needs, and with good reason. It is both affordable and more user friendly than most of its competitors on the market.
GetResponse Conversion Funnel Review – Ratings
Final Verdict
Summary
I can really recommend this complete sales funnel suite from Getresponse. Easily build and scale your business with the drag-and-drop builder.