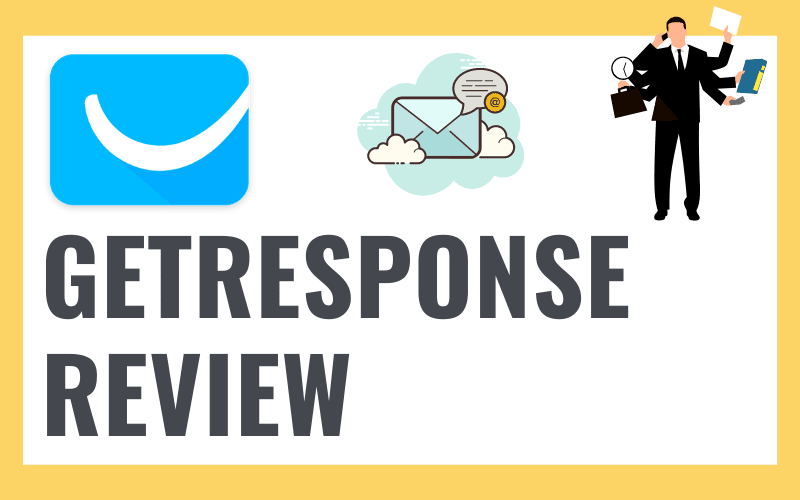 This Getresponse review is going to share with you everything you need to know about this autoresponder and marketing software. It is interesting to note that in excess of 75 trillion emails are being sent every single year. At present, B2C as well as B2B businesses employ email marketing tools for driving sales and boosting client engagement.
Honestly speaking, it is quite surprising that one can consider social media to be a faster channel for reaching out to the proper type of target audience on time. However, the actual truth is that email creators are going to stay right now. As a matter of fact, email is approximately 45 times more effective in terms of acquiring fresh clients on Twitter or Facebook.
Are you looking for a feature-rich solution to proceed with your email marketing campaigns?
Then Getresponse is one of the best options available to consider. It can offer a variety of features, which will assist you to run comprehensive email marketing campaigns with ease. Before you get your hands on this solution, it is important to have a basic understanding of the features offered by it. This Getresponse autoresponder will help you with it.
What Is Getresponse?


Getresponse is one of the most popular email marketing companies that you can find. The company started back in the year 1998 and has maintained a strong reputation since them. As of now, Getresponse is providing a large selection of advanced marketing automation functions.
These functionalities can provide you with the opportunity to manage all your email marketing campaigns. You can also think about using Getresponse to design opt-in forms, host webinars, create landing pages, and configure complete off-site automation processes.
Often considered to be the simplest email marketing tool in the world, GetResponse is being used by in excess of 3,50,000 clients from as many as 182 nations while the tool is obtainable in 22 different languages. GetResponse was first launched by Simon Grabowski in the year 1997, and it offers top-notch online marketing services for businessmen out there.
This tool is called "simple" mainly because of its advanced and user-friendly features which we are going to mention later in this GetResponse review. The most notable feature regarding GetResponse is the fact that it provides personalized software solutions for businesses depending on the requirements and size.
Getresponse is one of the very first email marketing tools to deliver A/B testing to people. Therefore, you can also think about calling it an innovative email marketing solution available to consider. Let's continue this Getresponse review by going over the features of the autoresponder.
GetResponse Review 2020
GetResponse can be considered to be a simple-to-use tool for managing email marketing campaigns which help to support entrepreneurs effectively. It will be the appropriate tool for you in case you'd like to establish targeted subscriber email listings, dispatch impactful and quality newsletters, distribute video emails, and also perform the follow-up campaigns.
GetResponse can boast of being an amazing spam-free solution which is able to achieve an email delivery rate of more than 99%. Moreover, the customer service team of GetResponse will be available 24 hours a day which helps to make it extremely convenient to use this tool.
Best Email Software Features and Benefits
Here are some of the most prominent features and benefits that you need to learn about from this Getresponse review. Based on these, you will be able to make the decision on whether you are going to use Getresponse or not.
Develop complex automation sequences
While using the features available in Getresponse, you will be able to develop complex marketing automation sequences. This will assist you to automate numerous aspects of the email marketing campaigns.
Along with that, you can keep the peace of mind as you don't have to involve each and every aspect of the company. You have the ability to use Getresponse and configure activity-based autoresponders. These autoresponders will be configured based on the different actions you take.
Advanced contact segmentation
If you can segment your contacts effectively, you will be able to send out messages to them in an effective manner. That's where Getresponse will be able to assist you with. A large number of parameters are available for you to segment the contacts.

All you have to do is to take a look at those parameters and subscribe accordingly. For example, you can define segments based upon last opened date, open rate, location, last clicked, page s visited on the website, completion of the email sequence, tags assigned and many more.
Manage contacts more intelligently
Getresponse can also provide you with the chance to manage your contacts in an intelligent manner. You will be able to manage your contacts with the help of custom fields and tags. It's also great that you can collect additional information related to the subscribers and then use them to create personalized campaigns.

You have the freedom to introduce parameters such as currency, city, gender, favorite movie, or anything else that you are interested in.
Advanced Features For Experts – Getresponse review
Create and host webinars
Creating and hosting webinars will become an easy thing to do along with Getresponse. It is one of the most effective methods available for you to acquire customers and generate leads. B2B companies are heavily relying on webinars to conduct marketing campaigns. You can think about doing the same. Getresponse will provide you with the infrastructure needed to host webinars and manage them with ease.
Design and develop landing pages
You don't need to be a developer or a designer to create beautifully and highly converting landing pages with Getresponse. All the templates and features available for developing landing pages are offered along with the tool. All you have to do is to use the available resources to develop your landing pages.

You will be provided with a comprehensive landing page design library. It offers a large number of templates. You can make sure that there is something for everyone in the library. They are mobile responsive as well.
Create comprehensive sales and marketing funnels
Your life can be made easy with creating comprehensive sales and marketing funnels with the features that are available in Getresponse. This will assist you to manage all your prospects and leads easily and engage them.
On the other hand, you will also be able to develop automation sequences within your sales and marketing funnels as well. Developing a sequence will not be a technical thing to do because you just need to drag and drop. Hence, you can easily take control of the sales and marketing funnels based on your preferences.
Top 4 Most Useful Email Marketing Features
The key features of GetResponse consist of the following.
1. Marketing automation
The marketing automation feature of GetResponse allows users to create scalable workflows depending on client journeys. Autoresponders that are action-based allow for the development of messages triggered by pertinent actions of the recipients. Apart from this, GetResponse offers top-notch segmentation tools to the users which helps them to categorize their contacts into subcategories and customize emails accordingly.
2. Landing Page Builder
GetResponse can boast of having a drag-and-drop landing page builder which helps the users to make responsive landing pages as well as web forms. It is possible for the business marketers to create webpages for webinars, sales, opt-ins, thank yous, as well as downloads within several minutes only. Furthermore, GetResponse allows the users to test, evaluate, plus optimize their pages for increasing conversion rates.
3. Comprehensive Reporting
GetResponse comes with comprehensive reporting capacities. Several simple reports appear in the dashboard directly which offers an overview of the campaign success by means of pie chart and raw numbers. The Email Analytics segment offers more detail with bar graphs and line graphs for clicks, opens, unsubscribes, bounces, and complaints. Moreover, for every single report, it will be possible for the users to view any action performed by any subscriber within their email listing.
4. Webinar integration
The webinar platform of GetResponse integrates seamlessly with the email marketing feature of GetResponse enabling the users to host demos, product announcements, as well as training sessions. The features consist of chat moderation, presentation sharing, desktop sharing, polls, VoIP capabilities, as well as attendee management. Apart from this, GetResponse allows its users to decide whether their webinar is going to be open to everybody or password-protected.
Getresponse Pricing
So what does this email marketing tool cost, you might ask? The great thing is that you can start for free. Then when you start to grow your email list, then the pricing is going to change depending on how many your contacts you have.
At this moment in time there are 4 main GetResponse pricing plans
The Basic Plan starts at $15 every month for sending unlimited emails to as many as 1,000 subscribers
The Plus Plan starts at $49 every month for as many as 1,000 subscribers
The Professional Plan commences at $99 every month for as many as 1,000 subscribers
The Max Plan is negotiable
The costs are going to increase while you go on adding more subscribers to the list. When it comes to the Max Plan, the exact pricing will depend on the list size as well as requirements. In case you are interested in this particular plan, it will be imperative to get in touch with GetResponse for scheduling a demo, discussing your requirements, and also negotiating the pricing.
You will get significant discounts in case you pay upfront for 1 year or 2 years of service. (16% and 28% respectively).
Apart from the paid plans, you will also get access to a free trial for 30 days.
Most Current Getresponse Pricing Table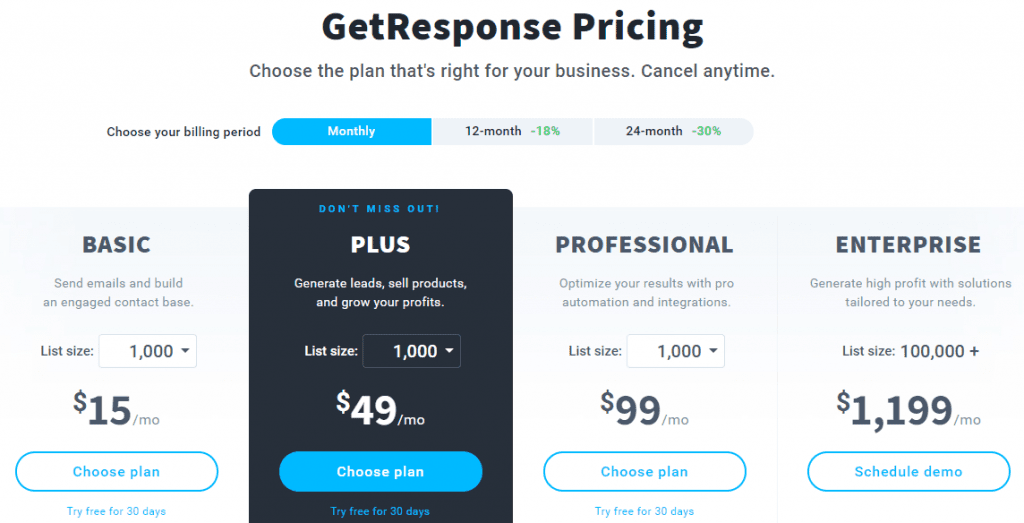 GetResponse vs ActiveCampaign Review
It might be the fact that you are trying to enhance customer retention as well as conversion rates. If it is so, the time is correct for you to come across a fresh email marketing tool. In this particular GetResponse vs ActiveCampaign assessment, we will take a close look at what can be offered by these platforms and how they can help you to figure out which software product will help you to flourish your business quicker.
The ultimate objective of any business will be to create and expand a dedicated customer base. In fact, approximately 60% of the marketers are of the notion that the most essential objective of marketing will be to acquire new customers.
Platforms such as GetResponse as well as ActiveCampaign have been designed to enable users to run email marketing campaigns, manage contacts, and also send messages to their subscribers automatically. It is a fact that both of these platforms can boast of having an identical set of tools, and this makes it quite difficult to differentiate them. Creating subscription forms, sending newsletters, and executing A/B split tests are several of their common features.
Nevertheless, the feature lists of these platforms are not the same, and these minor differences will play a significant role at the time of any email marketing campaign. It will be possible for you to plan a more effective email marketing technique by comprehending which things the email marketing tool can and cannot do. Here, we have mentioned some essential differences between GetResponse and ActiveCampaign.
Most Important Differences Between GetResponse And ActiveCampaign
While GetResponse incorporates a landing page builder, ActiveCampaign does not
Although GetResponse permits the uses to create Autofunnels, ActiveCampaign does not
GetResponse comes with inbuilt webinar tools while ActiveCampaign doesn't
GetResponse provides an automatic map feature while ActiveCampaign does not
Although ActiveCampaign incorporates SMS messaging, with GetResponse you have to integrate with third-party software for using SMS messages
The free trial period of GetResponse is going to last for 30 days while that of ActiveCampaign lasts for only 14 days
Unlike GetResponse, machine learning tools are provided by ActiveCampaign
Although the differences that exist between these 2 platforms might appear to be negligible, GetResponse is the more reliable of the two for entrepreneurs as well as marketers who like to set up webinars or build funnels effortlessly. On the contrary, ActiveCampaign will allow you to communicate with the subscribers by means of multiple channels.
I do understand that might be confused about the many competing email marketing software out there. So let's now continue this Getresponse review by looking at some more of the other options.
GetResponse vs MailChimp
In the subsequent paragraphs, we will take a look at the key differences between GetResponse and MailChimp.
We will begin by discussing the most significant features of MailChimp.
1. Manage subscriber profiles
MailChimp is actually a free mailing service that enables you to make a profile for every single subscriber within your list and you will be able to monitor their interactions with your newsletters and campaigns.
2. Make use of templates for the newsletters
Pre-made newsletter templates are offered by this platform which is appropriate for your campaign. In case you like to create a custom template, make sure to experiment with the innovative drag-and-drop template builder.
3. OS support
At present, MailChimp is compatible with the most recent Android as well as iOS OSx. You will come across One Touch applications which will allow you to control your email listing using MailChimp.
4. Free services
MailChimp will allow you to manage as many as 12,000 emails to no less than 2,000 subscribers without paying anything at all following which you might go for a $25 every month plan which will allow you to manage from 1,501 to 2,000 subscribers.
Next, we will talk about the most important features of GetResponse.
1. Pre-made templates
It will be possible to include brand logos, graphic designs, campaign pictures, and so on to the newsletters which are automatically generated. GetResponse helps to make your mails smartphone-friendly for your subscribers by providing responsive templates.
2. 24 hours support
It is important for any mailing service to provide responsive support. You will be able to get the required support as well as replies to your queries at any time during the day. This particular feature helps to keep GetResponse somewhat ahead of MailChimp.
3. Friendly and simple interface
The interface of GetResponse can be trusted for operational simplicity with functional appeal. Unlike MailChimp, the UI design of GetResponse is a lot more user-centric.
4. Comprehensive template catalog
It is a fact that GetResponse is a differentiator for web businesses which are design savvy mainly due to its overwhelming range of landing pages, forms, as well as mailers. You will be able to select from more than 500 forms, in excess of hundred landing pages, and lots of design elements including exit pop-ups, shake boxes, as well as list builder applications all of which have been designed for fixing business issues for any web-based enterprise.
5. Trial versions and pricing
GetResponse enables you to take advantage of premium service at a minimal rate. Therefore, despite the fact that MailChimp is actually a free service, GetResponse stays ahead of its rival mainly because of the scheduled email updates, its newsletter quality, and responsive newsletter design.
Apart from these services you will likewise get a completely free trial period for 30 days beyond which it will be possible to go for a $25 plan which will help you to manage approximately 2,500 subscribers. On the other hand, a MailChimp $25 plan will enable you to manage just 2,000 subscribers. In fact, 500 subscribers can make a huge difference in a market that is highly competitive.
Final Verdict on GetResponse vs MailChimp
Thus, we can easily assert that GetResponse is better than MailChimp when it comes to the $25 every month plan, smarter UI, and variety in newsletter design catalogs. Bear in mind the astounding knowledge base which GetResponse provides for every single new email marketer.
Apart from this, GetResponse is concerned about driving a constant improvement-based approach for satisfying business communication objectives and also creating intellect into email marketing.
GetResponse comes with some informative and interesting tutorials which will allow you to manage your personal mailing lists effectively, and so on. In case you'd like to grow your subscriber base, it will be a sensible idea to have faith in the premium plan of GetResponse for smooth email management.
Hopefully, you will understand after reading this GetResponse review, that investing a little money in your email marketing efforts, is going to be well worth it. Since you will be getting so many extra helpful functions that can increase your profit.
GetResponse Alternatives

1. Pabbly Email Marketing
This particular platform will provide you with more than 500 custom templates that can be used for sending bulk emails. In the same manner, it is inbuilt when it comes to the email tracking feature. Therefore, it will be possible for you to verify email open status as well as the number of clicks, and also unsubscribe details. Apart from this, you'll be able to view and also organize your customer list as well.
2. Sendinblue
Sendinblue is amongst the most well-known platforms in terms of email marketing solutions and tools. It is a fantastic alternative for GetResponse along with an awesome pricing structure and innovative features. Sendinblue is actually a marketing solution which has been created irrespective of the size and nature of businesses.
One will be able to work with this platform easily in case he has the basic skills, and he will be able to improve his marketing strategies significantly.
3. ConstantContact
This online marketing company provides comprehensive email marketing solutions. Various types of templates supported by mobiles, tablets, and so on are offered by this platform. ConstantContact is a recent GetResponse alternative providing amazing support for achieving your objectives.
4. MailGet
You will come across not many corporate houses on the planet which does not have a preference for MailGet. In fact, it is amongst the best substitutes for GetResponse at present. It is quite simple to use and takes only a few steps for getting started. You simply need to create a legitimate email address and following this you have to add the contacts, and that's all!
It will be possible for you to go to CSV for importing emails or individual contacts can also be used. MailGet offers different types of packages that have been customized according to the requirements of the client.
GetResponse Pros And Cons Review
Finally, in this comprehensive GetResponse review, we will talk about the advantages and drawbacks of using this platform.
The Pros
Advanced automation workflows
Lots of tags and conditional elements for automation
All-inclusive A/B testing capacities
A huge collection of templates which have been pre-designed
Quite a few usable integrations
Top-quality and easily accessible support channels
ROI and Activity tracking
The Cons
The visual automation builder can be somewhat complicated
Not capable of building emails from the automation builder
The platform is a bit old-fashioned and comes with an insignificant reporting interface
Getresponse Review Conclusion
Verdict

GetResponse has to be one of the most advanced and user-friendly email tools on the market today.
Now you are aware of the features that Getresponse is offering and how it can help you with managing the marketing campaigns. Take a look at these features and get the most out of it at the end of the day. It is something that every marketer should use.