Welcome to this guide on the different Go High Level pricing plans. You will also learn about the different types of accounts you can get with this amazing all-in-one marketing software.
| | |
| --- | --- |
| | |
| | |
| | |
| Agency Pro Account (SaaS) Account | |
| | |
Are you tired of juggling multiple tools to manage your business, from CRM to marketing automation? Look no further, because GoHighLevel is here to revolutionize the way you run your business!
In today's fast-paced digital world, having high-level software that streamlines all your marketing, sales, and customer relationship needs is crucial. That's where Go High Level comes in-the all-in-one platform designed to simplify your life as a business owner.
With its array of powerful features and seamless integration capabilities, GoHighLevel is poised to become your ultimate marketing and CRM tool. In this blog post, we will dive into GoHighLevel pricing plans and software details to show you how this all-in-one platform can streamline your workflow, boost productivity, and skyrocket your success.
Say goodbye to overwhelm and hello to a seamlessly integrated solution that will take your business strategy to new heights. Let's explore what GoHighLevel has in store for you!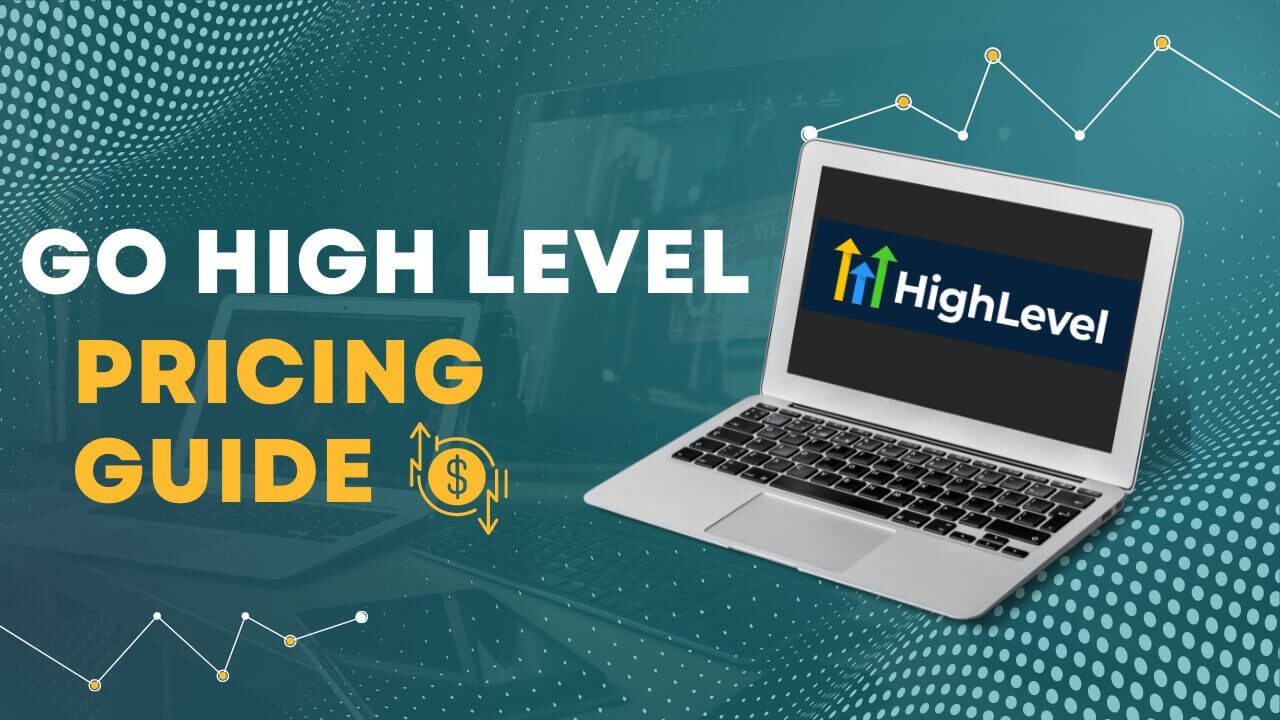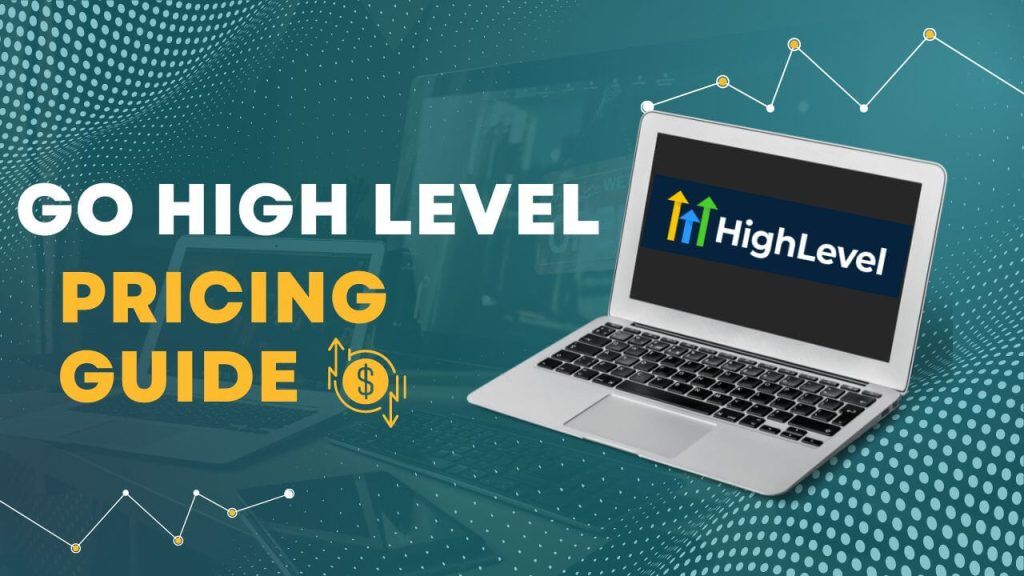 What Is Go High Level?
GoHighLevel is an all-in-one business management software that helps entrepreneurs and small business owners streamline their operations and grow their businesses. GoHighLevel offers a suite of tools to help users manage their customers, finances, employees, and inventory. The software also includes features for CRM, project management, accounting, and invoicing.
GoHighLevel is designed to be user-friendly and easy to use, so users can quickly get up and running with the application. The platform provides robust tools for managing customer relationships, creating invoices and estimates, tracking expenses, generating reports, managing projects, and more. GoHighLevel's mobile app allows users to access their data from anywhere.
Want to read our full review of Go High Level?
Go High Level Plans Overview
There are four pricing plans available for GoHighLevel. The plans are Agency Starter, Agency Unlimited, Agency Pro, and White Label Mobile App + Custom Zap Upgrade.
Go High level Agency Starter Pricing Plan
$97 per month
Includes account for 1 client
Go High level Unlimited Pricing Plan
$297 per month
Includes unlimited accounts
Clients can brand software to their company through the white-label feature
Agency Pro or Saas Pricing Plan
$497 per month
Includes unlimited accounts
Clients can brand software to their company through the white-label feature
SaaS mode is accessible
Phone calls, texts, and emails can be rebilled
White Label Mobile App + Custom Zap Upgrade
This is an option that can be added to any GoHighLevel price plan.
Provides customers with the option to brand the GoHighLevel app and utilize it as their unique app.
These Are The Most Popular Pricing Plans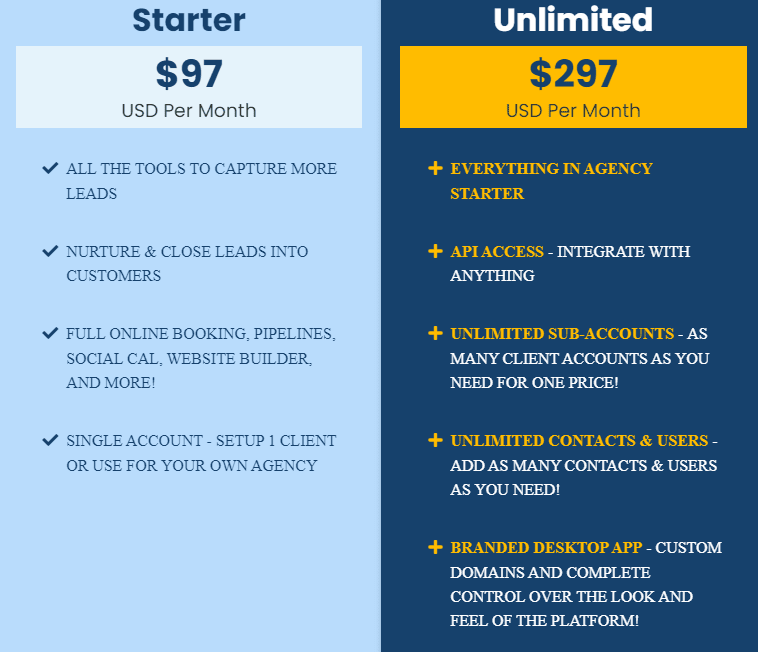 Go High level Agency Starter Pricing Account
The Go High Level Agency Starter pricing account is a powerful platform built explicitly for marketing agencies aiming to expand their operations and provide exceptional services to their clients.

This account offers a comprehensive suite of features tailored to optimize every aspect of your agency's workflow and client management process.
Here is a more detailed breakdown of the Go High Level features included in this pricing plan:
One Primary Go High Level Pricing Account
When you avail of the GoHighLevel Agency Starter Account plan, you will have access to a single primary account that acts as the central hub for managing your agency's operations. This account is specifically designed to provide you with the tools and features necessary to streamline your agency's workflow, enhance client management, and drive success.
As the primary account holder, you will have control over various aspects of your agency's operations. You can add and manage team members, assign roles and permissions, and oversee the overall functionality of the platform. This allows you to effectively delegate tasks, collaborate with your team, and maintain accountability throughout your agency.
Project Management
With this plan, you can create and manage multiple projects simultaneously. This includes task assignments, progress tracking, and collaboration tools for efficient project management.
Client Management
The Agency Starter Account plan includes client management features such as contact information, notes, and communication history. This helps you keep track of client interactions and maintain strong relationships.
Basic Reporting and Analytics
You can generate detailed reports and analytics to monitor project performance, track team productivity, and measure client satisfaction. This data can be used to make informed decisions and improve overall agency efficiency.
Integrations
The Agency Starter Account plan offers integrations with popular tools and platforms such as project management software, communication apps, and file-sharing services. This allows you to streamline your workflow and enhance productivity.
Customer Support
As an Agency Starter Account subscriber, you will receive priority customer support. Our dedicated support team will be available to assist you with any questions or technical issues you may encounter.
Go High Level Agency Unlimited Pricing Account
The GoHighLevel Agency Unlimited Account is unique and well-suited for agencies that have multiple clients and want to scale their business without any limitations. Here are some key aspects that make it unique:
Account Limits
With the Agency Unlimited Account, you get unlimited accounts, meaning you can add as many client accounts as you need. This is a significant advantage for agencies that manage multiple clients and want to scale their business without any restrictions.
White-Labeling
Like the other plans, the Agency Unlimited Account also allows you to white-label the entire platform, giving you the ability to brand it with your agency's logo and colors. This feature is especially useful for agencies looking to maintain a consistent brand image throughout their clients' experiences.
Agency Pro or SaaS
The GoHighLevel platform offers a wide range of features and tools that are essential for agency success. These include sales funnels, email creation, landing pages, and more. Agencies can leverage these tools to streamline their marketing processes, enhance client communication, and drive better results.
Advanced Funnel Creation
With the Agency Pro or GoHighLevel SaaS plan, agencies have the advantage of creating an unlimited number of funnels. This allows agencies to cater to multiple clients, products, or marketing campaigns without any limitations, providing them with the flexibility and scalability needed to accommodate their business growth.
Dedicated Account Manager
The Dedicated Account Manager feature is a unique offering available exclusively with GoHighLevel Agency Pro. This feature provides agencies with a dedicated account manager who serves as their primary point of contact and assists them in maximizing the benefits and capabilities of the GoHighLevel platform.
The Dedicated Account Manager is an experienced professional who understands the intricacies of the platform and can provide personalized guidance, support, and training to agency owners and their teams. They act as a strategic partner, helping agencies leverage the full potential of the software to achieve their goals.
Also, the account manager plays a critical role in the onboarding process, helping agencies get up and running smoothly on the GoHighLevel platform. They provide comprehensive training sessions, instructional materials, and best practices to ensure that agency teams can quickly adapt to and benefit from the software.
Furthermore, this professional acts as a strategic advisor, helping agencies develop effective marketing strategies, optimize their workflows, and implement automation processes using the platform's features. They provide insights and industry best practices to help agencies achieve better results for their clients.
If agencies encounter any technical issues or roadblocks while using the platform, the dedicated account manager is there to provide prompt assistance. They liaise with the GoHighLevel support team and help agencies resolve any problems efficiently, minimizing downtime and ensuring smooth operations.
Advanced Training and Resources
The Advanced Training and Resources feature is another exclusive offering available with the GoHighLevel Agency Pro or SaaS plan. This feature provides agencies with access to comprehensive training materials, resources, and educational content designed to help them maximize their utilization of the GoHighLevel platform.
The feature provides agencies with a wealth of training materials, including video tutorials, guides, documentation, and step-by-step instructions. These resources cover various aspects of the GoHighLevel platform, from basic functionality to advanced features, enabling agencies to deepen their understanding and proficiency in using the software.
The training materials also include valuable insights, best practices, and strategies for leveraging the platform effectively. Agencies can learn how to optimize their lead generation, conversion, and client management processes, as well as explore proven marketing techniques and automation workflows that can drive better results for their businesses.
As GoHighLevel continues to evolve and introduce new features and enhancements, agencies with the Advanced Training and Resources feature will have early access to information about these updates. They can stay ahead of the curve, understanding how to leverage new features in their marketing strategies and client campaigns, giving them a competitive edge in the industry.
White Label Mobile App + Custom Zap Upgrade
Mobile Application Access
With this upgrade, you can access their GoHighLevel account through a dedicated mobile application. This allows you to manage your CRM activities, sales funnels, email campaigns, and more from mobile devices, providing flexibility and convenience.
Custom Zapier Integrations
Zapier is a popular automation tool that connects different applications and services. The Custom Zap Upgrade likely provides the ability to create custom Zapier integrations tailored to specific business needs. This allows for greater automation and synchronization between GoHighLevel and other apps in the user's tech stack.
The Custom Zap Upgrade plan may offer additional features to automate workflows and optimize processes. You can create custom automation, triggers, and actions, enabling you to streamline repetitive tasks and save time.
Choosing the Right Go High Level Pricing Plan
To choose the right plan for your business from the options provided by GoHighLevel, you need to consider several factors:
Business Size and Requirements
Evaluate the size and specific needs of your business. If you are a small agency or just starting, the Agency Starter Account may be a suitable option. However, if your agency has multiple clients or requires more advanced features, the Agency Unlimited or Agency Pro plans might be better suited.
Feature Requirements
Review the feature sets offered in each plan and assess which ones align with your business requirements. Consider features like GoHighLevel CRM capabilities, funnel building, email marketing, SMS marketing, and automation tools. Determine which features are essential for your business operations.
Scalability
Consider the potential growth of your business. If you anticipate rapid expansion or have plans to scale your agency, look for plans that allow for scalability, such as the Agency Unlimited or Agency Pro plans.
Budget
Evaluate your budget and compare it to the pricing of the different plans. Take into account the additional costs associated with add-ons or upgrades, such as the White Label Mobile App + Custom Zap Upgrade. Choose a plan that fits within your budget without compromising essential features.
Support and Training
Assess the level of support and training available with each plan. Look for options that provide dedicated support, resources, and training materials to help you maximize the benefits of the GoHighLevel platform.
Customization Needs
If branding and customization are important to your business, consider plans that offer white-labeling options and customizations, such as the White Label Mobile App + Custom Zap Upgrade.
It's important to carefully review the details and pricing of each plan, as well as any limitations and restrictions, to ensure you select the most appropriate plan for your specific business needs. You can also reach out to the GoHighLevel sales team or customer support for personalized guidance based on your requirements.
Go High Level Pricing Discount Promos
If you choose to pay for the service annually as opposed to monthly, you will receive a GoHighLevel discount of 17%. The significant discount translates into receiving two full months for free.
GoHighLevel may occasionally release promo codes that offer discounts on their products or services. These codes can be entered during the checkout process to apply the discount. Stay tuned to their website, social media platforms, or sign up for their newsletter to receive any available promo codes.
They might also collaborate with partner companies or agencies, offering exclusive discounts to their customers. These partnerships can provide special pricing or additional perks for joint customers. Check if any partner discounts are available through your network or industry events.
GoHighLevel may introduce limited-time offers or flash sales, providing time-sensitive discounts or promotional packages. These offers may be communicated through their website, email campaigns, or social media channels. Regularly check their official channels to stay informed about any time-sensitive promotions.
How to Upgrade My Go High Level Pricing Plan Account?
To upgrade your GoHighLevel account to the Pro plan, please follow these step-by-step instructions:
Log in to your GoHighLevel account by visiting the GoHighLevel website and entering your login credentials.

Once logged in, locate and click on your user profile icon or picture at the top-right corner of the dashboard.

In the dropdown menu that appears, select "Account Settings" or a similar option. This will take you to the settings page for your account.

Look for the "Subscription" tab or section within the account settings page. Click on it to access your subscription details.

Within the subscription section, you will see the different plan options available. Find and select the "Pro" plan to upgrade your account.

Review the details of the Pro plan, including its features and pricing. Make sure it aligns with your requirements.

Once you are ready to proceed, click on the "Upgrade" or similar button associated with the Pro plan.

You may be prompted to confirm your selection and provide payment information. Follow the instructions to complete the payment process.

After the payment is processed successfully, your GoHighLevel account will be upgraded to the Pro plan. You will gain access to all the advanced features and functionalities offered by this plan.
If you encounter any difficulties or have specific questions during the upgrade process, it is recommended that you reach out to GoHighLevel's customer support. They will be able to provide further guidance and assistance tailored to your specific situation.
Go High Level Pricing FAQ
Is cancellation of the GoHighLevel plan possible?
Yes, it is possible to cancel your GoHighLevel plan. Reach out to GoHighLevel's customer support team through their website or email. You can explain that you wish to cancel your plan.
How does the 14-day money-back guarantee work?
It is like a security for your trial period that guarantees you the right to request a full refund if you're not satisfied with the platform within the first 14 days of your subscription.
Who benefits the most from the GoHighLevel platform?
Marketing agencies, business owners, sales professionals, service providers, and e-commerce businesses benefit the most from the GoHighLevel platform. It helps streamline operations, automate marketing and sales processes, manage client relationships, and improve overall efficiency.
Is Go High Level Worth the Cost?
Whether Go High Level is worth the cost depends on your specific needs and budget. It offers a comprehensive platform with various features to streamline marketing and sales processes. Consider evaluating its value based on how it aligns with your business goals and if it can save you time and money compared to using multiple tools. Additionally, assess factors like scalability and customer support.
Can I integrate GoHighLevel with other tools and platforms?
Yes, the GoHighLevel API provides integrations with popular third-party tools such as Zapier, Google Analytics, Facebook Ads, Stripe, and more. This allows you to connect GoHighLevel with your existing marketing and sales stack.
Does GoHighLevel provide customer support?
Yes, GoHighLevel offers customer support via email and live chat. They also provide a knowledge base and training resources to help users navigate the platform effectively.
Is GoHighLevel suitable for solo entrepreneurs or small businesses?
Yes, GoHighLevel caters to both solo entrepreneurs and small businesses. Its features are designed to streamline and automate marketing and sales processes, helping businesses of all sizes manage and scale their operations.
What could be an alternative solution for GoHighLevel?
HubSpot is the best GoHighLevel alternative. It provides a comprehensive suite of marketing, sales, and customer service tools, including CRM, email marketing, automation, a landing page builder, and more.