Promoting high ticket affiliate programs can be a very lucrative business model. If you are tired of earning only a couple of dollars every time you make an affiliate sale, then this is certainly the solution to that. Here you will discover the best programs to promote, how to get started, and all the important details you need to know.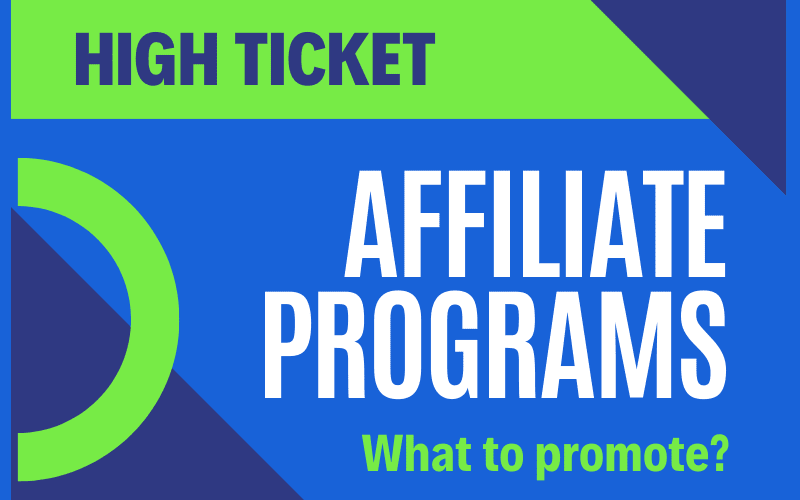 Are you ready to set yourself up with the best online business model? If so, it might be the perfect time to switch over to some high ticket affiliate programs. Many affiliate marketers fear promoting such programs. They think that making such sales is difficult.
The truth is entirely different!
When someone is looking for a double bed, it is easy to sell them one. Similarly, when someone is just looking for a backpack, the amount of effort required to sell them a backpack is also similar.
In a nutshell, if you can tap into the right audience, selling a high ticket item and the low ticket item require a similar effort.
It is time to shun that fear of high ticket affiliate programs and make big bucks online every time you make a sale.
To help you with the same, I will share the best high ticket affiliate programs you can promote in 2023.
1. Legendary Marketer High Ticket Affiliate Program:
Commission Rate: 40%
Maximum earning potential: $4,000
Niche: Online Marketing Education
Need to buy: Very few products
With an increasing number of people jumping into the digital marketing world, promoting programs like legendary marketer is becoming easy.
Legendary marketer is a training program for anyone who wants to step into the world of online marketing. Also, it has various courses and items which you can sell. These range from low ticket to medium ticket to high ticket.
I like it because it has a value-packed training program backed by a credible creator like David Sharpe. Add to that the fact that you can easily promote their 15-day online business builder challenger. While that might be low priced in itself, the numerous items, the program offers can quickly help you jack up your commissions.
The risk-free joining cost of just $1.99 ensures that you can gain sales more easily.
While the initial sale value might be on the lower side, the longer cookie duration ensures that you can gain commission whenever the same customer purchases a high ticket training module.
It is a holistic online marketing course that ensures that gaining sales is easy and making a significant amount of money is possible. This is still the very best program to join for beginners to advanced internet marketers. Based on how user-friendly the training is organized and how amazing the payouts are.
The Legendary Marketer affiliate program certainly ticks all the boxes when you're looking for a high-paying one.
2. Clickfunnels Affiliate Program: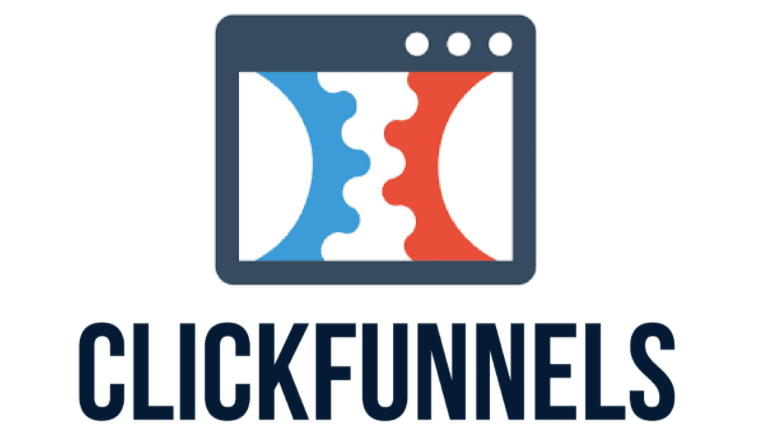 Commission Rate: 40%
Maximum earning potential: $1997
Niche: Sales funnel software
Need to buy: No
Online marketers need various tools to gain sales and promote their businesses. One such tool is the funnel through which they can sell to the visitors.
Creating such a funnel from scratch is going to be expensive and cumbersome for any online marketer. On the other hand, there are tools like Clickfunnels, which offer them access to hundreds of ready-made funnels.
No, I'm not asking you to use these funnels to increase your affiliate earnings. (Even though you can do that easily!)
The reason why click funnel is on this list is that it has a pretty lucrative affiliate program.
The reason why I like this affiliate program is that it provides you with recurring commissions. As long as the buyer whom you refer continues his/her subscription, you will consistently receive a commission.
Clickfunnels Commissions and Products
At the start, the commission is 20% of the subscription purchased. However, if you earn $ 1000 in commission in a month, your earnings increase to 30%. Similarly, if you have at least 40 active referred customers, your commission will increase to 40%.
While you might think that this affiliate program has a single product to sell, that is not true.
The number of products which you can promote are plenty like:
One funnel away challenge
Expert secrets book
Network marketing secrets book
Traffic secrets book
Copywriting secrets book
Funnel scripts
The upfront commission in most of these products can range from $1-$100. The backend commissions, however, can be as high as $1997.
The main reason, however, this program is on the list is because it has a lifetime cookie. Even if your referred customer purchases after a couple of years, you get the commission.
The good news is that, whether it is the book or the Clickfunnel, they are very useful for the buyer. That is why you are actually providing value and making a significant amount of money simultaneously.
Out of all existing high ticket affiliate programs, Clickfunnels is one that you shouldn't ignore.
3. Kartra Affiliate Program: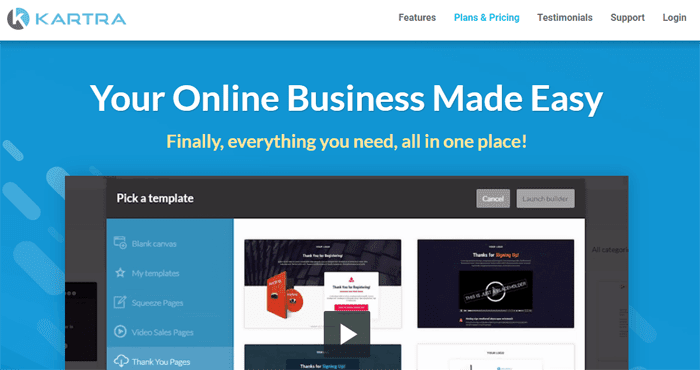 Commission Rate: 40%
Maximum earning potential: $1819
Niche: Sales funnel software
Need to buy: No
The next affiliate program on our list is once again a tool that can help online marketers, e-commerce business owners, and anyone who wants to make money online.
It offers various systems rolled into one like:
Shopping cart system
Email marketing
List building
Web Hosting
Business management
And much more
The advantage of this system is that all these are aspects of a single dashboard. You can control all these without having to log in to different websites.
With such a solid offering, it makes perfect sense to look at the economics of the affiliate program behind it.
Kartra is another affiliate program that can pay you on a monthly basis for life if the user continues his/her subscription.
The advantage is that there are four different monthly/annual packages that you can promote. We will go into the details of these below.
Kartra pricing plans
The starter pack costs $99 per month for the customer and $948 annually. You can make $39 monthly or $379 on the annual subscription.
The Silver plan costs $199 per month or $1780 annually. You will make $79 monthly when you sell the Silver plan or $715 on the annual plan.
The Gold plan will cost the user $299 monthly or $2748 annually. It will make you $199 monthly or $1099 on the annual plan.
Read more on Kartra pricing plans?
(I love this plan the most) The Platinum plan costs $499 per month or $379 per month when the user opts for the annual plan. It can make you $199 monthly or $1819 when the user chooses the annual option.
As you can see, there is a bit of money to be made by promoting this affiliate program.
The fact that it is one of the very few affiliate programs which rolls all the tools into one makes it quite lucrative for a prospective customer. I have had a great success with this one because of the holistic offering.
The Kartra affiliate program gives you tools like:
Email campaigns
Funnel templates
List building templates
Display banners
So, you need not worry about creating your creatives to promote this affiliate program.
Thus, if you're looking for a cutting-edge product to promote online, this is the affiliate offer you should consider.
4. Groovefunnels Affiliate Program: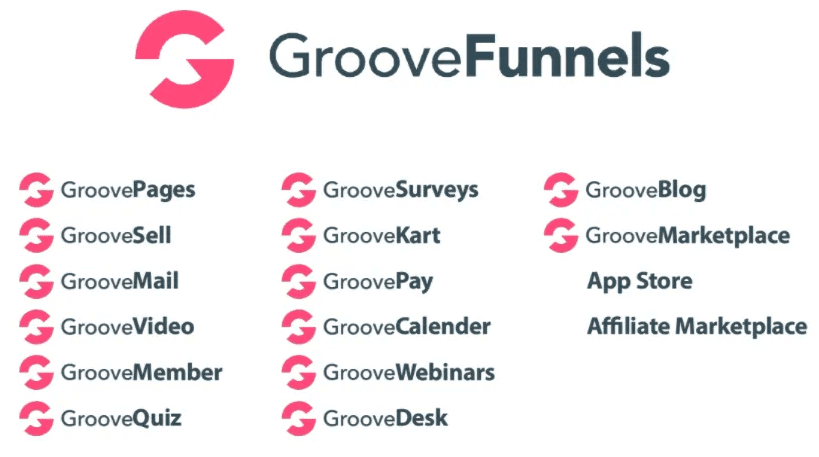 Commission Rate: 40%
Maximum earning potential: $558
Niche: Sales funnel software
Need to buy: Increases commissions if you hold a paid account
Many digital marketers are looking to sell their products and services these days. To do so, they need a proper website or landing page to promote these products and services.
Groovefunnels is a rather new sales funnels software that is becoming popular right now.
Here are some of the pages you can build with Groovefunnels:
Sales funnel
Landing pages
Opt-in pages
Membership pages
Websites
Basically, each and everything which you need to create a page or a website to sell a product or service is facilitated through this tool. That is why it is one of the most holistic tools you can use to promote your products and services.
Today, however, I will shed some light on its affiliate program and why it is so lucrative for affiliate marketers.
Groovefunnels offers you a 40% commission if you're it is a paid member. Otherwise, you can make 20% on every plan which you sell.
The Groovefunnel pricing plans include:
The base plan is completely free for the user.
The Silver plan will cost to user $99 per month.
The Gold plan will cost the user $199 per month.
The Platinum plan will cost the user $299 per month.
The Platinum lifetime plan will cost the user $1397 in a one-time payment. The user can pay this in different monthly installments.
Here you can read more on Groovefunnels pricing.
The commissions which you make will be dependent on your membership level as well.
As I highlighted above, the free members make 20%, the silver ones make 40%, the gold ones make 40%, and the Platinum ones make 50% plus 10% on second tier sales.
In addition to the high affiliate commission, there are a few other reasons why this affiliate program is on my list. These include:
Extremely high conversion rate
A great number of individuals upgrading from base to advanced plans
No live events or bonuses which can steal your sale
No wiping out of cookies
Due to these reasons, the amount of money you can make with this affiliate program is higher than others.
Thus, if you need an affiliate program that can make you a significant amount of money for every visitor, you should consider this one.
5. Shopify Affiliate Program: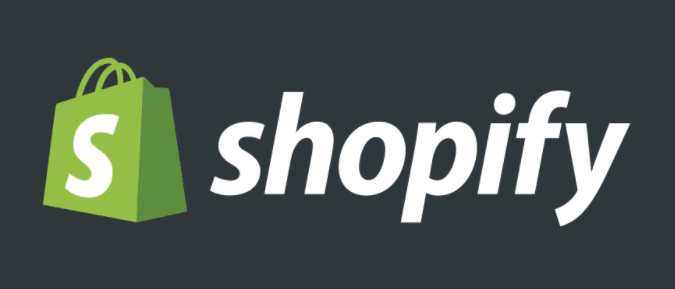 Commission Rate: 200% of monthly subscription
Maximum earning potential: $2000
Niche: Ecommerce
Need to buy: No
Shopify has become a pretty popular name in the world of e-commerce. However, did you know it has a lucrative affiliate program as well?
It can pay you anywhere from $58 – $2000 depending on the plan which your referred visitor chooses.
The plus plan referral can net you as much as $2000.
However, the good news about the Shopify affiliate program is that you need to push only a free trial. After that, Shopify will nurture that lead on its own. When it converts into a paid plan, you will get your commission.
With Shopify becoming a household name, gaining such conversions is easy. That is the reason why the Shopify affiliate program is so lucrative.
6. Hubspot Affiliate:

Commission Rate: 20%
Maximum earning potential: $1,000
Niche: Business CRM software
Need to buy: No
Hubspot is a CRM tool for businesses. It can help businesses in various departments like:
Sales
Marketing
Customer support
Social Media Management
Email Marketing
However, as an affiliate, you can easily make up to $1000 on every sale you generate.
The basic plan can make you $250, the professional plan can make you $500, and the enterprise plan can make you $1000.
The 90-day cooking duration means that it becomes easy for you to get credited for sale.
Not only that, the affiliate program offers various creators like:
Videos
Banners
Copywriting samples
Since it is a tool that is a necessity for every business, finding customers for it is not a difficult task.
High Ticket Affiliate Programs Conclusion
As mentioned in the list above, there are quite a few high ticket affiliate programs that you can start promoting in 2023. My curated list above consists of only the creme de la creme of affiliate programs. In a nutshell, when you're choosing any of these affiliate programs, they are tried and tested by me to be not just lucrative but easy to promote. You will surely not be disappointed when going with any of these affiliate programs.