Welcome to my in-depth Kartra review guide. Here you will learn what you need to know about Kartra pricing and features. If you are here right now you probably have some knowledge about this all-in-one marketing software, but if not, then I will teach you below what Kartra is all about. Keep reading to find out why this could be the most game-changing SaaS company in the world of online marketing right now.
What Is Kartra?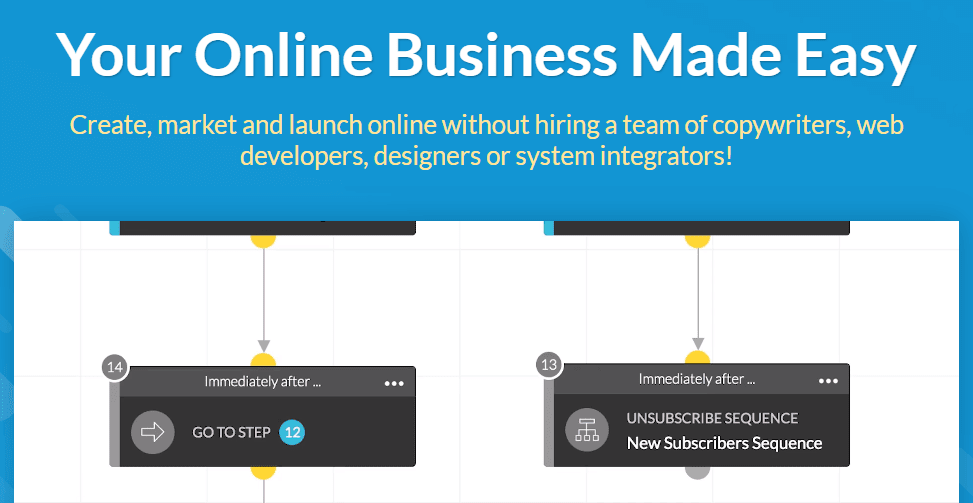 Kartra is a comprehensive, easy-to-use platform for online marketing to sell products and services to customers. With the help of this program, you can do the following things:
Collect leads
Make a checkout page using one platform
Setting up an email sequence for follow-up
Integrate various software programs
Create sales funnels
It acts as your manager when it comes to handling online business. Whether you are a startup or are looking for something to expand your already established business, this software plan is there to help you take your business to the next level.
Kartra is appropriate for everyone, including designers, copywriters, web developers, system integrators, and almost anyone looking for solutions to online marketing.
Best Features – Kartra Review
Now, the next thing to find out is what you can do inside the app.
When talking about products, it allows you to set up customized price points and plans for payments that suit the packages and budgets that you set. There are already developed checkout pages. This way, your clients would not need to go anywhere else to proceed with the payment.
You will just need to integrate the paying processors within the software and start with the sales processes. You can also set up an affiliate plan that will help you scale up your business even further.
When it comes to communications, you can make up lists for organizing your leads in a better way. You can review the lead's profiles having important details for your business, such as names, email addresses, connecting links, and activity logs in the sales funnels.
Lead Generation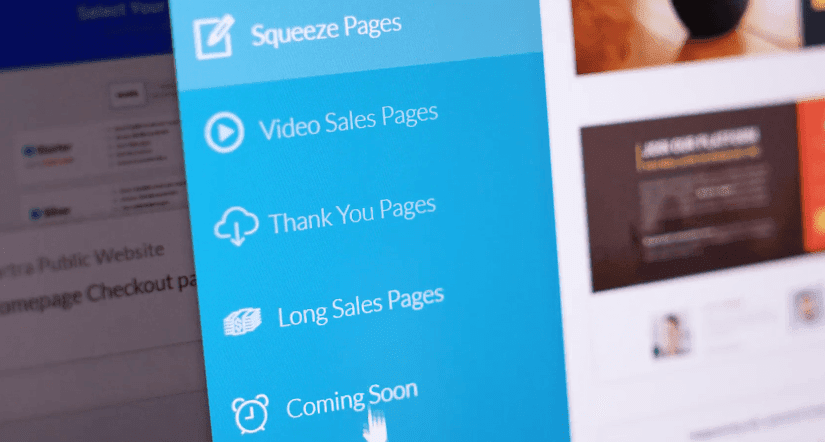 Your important leads can also be imported into the system through batch plans. For this purpose, you will need to upload a file and give answers for some interrogations when you get them. This way, the process will go through a legal way, and you will be ensured that you are abiding by the privacy laws. From that level onwards, you will be able to set up email campaigns and automate things.
The software plan also helps you create landing pages with templates available for free, and all are functioning. Moreover, you will be given the option to design the design you want on a blank sheet.
Opt-In Forms And Membership Sites
You can capture leads through the option of a form that gets added to your sales funnel. When your form gets all set, you will be able to locate it on the Kartra page, so you have no worry about embedding a separate code.
You can further take your business to another level by making membership sites so that you can have one basic portal through which your audience can be made aware of the new products or services that you sell.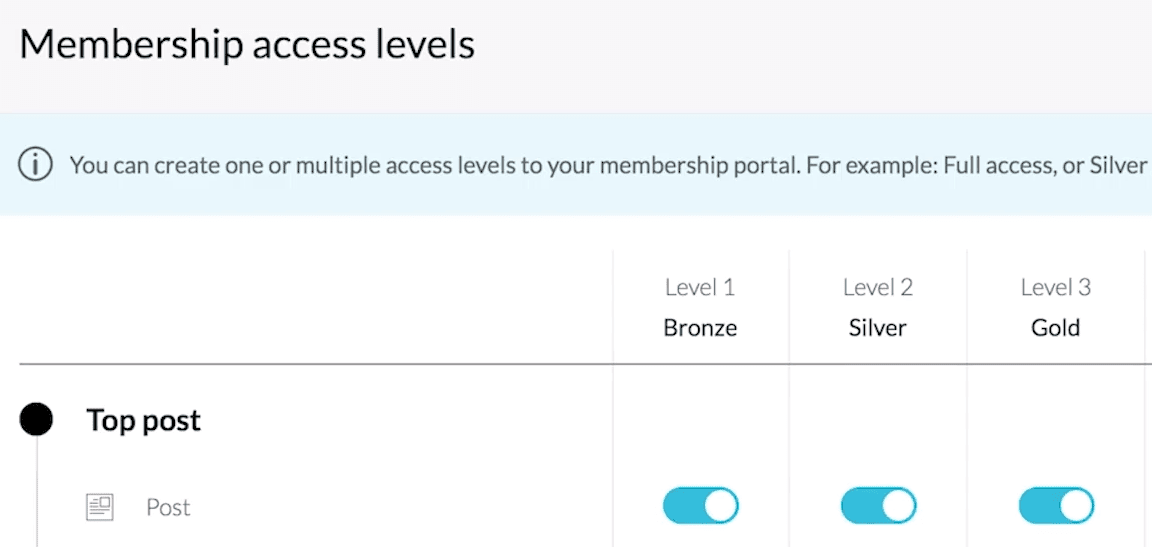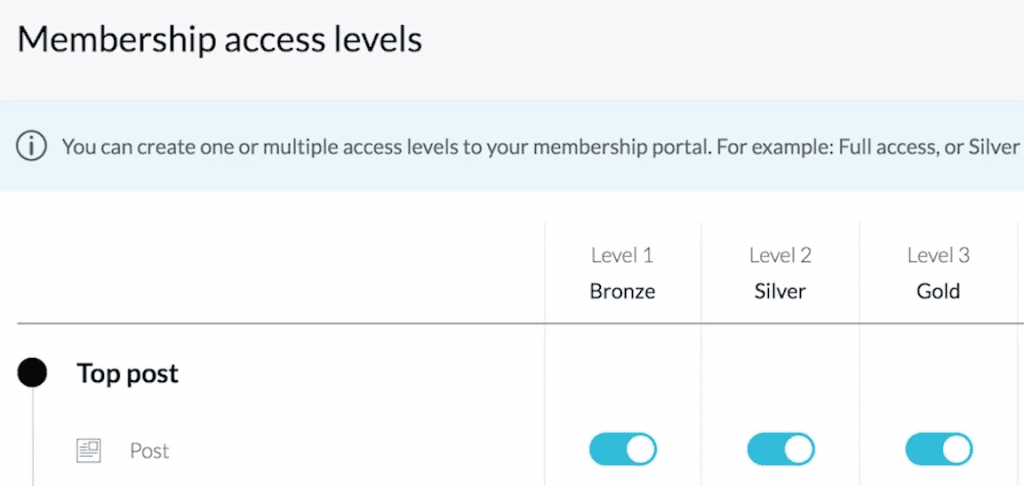 Video Hosting And Calendars
There is also a platform where it allows you to do video hosting, an integral part of any online business. It is found from many marketing studies that people are more likely to get attracted to a service or product being offered to them when they watch a video. So, Kartra helps you in making that possible through its video streaming services.
The software also helps you to navigate and analyze the behavior of your clients and target audiences by seeing which videos do they refer to your business.
There is also an advanced feature in the platform, which is known as the call to action button that appears at a customized part of the video with tagging leads. This helps you further track the behavior of your clients, such as the points where they stop watching the video.
Kartra, unlike other software plans, comes with an in-built calendar in itself. The page is generated that has your own label and a link to your domain. This is one tool that will help your clients get in touch with your business by joining different events organized by you.
You can make time for when you will be available for your clients and send different appointments and their reminders to your intended audience in an organized manner. All the upcoming events will be appearing on your dashboard that will notify you and remind you of any important detail for your business.
More Great Features – Kartra Review
Setting up a Helpdesk will help your clients get the customer support they need when they are going to buy your products or services. This ultimately leads to a better relationship with your clients, which is important for your business stability and reputation. Moreover, the feature of a Live Chat will also boost your business reputation and credibility with your clients.
You can set up different landing pages, email sequences, and other important campaigns used in affiliate marketing using Kartra. There are two ways you can do this: either make it available to your clients for free or sell it.
There are also in-built sales funnels for running a campaign for your business if you don't know or don't want to start a campaign of your own. This will save you precious time and would help you in creating a good selling power for your product or service that you are going to offer to your clients.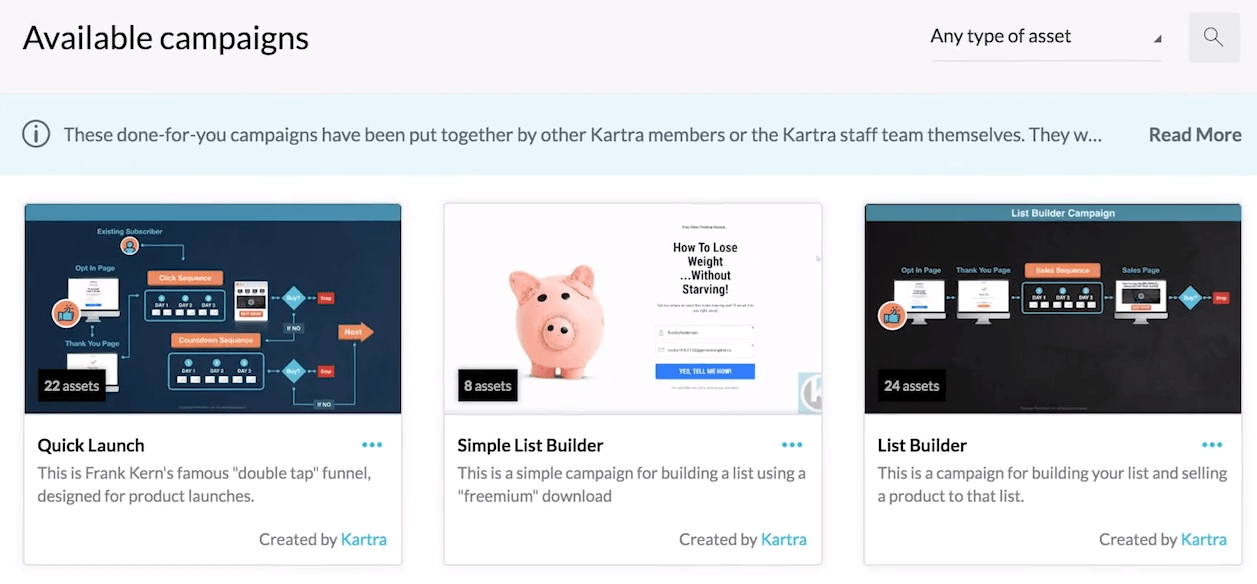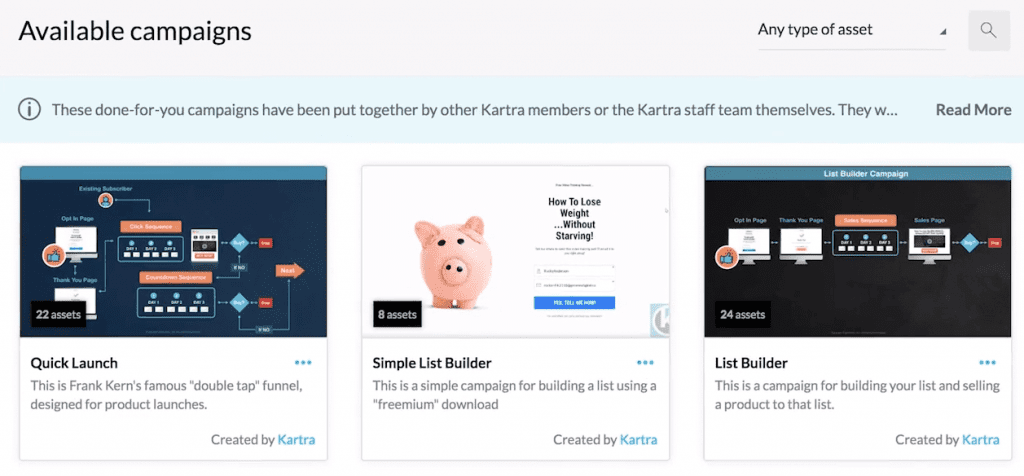 There are also integrations in the software plans that come with different email integrations, sequences, packages, SMS broadcasts, hub connections, platforms for membership, and of course, the event planner: calendar. For integrations, you can set up an account on the software platform using the API code.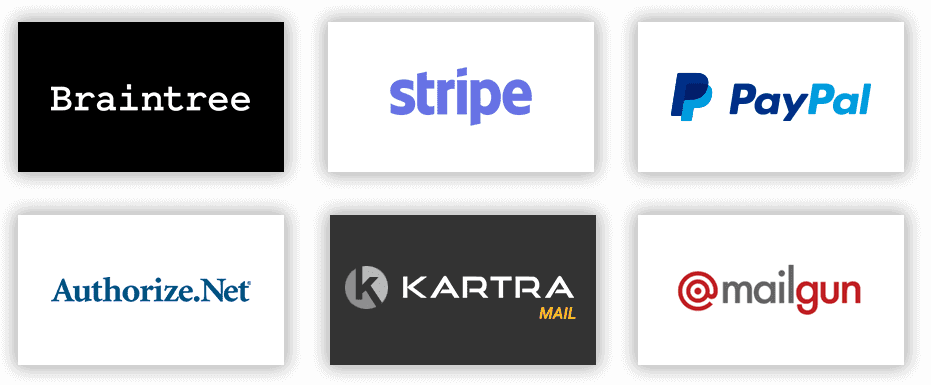 With Kartra You Can Get Multiple Users
Kartra offers you a solution for creating multiple user accounts given you want to start an agency. Also, the prices are highly affordable, so there is no need while buy these accounts in bulk. You can also provide a link to the account underuse and use it as a contractor account.
This feature will enable you to organize all of your leads under one dashboard. So, you are saving yourself time and also protecting the confidentiality of your clients' personal info as it is not needed.
The Marketplace is a good feature for promoting different services or products, and all products can come under the different niches appropriate for your business. You can also track the promotional campaigns as well as endorsements using one dashboard.
In a way, we can say that all features add up to positively scale up your business to a wider extent that increases your ROI. Some of the top features of this software plan include:
Analytics Tab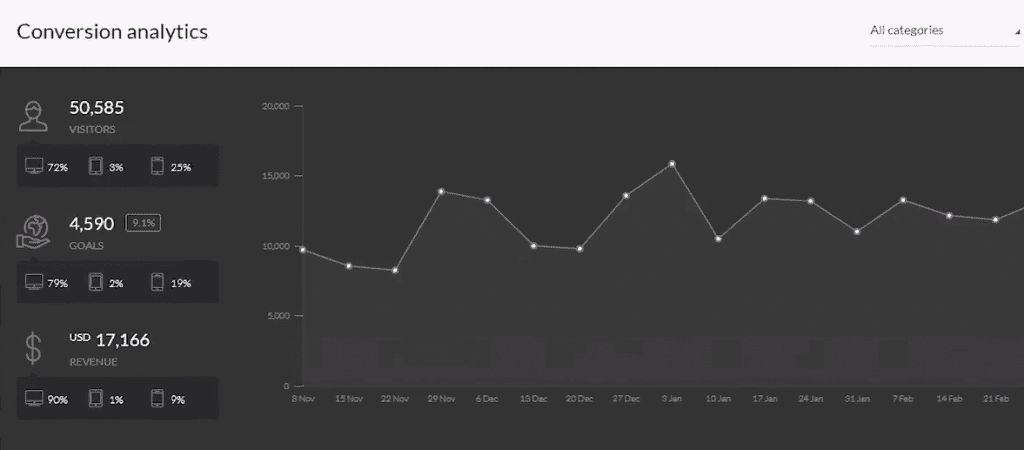 This tab is present in all the important features that make it easy for you to record all improvements you need.
Simple User-Friendly Interface
Even if you are new to using software plans for affiliate marketing, Kartra will make sure you don't find any problem using it. It has a highly user-friendly interface with everything appearing on a dashboard, making everything easy to observe.
The proven conversion templates significantly improve your business works as they save your time in the difficult payment processes when customers are checking out.
Kartra Pricing Review
The Kartra sales funnel plan comes with four pricing plans that are functional every month.
Kartra Starter Plan – $99 USD
Kartra Silver Plan – $199 USD
Gold Plan – $299 USD
Platinum Plan – $499 USD
There is also a free trial for 14 days using which you can have some idea how the software works and which plan will be the most suitable for you.
Kartra Starter Pricing Plan – $99 USD
This plan comes with the most affordable pricing in Kartra and is best for people who are starting up a business and want to experiment with new stuff. The features given are sufficient for starting and setting up your online business and creating leads.
The highlighted features available in the plan for starters include the following:
Accessibility for 15,000 emails monthly
Up to 2,500 contact lead generation
Two membership sites
Host availability for a hundred pages
Selling up to 20 different products or services
Streaming accessibility for videos up to 50 GB
Customized domain
Two helpdesk portals
Page visits
Twenty follow-up email sequencing
Paying for the starter plan on a yearly basis will get you 25% on the original plan, which totals to $79 USD per month.
Kartra Silver Pricing Review – $199 USD
The pricing plan for Kartra is appropriate for businesses that are in their running phase and need a bit of boost up to expand their reach in things such as the expansion of contacts and reach. A lot of people refer to this plan for expanding their businesses. Hence it has gained a lot of popularity.
Best Features Of The Kartra Silver Plan
Lead generation up to 12,500
Video streaming for 125 GB bandwidth
Creation and selling of products to an unlimited extent
Helpdesk portal accessibility with no limitation
Marketing automation with no limitation
Three custom domains
Kartra agency accessibility
If you are willing to pay for this plan on a yearly plan, you will get a discount of 25%, which makes the yearly bill $149 USD.
Gold Pricing Plan – $299 USD
If you know different technicalities and the importance of using sales funnels in online marketing, then the Gold Plan in Kartra is highly suitable for you.
The Gold Plan Will Give You
Lead generation for up to 25,000
Five custom domains
Video streaming up to 200 GB
Creation and selling of unlimited products
Page visits with no limitation
Unlimited membership hosting
The yearly basis subscription on the Gold plan will cost you 229 USD per month.
Platinum Pricing For Expert Users – $499 USD
If you have a large list with long email sequencing and a domain set up for a corporation, this plan can help you in managing your online business in a better way.
With Kartra Platinum You Will Get
Lead generation up to 50,000
Email follow-up plan up to 500,000
Helpdesk portals with no limitation
Video streaming up to 500 GB
Membership sites with no limitation
Follow-up email sequencing with no limitation
Kartra agency accessibility
For a yearly subscription of the Platinum plan, you get to pay 379 USD per month.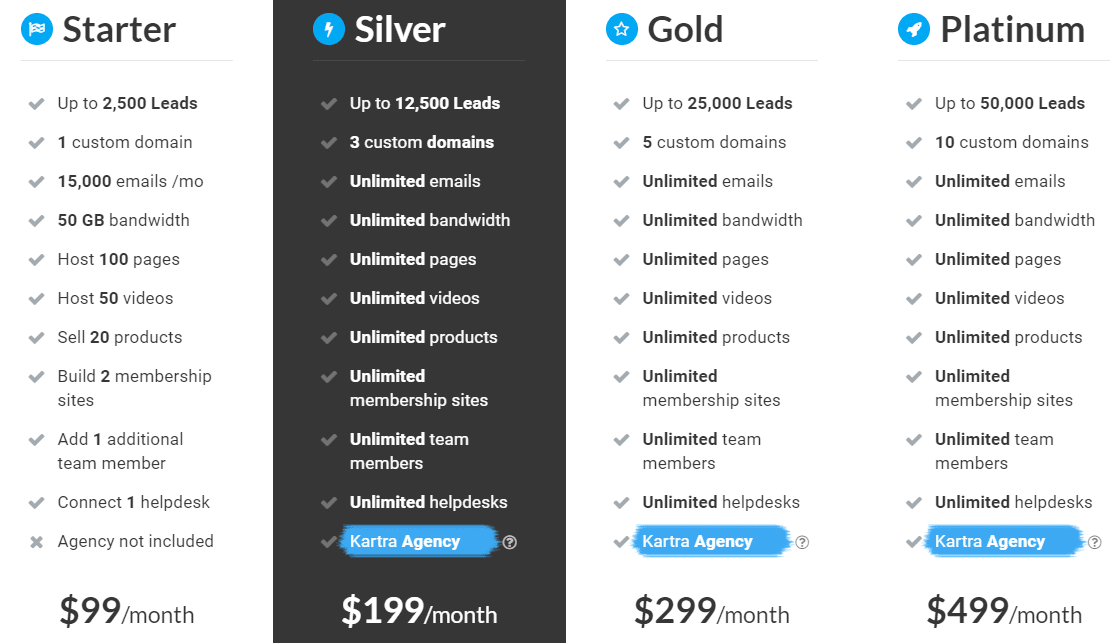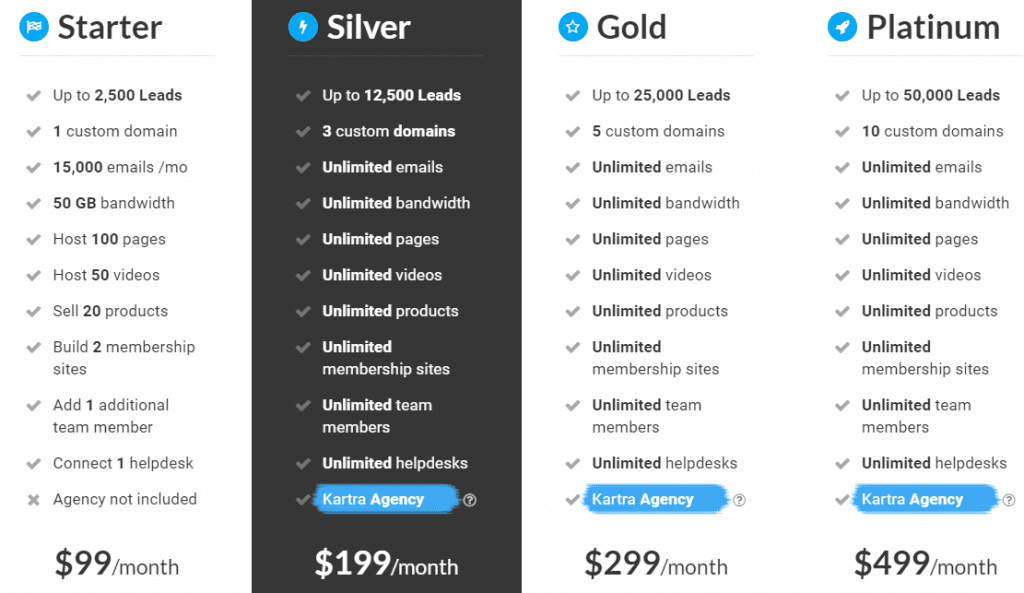 Best Kartra Alternatives Review
In my opinion, you can't go wrong by choosing Kartra, it's got all the features you want in a sales funnel builder, but if you want to test-drive some more tools. After reading this Kartra review, you can go check out some more articles I have for you on some of the top tools on the list below. Here are the best alternatives right now:
What Do Users Say About Kartra?
From our analysis of different reviews given about the software plan, we conclude that most people use it for their startup and small-scale businesses. One fact that drives people towards using this software over others are the constant updates from the developers.
Also, its easy interface has gained a lot of popularity among business persons who are not in touch with the advanced technological know-how required in digital marketing. For that reason, it acts well for people who don't have the time to learn a whole set of different skills to project their business campaigns on the web.
However, some of the difficulties that users often face while using Kartra for their business include some loopholes in notifications when payments are missed. Also, the calendar feature is a bit too repetitive to use for some. Moreover, the integrated customer support system needs a bit of improvement, as many users have described it as "little use."
But does that all outweigh the features and advantages of the software? Apparently, no. We hope the program's continuous improvement will fix these errors in the plan as well, so users will not face any difficulty with time.
Final Kartra Review Verdict
Your goal for buying any of the plans mentioned above must be in line with the thing you want to achieve in your online business. When you are sure of what results you want, you can go ahead and purchase the plan that suits you the most.
Also, there are many other benefits that come with this product such as reasonable packages, best for various organizations, and much more. We hope this Kartra review and Kartra Pricing helped you figure out some important details about the program.