Legendary Marketer and how it works for people wanting to learn how to build a business online. This is going to be a post that will help both customers and those that are looking to know more about a high-ticket affiliate program to make you money. The concept of Legendary Marketer is simple: It's a complete marketing education program, and in addition a one-level affiliate program. But what is that? Read on to find out this any more.
Unlike an MLM, a one-level affiliate allows you to earn a commission from the affiliate you refer to. You don't earn a commission on the business your affiliate brings or his affiliate brings. But Legendary Marketer is more than a one-level online affiliate system. It's also a complete training program in online marketing where you earn while you learn.
The Legendary Marketer helps you learn the tricks and nuances of internet marketing. The system is also designed to make you earn simultaneously.
Does It Require Hard Work To Make Money?
The short answer is yes. It all depends on how you approach this though, and if you have a large budget to use on ads or not. There are both free and paid options to start making serious money online. If you happen to have a large number of followers, then you are already in a good position. Maybe that is you? If not, then don't worry there are always different ways to get around a problem. No matter what: You should be ready to invest time and effort to see results.
It's not a correct notion that making money through online marketing is easy. But if you are ready to work hard and invest time, Legendary Marketer can be a revolutionary online marketing system that can help you earn a lot of money.
Who Is The Founder of Legendary Marketer?
Legendary Marketer has been founded by David Sharpe, a hugely successful online marketer and coach. Sharpe had co-founded Empower Network with David Wood that became a big hit, with 150000 affiliates and $175 million in sales worldwide. Sharpe became a multi-millionaire at a very young age.
But it wasn't easy for him as struggled with drug addiction, worked at a construction site, and lived paycheck to paycheck.
Somehow he made it big in online marketing with Empower Network. His events with affiliates used to have a gathering and the atmosphere is a rock concert. But he and his business partner parted their ways with Sharpe's stakes bought out by Wood.
Empower Network could not maintain its growth moment ever since Sharpe parted ways. But for Sharpe, it was just the beginning of a great career ahead. He had learned a lot and earned the reputation of one of the best online marketers the world had seen so far.
You should not confuse Legendary Marketer with MLM. Sharpe was always sure that he didn't want to be seen doing MLM.
Legendary Marketer: How It Works
Legendary Market is a relatively straightforward system. It can help both experienced and beginner online marketers because it uses sales funnels to work with prospects to convert them into leads and finally into buyers. The sales funnel is an automated system. Sales funnels are sophisticated systems that offer triggers, email sequences, up-sells, down-sells, and one-time offers.
Once you join Legendary Marketer, you get access to their back-office system. It's here your login and receive the necessary information to promote Legendary Marketer products. If you don't have a huge following or a highly popular blog to drive traffic, you will have to spend money on advertising to get traffic.
Your Commissions
You receive 40% to 60% commissions on the sales generated by you. You get a 60% commission on a front-end product like Legendary Marketer Club.
On more expensive products such as Leader Masterclass and Builder Masterclass, the payout is 40%. You get less here because the closing is done by a sales team and you don't have to do anything. 20% goes to them.
You don't have to do anything except for promoting the products. For example, the Builder Masterclass costs $2,500 and at 40% your commission is $1000. It's easy but not all that easy either. Your role is to drive quality traffic.
Once you have generated enough leads, you can leave the task of promoting Legendary Marketer to the sales funnel that could sequence the emails for 45 days at a time. It gets you leads to join Legendary Marketer Club for which there is a $30 monthly fee. On this, you earn $18 every month.
Legendary Marketer Club
When a new member joins the Legendary Marketer Club, he joins the Legendary Marketer Club. The membership fee is $30 per month. All members are required to join this group and it's that the core training takes place. You will get a personal coach here. It's here, you will be introduced and trained on 15 core steps of online marketing.
For a deep dive into Legendary Marketer: how it works and Legendary Marketer affiliate program, please read on!
Sign Up
To know more about Legendary Marketer and also start earning through it you should sign up. You need to watch the Legendary Marketer video from an affiliate and sign up for a $30 monthly fee. With this, you become a member of the Legendary Marketer Club.
The affiliate under which you have signed up gets a recurring $18 from your fees every month. But when you sell a Legendary Marketer affiliate, he does not get any commission. But he does get a commission when you sign up for other Legendary Marketer services.
How The Back-Office System Works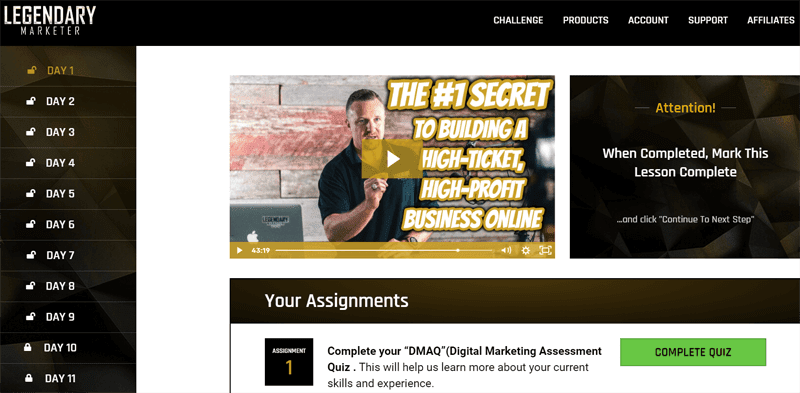 After you have signed up and become a member of the Legendary Marketer Club, you have got access to the back-office system. You can log in to it. Here, you will find all the resources you need to start learning and earning.
Besides, resources and tools, you will also find regular tips and advice from the top-ranking online marketers. Initially, you may not earn much, but over time your knowledge and earning both will grow phenomenally.
Global e-wallet
Now you need to set up your international e-wallet so you can receive payment from Legendary Marketer. It is an easy process. Go to the setup menu in the back office and click submenu payments that you find on the left-hand side. Here you get a video to watch, click and watch it. Here you have to set up your international e-wallet.
API SendMail email
Now, you should have your email platform. Since you are just starting out, the best thing for you is to use Sendlane API. This integrates all email sequences in for you automatically. It also allows you to build your email list. Over time, you can transfer these things to your own email system. In the beginning, this is the fastest and most convenient way to get started.
5 Core Steps
Legendary Marketer is a system that allows you to earn even while you are learning. The first 5 core steps are meant for understanding an array of skills required to take your online business to the next level. Legendary Marketer offers long-term benefits and you should not approach it as an opportunity to earn some quick money.
This gives you the knowledge and skills to get ahead in your business. You will find the 5 core steps in the submenu Core Steps under the main menu My Products.
Bring On Your Coach
After you have read and understood the initial 5 core steps, you will need to talk to your coach to go further. You need to schedule a talk with the coach. For this, you should go to My Products, and then to Legendary Marketer Support. At the screen's lower-left-hand corner, you will find a button marked with Schedule a Coaching Call.
10 Core Steps
Once you are done with the coaching call, the next 10 steps will be unlocked for you by your coach. You need to read and understand these lessons minutely. You should not just skim but immerse yourself. Don't forget, you are learning from someone like David Sharpe. You should not short-change. Rather, you should spend more time and focus on the lessons.
Set Up Email Sequence
Once you have understood all the 10 steps well and thoroughly, the next step should be to set up a 45-day email sequence. You can take inspiration from Sharpe's email sequences but you should not copy his emails. It looks like spam then. Rather, you should use your own experience and journey to motivate your traffic and audience. It may appear a bit hard in the initial stages, but soon you will find the groove.
Get Your Affiliate Links
Now is the time for you to get hold of the affiliate links from your back office. This is how you are going to promote the Legendary Marketer products. Using a variety of ways, you direct traffic to your links. You can do your research to know how you can increase traffic to your links.
Promote your Legendary Marketer system
Finally, you are there! Now you should be marketing Legendary Marketer. You should be mindful not to spam the links. As a trained market, that's not expected of you. When you promote and market Legendary Marketer, you should try to do this by adding value to the products. That's what makes it a system. It is about creating and adding value.
Final Thoughts on Legendary Marketer
In this article, we have discussed Legendary Marketer How It Works and the Legendary Marketer affiliate program. As you can make out, Legendary Marketer is a great training program for online marketers mainly beginners and intermediate level professionals. But while you learn, you also earn by selling Legendary Marketer products which gets you 40% to 60% commission.
Our recommendation would be to join Legendary Marketer for the long run. It's a great business that can earn you a lot of money and also teach you how you can continue to earn money.