Here I will show you the very best link tracker software for all marketers. These are ranked based on my own experience. I have to say that investing money in link tracking is well worth the money if you are serious about your business. Let's jump right in.
As a business owner, you already understand the importance of measuring the success of your marketing efforts. No matter how well your marketing team tries to plan a campaign, it is always important to track its effectiveness.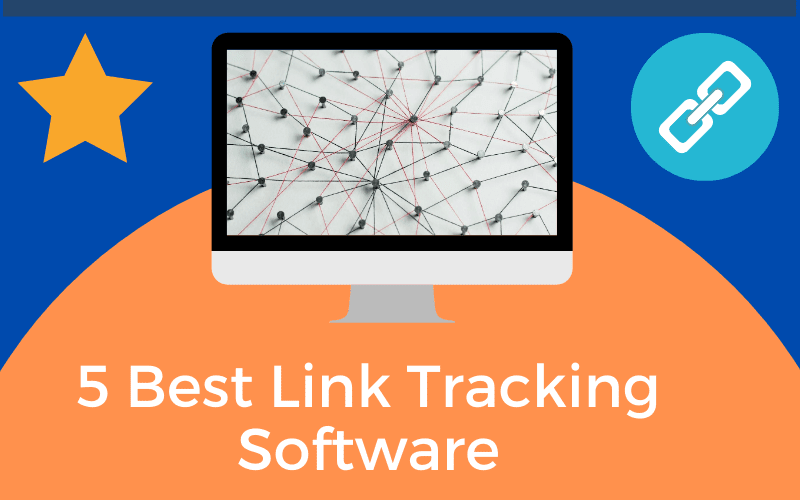 Tracking links is one of the best ways to do that. When you are spending your time and money on marketing and advertising for your business, you will surely want to know what is working and what is not. This is possible with the best link tracker software.
Link tracking will allow you to see the direct impact between your marketing activities and growth. It provides you with some valuable data and important insights regarding your links or website. This data or insights can be analyzed and used for determining if your marketing campaigns are having any impact or not.
With the help of the right tracking software, you can determine from where your leads, subscribers and website/blog traffics are coming. To make it easier for you to find the best tracking software for your business, we have reviewed the top 5 software tools for link tracking.
5 Best Link Tracker Software
The top 5 software for link tracking are ClickMagick, VOLUUM, ClickMeter, Bitly, and Pretty Links. Read on to know more about these software tools:
1. ClickMagick – Superior Link Tracker Software For Marketers


If you are looking for one of the best tools for link tracking, then you need to check this out. It can help you in tracking as well as optimizing all the marketing campaigns in just one place. Stats from the shopping carts, ad programs, and affiliate programs can be quite misleading. You do not have to depend on that. You can easily.
It is a great tool with some amazing features. It can work everywhere you will advertise and you can easily track all the sales funnels. With the help of this tracking software, you can enjoy some great benefits for sure.
Features of ClickMagick
Track & optimize the sales funnels: It offers something more than just a link tracker. You can easily track as well as optimize the sales funnels with the help of this software tool. This comes with a funnel builder tool that can help you in analyzing all the steps of your sales funnels.
Tracking of different devices: On average every internet user has 3.2 devices and they are constantly browsing by switching them which can be sometimes impossible to track the true activity. They can use mobiles, laptops as well as tablets to browse the internet. But with the help of ClickMagick, you can track the activities cross-device.
Tracking phone sales: Most of the tracking system fails to track phone orders and sales accurately. But the ClickMagick helps small businesses to easily track phone sales accurately.
Advanced level of retargeting: The best part of this software is that it offers the retargeting feature. This would help you in increasing the exposure as well as the sales by retargeting offers to the visitors.
Automatic filtering of Bots: Bots can be a great problem for any clickbait marketing like PPC or SEO. With the help of ClickMagick, you will be able to filter or block the bots that can generate some fake clicks to mess up the stats.
24/7 automatic monitoring: This is one of the tools in the ClickMagick software that can help you in monitoring all the links and track them around the clock. So, you will not have any wasted links.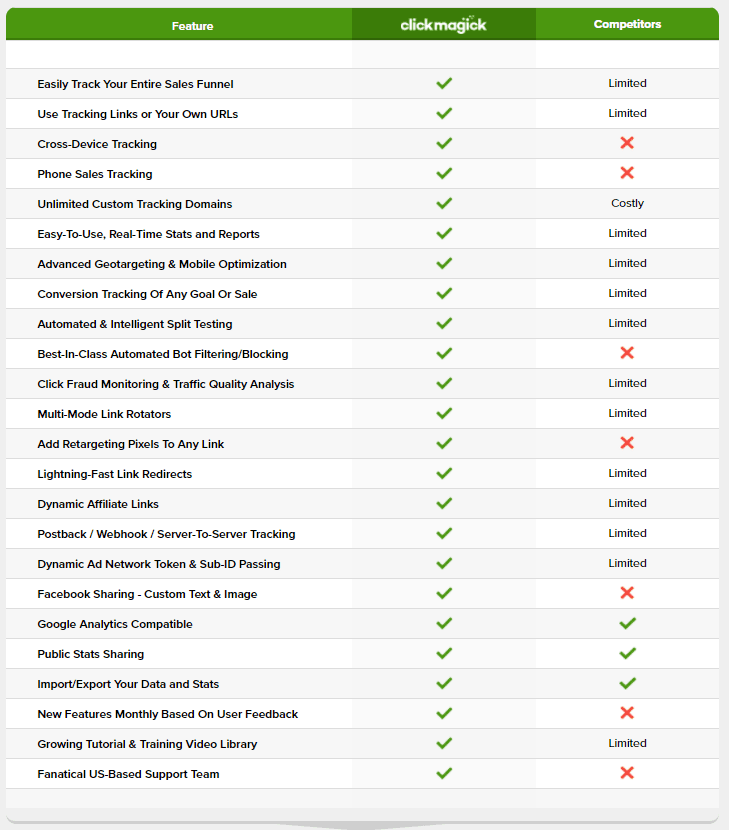 ClickMagick Pricing
Though it is a paid link tracking tool, it offers a 14-day free trial before you buy a plan. The ClickMagick is available in 3 different plans:
Starter Plan for $27
Standard Plan for $67
Pro Plan for $97
2. Voluum – Best Advanced Link Tracker Software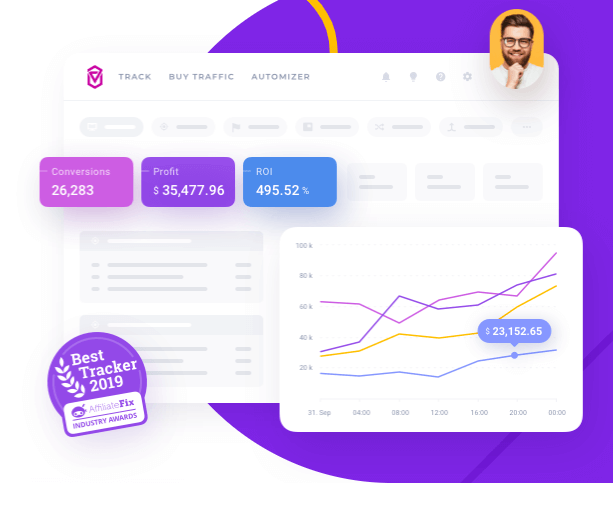 Voluum Ad Tracker is one of the most efficient and versatile link tracker software that you can opt for. This is an AI-powered and cloud-based tool that offers the best link tracking features to all marketers, affiliates, and bloggers. It comes with in-built optimization tools that can track the links as well as the ads. If you are looking for tracking software that helps you in tracking all the marketing links in one platform, this is the one.
The Voluum software helps you in automating, optimizing, and tracking your ads. It comes with the best API i.e. application programming interface where you will be able to access and pull all the important data. Then you can process it. There is no point in wild guessing and wasting your time and money on it. With the help of this software, you can track the important data and optimize the ads for their better performance. It can help you to find the best and most profitable combination of landing pages and ads.
Features of Voluum
Comes with traffic distribution AI: This software tool helps in the automated distribution of traffic for landers, offers, and the entire flows. It can help you in analyzing the performance of the landing pages, paths, and offers in real-time. Then it redistributes the traffic automatically for the best ROI.
Auto-optimization of ad campaigns: It comes with a feature named Automizer, which means automatic optimizer. With the help of this feature, you can integrate all the traffic sources of your website and automatically optimize the ad campaigns.
Direct tracking pixel: The best part of the Voluum is that you can track paid as well as organic traffic without any initial redirection. You can accelerate the entire process of sending visitors your landing page and advertising without any such limits.
Tracking with SSL: Security is very important and it can also have a good impact on the SEO. You can secure all the affiliate tracking domains that you are using with the SSL certificate with the Voluum account. This will ensure that your domains will not be marked as suspicious links by search engines.
VOLUUM Pricing Plans
There are 4 different pricing plans available for this software:
Discover which starts at just $69 per month.
Profit is available at $134 per month.
Grow which is available at $381 per month.
Agency which is the most advanced one and is available at $999 per month
3. ClickMeter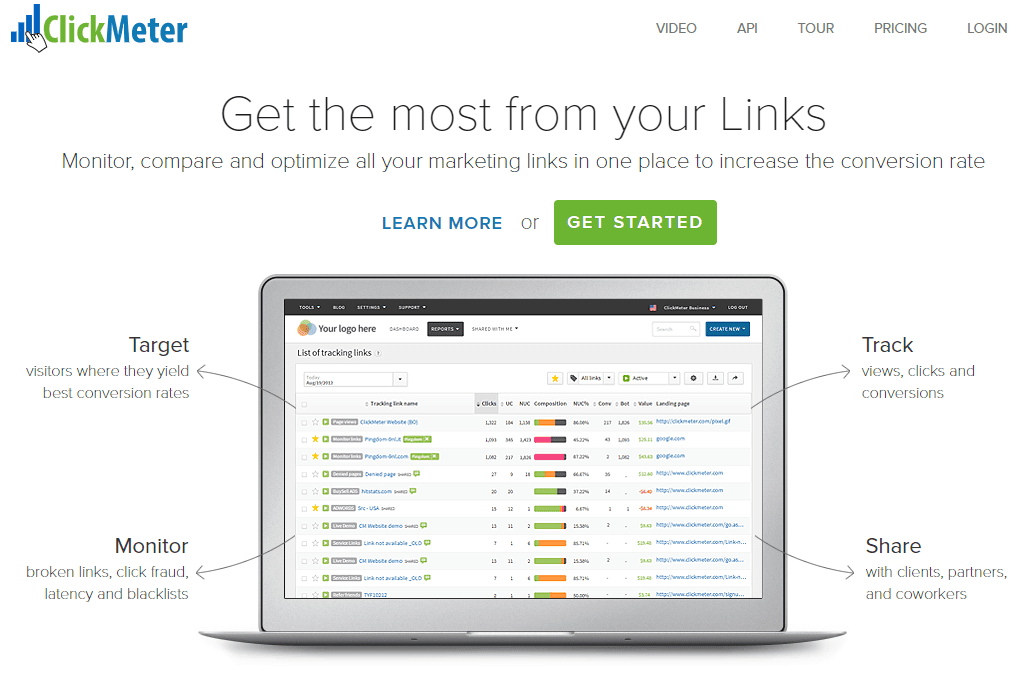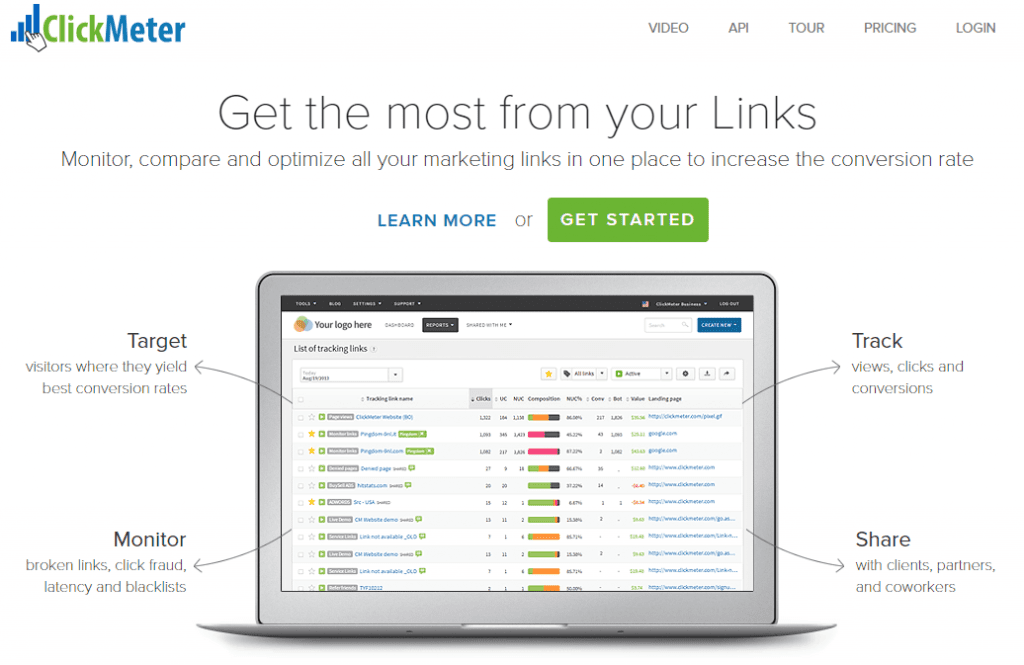 ClickMeter is another great option for affiliates, agencies, publishers, and advertisers if they are looking for the best link tracking tools. With the help of this software, you will be able to get the most from your links. You can compare, monitor, and optimize all the marketing links under one roof. This can help you in increasing the conversion rate and earning more profits.
This tool has some really interesting and beneficial features that can help advertisers, agencies, publishers, and affiliates in different ways. The best part is that the ClickMeter offers you a well-detailed report system that can help you in tracking all the conversion clicks in your campaign. Here are some of the best features of this software tool.
Features of ClickMeter
Targeting the visitors: This software helps in targeting the visitors. As soon as anyone clicks on the link, he/she becomes a visitor and anyone who clicks can be retargeted again. This helps the marketers to identify the platform where people get the best conversion rates.
Tracking real-time: The next great feature of the ClickMeter is that it can help you in tracking the views as well as the clicks. This can also help you in tracking the conversions properly.
Monitor the links and performance: It is important for you to monitor the links and it is not possible to do it manually. This software tool can monitor everything and keep you updated. It helps in monitoring and identifying click frauds, broken links, backlist, and latency.
Sharing the data: The marketers or the advertisers will want to share all the updates with the clients, coworkers, and partners. With the help of this tool, you can share all the data and insights collected.
ClickMeter Pricing
The ClickMeter is available in 3 types of paid plans with different pricing. The best part is that it comes with a 30-day money-back guarantee where you can claim your money within 30 days if you are not satisfied. Also, you can change the plan whenever you want.
Medium plan is the starter pack which is available at only $29 per month
Large plan is available at $99 per month which is considered the best value plan
X-Large plan is available at $349 per month which is perfect for larger businesses
4. Bitly – Most Popular Free Link Tracker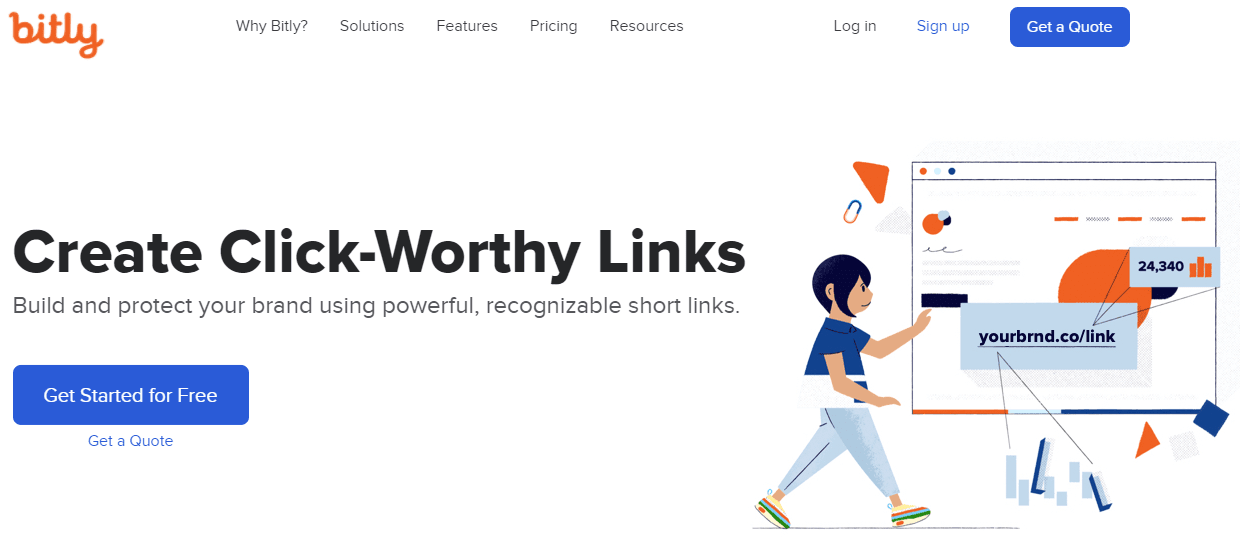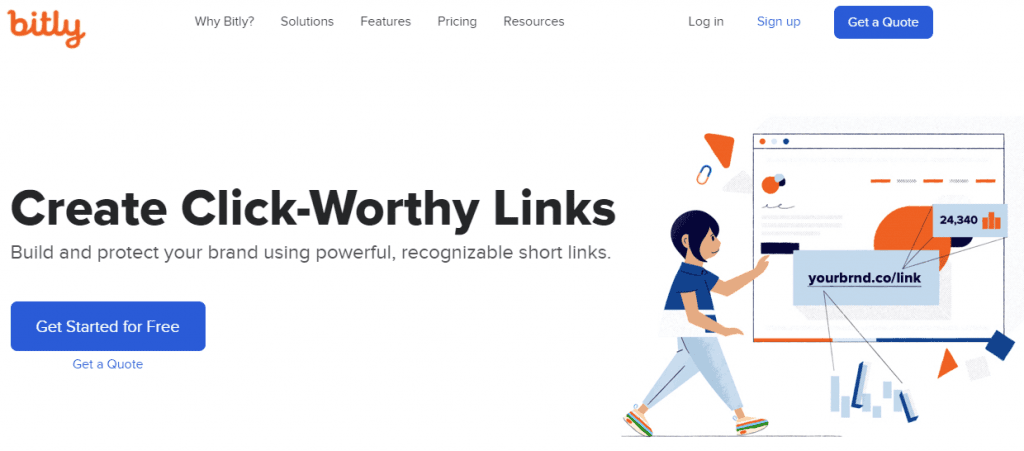 Bitly can easily be considered as one of the very best free link tracker software for affiliate marketing. It's widely popular and used by millions of websites. This tool helps in creating short links and also it offers you the ability to track those links. The Bitly will provide you with each and every data about who is clicking the link and from where the links are being clicked.
You can build some recognizable short links and protect your brand marketing with them. With each and every click you get, your brand or business can grow with that. Hence, it is important to track these clicks and keep an eye on them. This tool can do much more than just track the link. It can help you in boosting the result and gaining control with all the amazing features.
Features of Bitly
Link management: Search for the right tool that can help you in creating and managing the powerful links that end with Bitly. People generally click on those links that they trust. Bitly is quite popular and it can help you to instill trust in people so that you can get more clicks. Also, you will get a deeper insight into every click.
Campaign management and analytics: Bitly provides you with a very informative user interface and dashboard. You can keep track of the analytics as well as the performance of all the campaigns with this tool. You get a clearer picture of how well your content is doing.
Branded links: With the help of Bitly, you can create customized branded links using your very own domain. This can help you to build better trust and credibility among the people which will result in getting more clicks.
Mobile links: This tool also helps you in creating links that can work seamlessly in SMS text messaging, QR codes, deep links, etc. This can help you to get more clicks on the links.
Bitly Pricing
Bitly has a generous free plan available for everyone. You can start with the free plan where you get to create 1000 links per month along with unlimited link clicks. Then you will also get benefits like link tags, bulk link tagging, and link filtering.
You can access social posting. If you are a user with high demand and sending a huge amount of clicks, then you can upgrade your Bitly account. There is a $29 plan and after that, you have to request a quote. Most use Bitly entirely for free, and it works just fine for how it works.
5. Pretty Links – The Best Free WordPress Link Tracker Software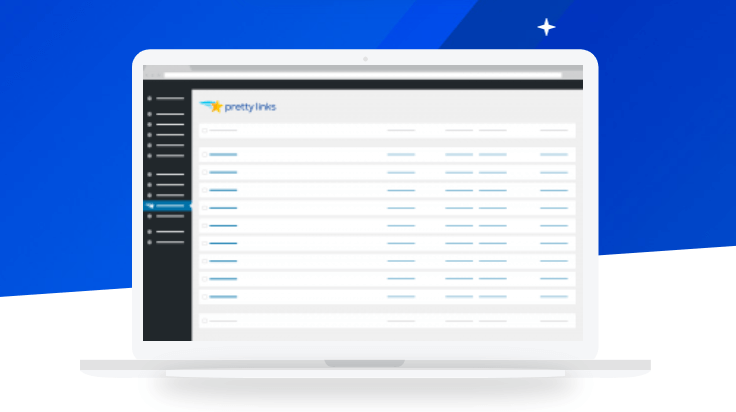 This software is a great WordPress plugin that helps you to cloak, shrink, organize and track all your affiliate links in just one tool. If you are looking for the best and easiest way to monetize your content, then this is the best software for you. You can download and install this WordPress plugin in your WordPress dashboard and make full use of this tool.
With this software, you get some amazing features that can help you to grow your business in a better way.
Features of Pretty Links
Tracking the links: There is no doubt that link tracking is extremely important when it comes to marketing. With the help of this, you can create short links and cloak them. Then you can track the links too.
Sharing on social media: You can share those affiliate links in Podcasts, YouTube, emails, and social media too.
Performance analysis: You can check how the links are performing in real-time. Based on that, you can analyze the performance and curate the marketing campaigns.
Importing and Exporting: The Pretty Links offer you to import and export the links. Besides that, it also helps you in split testing.
Pretty Links Pricing
Though you can download and install this software in WordPress and use it for free to track the links and get the stats, there are some paid plans too. You can choose from 3 different paid plans.
Beginner plan is available at $49 per month.
Marketer plan is available at $99 per month.
Super Affiliate plan is available at $149 per month.
Final Words On Choosing Link Tracker Software
As mentioned above, link tracking will help marketers track all their activities and optimize the link clicks according to the ongoing results. With this list of the best link tracker software, you can find the right one for your needs and requirements. Whether you want a free or paid software solution, you can check the benefits they offer and choose the right one for tracking, monitoring, and organizing all your links efficiently. Finally, I want to sum up this article in this way:
If you want an overall easy-to-use and reliable link tracker at a great price then go with Clickmagick.
Are you an advanced marketer with large budgets and are willing to pay more then Voluum will be a perfect match?
If you just want the most basic free link tracker, that you can use to post links on Facebook, Youtube, or anywhere, then Bitly is a good choice.
Are you a WordPress blogger then Pretty Links will be a fantastic choice. It has a free version that will cover most needs. Upgrade later if you like it.
If you got any questions about this article, then please contact me, and I will help you out.