You are about to learn how to create and optimize a high converting sales funnel for e-commerce. Always remember that as an e-commerce owner, you have to know how to innovate. These days that means knowing how to develop a sales funnel for your online store. This will help you to increase your sales volume, transaction values and ensure that you are securing better profits at the end of the day.
The formula behind a great e-commerce sales funnel
Create awareness
You should initially create awareness about your e-commerce store to potential customers. This can help you to get the best possible results from the sales funnel with ease. Numerous methods are available for creating awareness. You can either go for organic methods such as SEO or you can settle down with the paid methods, such as PPC campaigns.
You need to develop attractive content, so that you can attract visitors. People tend to get attracted to the things that they see as interesting. Therefore, you need to make sure that you are developing such attractive content at all times. The customer journey would start with an idea or problem in mind. This is where you need to provide them with suggestions or solutions with content. If the content is attractive enough, you can grab customer attention with ease.
Get them to start evaluating your product
Once you start generating traffic to the e-commerce store, you should get them to consider what you are offering. One of the best methods available to do this is to use social proof. For example, you can have customer testimonials on your landing pages. Then people will be convinced and they will tend to proceed with the offer that you are providing.
Along with that, it is important to pay special attention towards optimizing the product pages as well. Product pages will be able to assist you with winning the hearts of prospects with ease. In order to do that, you should provide an assurance to the visitors and let them know that your solution is the best one. This will help you to tempt the visitors to go ahead and add the products available in the e-commerce store to the shopping cart.
Write great copy
You should also make sure that you are aligning the copy of the product page along with the common questions of your customers. This will assist you to eliminate the doubts that you may have to face. For example, you should optimize the product descriptions, so that you are addressing the questions of your customers.
You must also be including calls to action. For example, it is possible for you to create a subscription button and get the interested customers to subscribe. In return, you can send out a free sample of a selected product via the e-commerce store. A tool such as Clickfunnels will be able to help you with managing this email list in an effective manner.
Tempt your prospects to make decisions.
Now you have attracted visitors to the e-commerce store and you have tempted them. Hence, the next step is to get the customers to purchase what you offer. This is where you will be able to generate revenues from the prospects.
On-site messages displayed within the e-commerce store can provide a helping hand to you. In here, you need to understand that two visitors are not the same. You should have a mechanism to differentiate the first time visitors and returning visitors. Then you will be able to create specialized campaigns, which is targeting them in a better way. This will help you to reduce your cart abandonment rates to a significant extent as well.
Retention
By this stage, you have got the prospects to become revenue-generating customers of the business. Along with that, you should pay special attention to customer retention. People who purchase products from your e-commerce store have a high possibility to become long term customers. Then they will be able to stick to what you offer and you can generate revenues with ease. This will eventually ensure a loyal customer base. Such a loyal customer base will ensure that your business will not get lost. If you want, you could read more on a guide on how to optimize an e-commerce funnel.
Sales Funnel For E-commerce Stores Template Giveaway
In this section, I'm going to give to you some great tips for free sales funnel for e-commerce template, that you can start using right now. And if you need help with anything here, then please contact us and we will help you with this. Absolutely for free of course.
Recommended funnels types: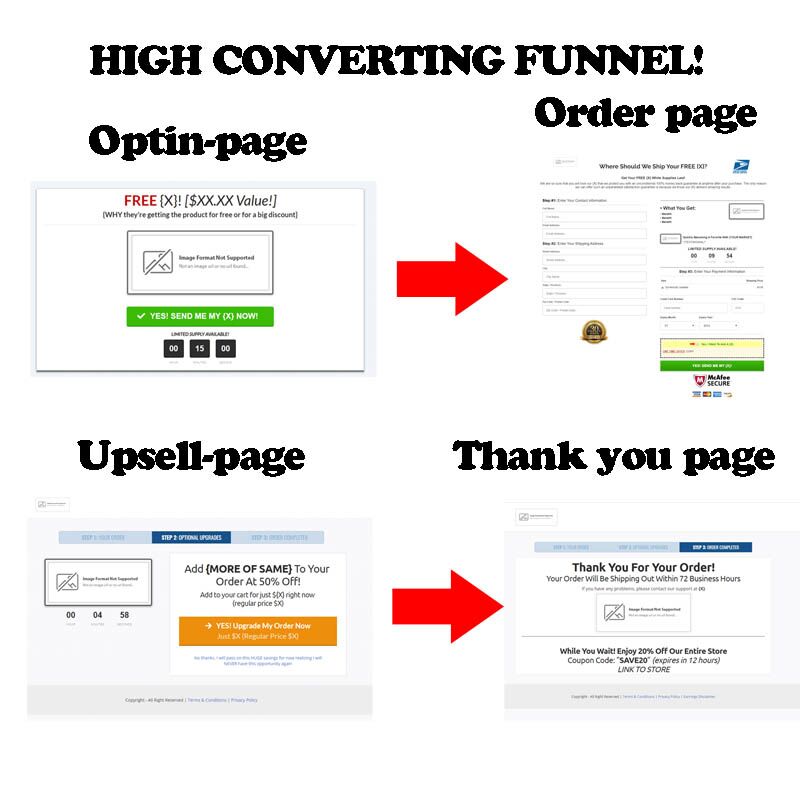 The template you see here is proven to give you high conversion rates and to maximize the transaction value of each order. The first stage of the funnel builds leads to your email list, then you offer the first offer (With an additional offer bump), then you should present your first OTO (One time offer), followed by another OTO. After which you can decide if you want to add a third OTO or more! It is possible and something to consider. Finally, there is the thank you page, where you give the last message to your customer, and here you can add links to a Facebook group, another funnel you have built or anything you like.
Final words on sales funnels for e-commerce stores
You should come up with a loyalty program to ensure customer retention. People can easily be convinced to stick to your business via the loyalty program. Then you will even be able to ask them to provide referrals on your way. In the meantime, you should never forget to provide exciting incentives to the customers, who sign up with the loyalty program. Then you will be able to get the best outcome from the loyalty program at the end of the day. If you want help setting up your first funnel, then don't hesitate to get in touch.