Hi! Want to set up a sales funnel in WordPress but don't know where to start? Here we will show you the 3 very best ways on how to do this. What route you decide to go depends a little on if you already have a WordPress based website, or if you are starting from scratch.
And also, how important it is to you to use all the normal functions that WordPress offers. In any case, no matter which option you decide to go for, you will most likely be very happy with these solutions.
Connecting Clickfunnels to WordPress
Connecting Clickfunnels to WordPress can easily be considered as one of the best methods for you to get set up a sales funnel in WordPress. The process that you have to follow to do this integration is simple and straightforward. All you have to do is to follow these steps and you will be able to end up with positive results.
To begin with, you should go ahead and install the Clickfunnels plugin on your WordPress website. You will be able to do it from the WordPress dashboard. All you have to do is to go to the Plugins section from the WordPress dashboard and click on "Add New" plugin. You can then look for the Clickfunnels plugin and install that. Upon the installation, you can simply activate it.
Remember that Clickfunnels has a great support team if you are stuck!
You should also double check and verify the settings of the Clickfunnels plugin that you install on your WordPress website. For that, you should go to the Clickfunnels plugin that you can see on your left and navigate to the settings. Under there, you can see the API connection. That's where you need to enter the account email of Clickfunnels.
Now you need to go back to your Clickfunnels account and look under settings. Scroll down until you see WordPress API. Then you can select Expand. Then you need to copy the WordPress API key.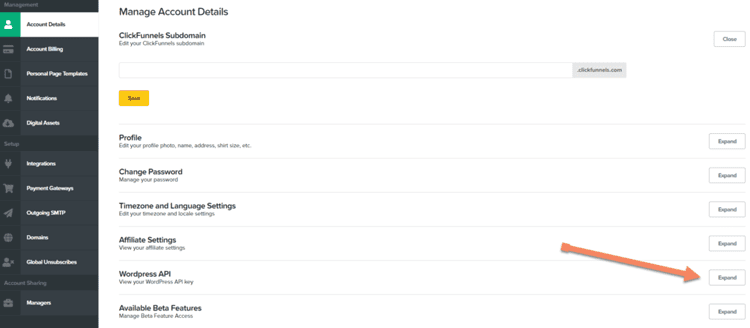 You can now return back to WordPress and paste the API key within Authentication Token. Then you can save the settings.
You will be able to see a button on your left-hand side, which says Compatibility Check. You should now click on this. With that, you need to make sure that all the setting are properly enabled. Now you can go back to General Settings and click on Download and Display.
You can use the existing Favicon of your WordPress website to the Favicon. If you need, you can add any extra tracking snippets as well.
Get the CartFlows sales funnel WordPress plugin

CartFlows is one of the most popular WordPress sales funnel plugins right now. It has many great features and is very easy to use. With the assistance of this plugin, you will be provided with the opportunity to create highly effective sales funnels as well. In other words, CartFlows plugin can assist you to transform the WordPress website into a selling machine.
There are few unique and impressive features that you can find in CartFlows, which allows you to create a sales funnel without any hassle. The ready to import templates hold a prominent place out of them. You just need to go through the list of highly converting templates and get the best one out of them.
You are also provided with a dedicated page builder by this plugin. Then you will be able to replace the complex checkout process that you have on the WordPress website and increase your chances of making more money.
You should never expect the buyers to end the journey after the checkout. CartFlows plugin can assist you to get a customized thank you page. Then you will be able to guide the customers throughout the next steps of their journey as well.
Upgrade to CartFlows Pro version to get
Unlimited carts and flows
Premium templates
WooCommerce checkout
Checkout field costomizer
One click order bumps
One click upsells and downsells
Top notch support
Any person who has a WordPress website can think about getting the CartFlows plugin installed. The steps that you have to follow for the installation are quite similar to the steps, which you had to follow for the installation of Clickfunnels plugin. After you activate CartFlows, you will be able to let it do the magic.
Get A Thrive Membership

The Thrive Membership will provide you with a suite of WordPress Plugins. You will be able to use these plugins in order to give life to powerful sales funnel. Then you will find it as an easy task to achieve your conversion goals at the end of the day.
Once you obtain the Thrive Membership, you will be provided with the chance to have unlimited funnels designed and developed on your WordPress websites. You will also be able to have the funnels on unlimited pages, in up to 25 different websites.
Thrive Membership is a great option even compared to Clickfunnels as well. That's because it is fully compatible with WordPress, and the perfect match if you already have your website set up with lots of content.
In addition, it can provide you with the opportunity to develop pages from scratch and have the most control of the pages that you develop. You can also have opt-in offers for the different content categories, which can deliver outstanding results at the end of the day.
Final words on WordPress and sales funnels
That's all you have to do in order to get sales funnels for WordPress. This is a simple exercise and any WordPress website owner can think about going through these steps. If you follow the steps, you will be able to get the job done without any hassle at all.
After you follow any of these methods, you just need to think about promoting your website and get people into your sales funnel. Then you will be able to lead those people throughout your funnel and in the end get a higher average sale value, than you would otherwise get on a standard eCommerce shop.
You will love the benefits that will come along with it and you don't need to worry about selling the old and broken way. The whole point of this is for you making so much per sale that it will cover all your product and advertising costs.
Want to read more on setting up a sales funnel in WordPress? We have written about this before, and will most likely be doing it soon, as there are always new functions and possibilities with this coming out. Comment below if you want to learn more about this.