Welcome to my honest and in-depth Speechelo review. The goal of this article is to answer all the questions you might have about this text to speech software.
If you are not getting expected results even after making professional-grade videos, then the lack of voiceover that sounds natural can be the reason behind your failure.
To improve the number of subscribers as well as sales it is important for your videos to have a voice that can attract more and more viewers.
An attractive voiceover can make videos more engaging and effective for their viewers. In this situation, Speechelo, software that can help you in converting text to speech can enable you to create a voice sounding like humans can be very helpful for you.
The information provided in this Speechelo review will help you to know this software and Speechelo pricing more precisely.
Ultimate Speechelo Review: Let's Get Started!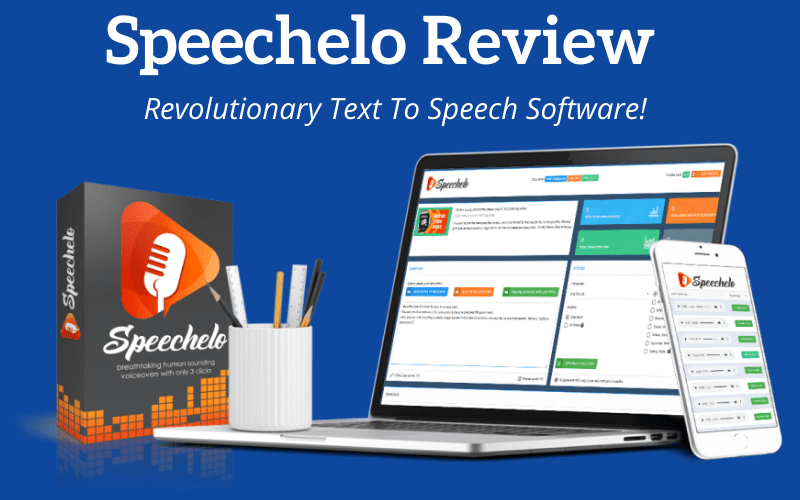 Introduction To Text To Voice Software
Speechelo is software based on artificial intelligence that can help you in creating voiceovers sounding like a human voice from the text scripted by you on your videos. This program can be used to convert any type of text into naturally sounding voiceovers in a very easy way.
It includes a wide variety of voiceovers in male and female voices from which you can choose as per your requirements.
These voiceovers are available in three tones including normal, joyful, and sad tones from which you can choose to create voiceovers of your choice. In this way, this software can be used easily with any software used for making videos.
Speechelo demo review
As you can hear from the Speechelo demo voice below, the quality of the voice is quite natural and good. The software is an efficient and effective tool using advanced artificial intelligence that transforms written text into a realistic and natural human voice in just 3 clicks!
According to the official site, the text-to-speech engine has been designed to create believable male and female voices with unique features that you can use to add breath sounds, pause sounds, and whatever else you want to add to the voiceover. You really have to agree that it does that job really well.
The natural sound provided by the program allows you to create realistic voice-overs, similar to humans; therefore, it will enable businesses and content creators to view and expand their global and regional audiences.
How Speechelo Actually Works – Review
The software Speechelo can be used very easily to get audio files of voiceovers in a few minutes.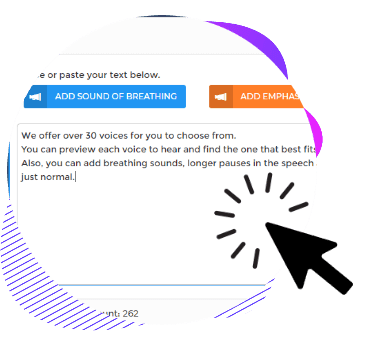 Step 1 – Paste your text: First of all, you should paste the text you want to create a voiceover into the text editing option of this software. Speechelo will punctuate your text after checking it thoroughly. Therefore it can be optimized to sound natural in the best possible way.
Step 2 – Choose a voice and language: Your next step should be to choose a language as well as a tone from options available on this program in which you want to create a voiceover for your videos.
This software also allows you to select the best language by previewing the effect of various languages in your videos. Along with the sound of the speech, it also allows you to add breathing sounds and long pauses in the voiceover.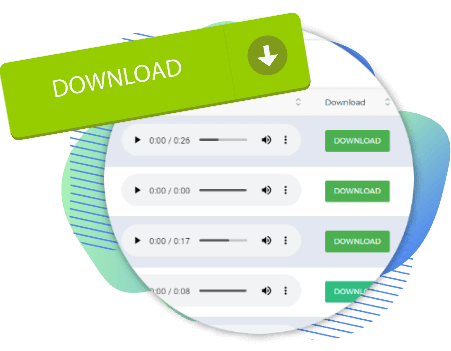 Step 3 – Create a voiceover and download: The software will generate a voiceover according to the options you have selected so that you can feel its effect by playing it directly. You can change the voiceover with other modes and languages unless you are satisfied with any or some of them. After getting a satisfactory voiceover you can download it and use it in your marketing projects.
Speechelo Software Features – Review
The main features of Speechelo, voiceover software, include:
Generation of an unlimited variety of voice
The standard package of this software program allows you to create a voiceover by using up to 700 words but you will have to upsell the version to upgrade it if you want to use an unlimited number of words in your voiceover.
This feature of this software makes it better than various other options like AudioFlow Pro etc. which allows you to use 3,000 words at the most to convert text into voice.
Lot's Of Text And Languages Supported!
English is the main language of this software still its artificial intelligence allows you to get narration in almost 23 other international languages.
In some languages like French etc., you can get voices of several types without hiring a costly professional for this purpose.
This feature of this software makes it more beneficial for freelancing YouTubers with a limited budget as it allows them to modify the voiceover as per their choice without any additional cost.
Anyone can use it easily just by pasting the text on the editing field of this software and choosing the type of accent and voice.
The artificial intelligence in this software will start converting your text into the voiceover of your choice automatically in no time.
This artificial intelligence-based software is better than other similar options because it makes the sound voiceover sound naturally like a human by including the features like the level of pitch, emphasis and breathing pauses, etc. into it.
The languages supported by this software include:
Dutch, Arabic, Danish, Mandarin, German, Icelandic, French, English, Japanese, Italian, Norwegian, Korean, Portuguese, Polish, Spanish, Romanian, Welsh, Spanish, Russian, and Turkish.
Change Videos Into Captions
This feature of this voiceover software allows you to use your videos for some other purpose by converting them into captions. This software scrutinizes your videos automatically to find the language used in them and convert it into a non-English or/and English language.
Then this software will transform the text script you have got into a voice by using its artificial intelligence. It can be the most useful feature of this software for people running multilingual channels.
Thus by using all of these features so this software you can expect to get a better return on your investment as it allows you to create as many numbers voiceover for your videos as you can without any special efforts.
Speechelo Standard VS Pro Version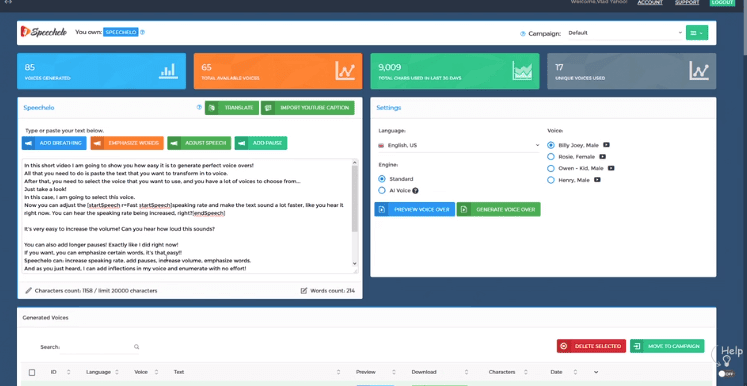 The software, Speechelo, is available in two versions – Standard and Professional. Its standard version can be used by individuals for converting text on their videos into voiceovers. The Professional version of this software can allow you not only to generate voiceover for your videos but also to sell your voiceovers to other platforms like Fiverr etc.
The $47 is the quarterly fee for the pro version of Speechelo which will allow you to use it for three months without any problem.
The extra features you can use of this software program by buying its pro version may include access to up to 60 types of voiceovers against 30 provided by its standard version.
It can convert text with up to 20,000 characters in the text panel against 5,000 in the standard version. In the background, it also includes 40 tracks of music to make your voiceover more attractive for the listeners. It also allows you to sell your voiceovers as it includes a commercial license.
This program also includes a bonus eBook, Voiceover Cash Machine' that allows you to start a business of creating voiceovers for your clients and make money.
Thus, by spending only $47 per quarter you can use this program to recover your money without any problem by starting the business of creating and selling voiceovers.
Pros And Cons Of Speechelo
Below is a quick summary of the most important pros and cons that you should know about.
Pros
Easy to use this software to create voiceovers for your videos just by clicking your mouse a few times
This software supports various languages including English and non-English.
You can run this program without using any Google API, coding, or poly API of Amazon
Easily make your voiceover sound like a real human being by adjusting pitch level, emphasis, and breath in your speech.
It transforms the text into voice and voice into text for the videos made by YouTubers automatically.
Cons
The languages offered by this software are limited to 30 only
The quality of accent of certain languages like French etc. on artificial intelligence is not up to the mark.
Speechelo Pricing – Review
The pricing policy of this software includes two levels – Standard and Pro. The standard version of this software will cost you a one-time payment of $67. But you cannot use the features provided to the users of its Pro version. You can create voiceovers for the script of a maximum of 700 words and can download them gradually.
The price of the Pro version of this software is $100 per quarter but for promotional reasons, a discount of 53% has been offered for a limited period to reduce its quarterly price to $47.
The Pro version of this software will allow you to various types of voices from adults to children, men, and women.
You will find a variety of accents including English to American, Japanese and British, etc. to create voiceovers for your videos.
By upgrading your version to Pro you can generate voiceovers of the texts containing unlimited numbers of words by using 30 types of voices and 23 languages other than English.
In this way, you can use this software to create the voices of many types and integrate them easily in the videos created by any platform including Adobe Premiere, Camtasia, iMovie, and Audacity, etc.
Ready to create unlimited professional high-quality video voiceovers?
Forget having to pay expensive freelancers for every voiceover and get just one tool to easily to do job. Get started now by clicking the button below.
Speechelo Alternatives – Paid and Free Review
If you are searching for an alternative to Speechelo then honestly speaking you may not be able to find even a single one to match it because of the wonderful human-like voices provided by it.
Though none of the alternative voiceover software options is as good as Speechelo still Vidnami can be considered as a potential alternative to it.
The Best Paid Alternative To Speechelo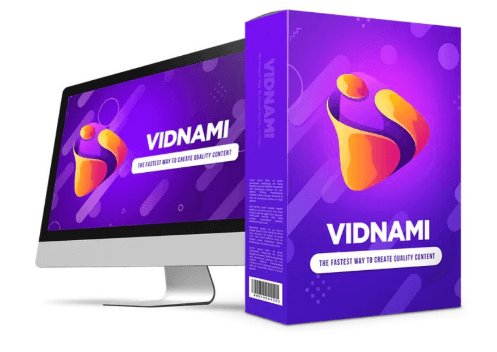 Vidnami is the software that includes a powerful feature of auto voice creator. It can help you in creating remarkable videos without needing any editing at a very fast speed. You can make your own videos by using this software to copy and paste the scripts of various videos.
Actually, by using both of these software options, Speechelo and Vidnami, together one can easily make outstanding videos very soon. Like Speechelo, Vidnami uses artificial intelligence to create a voice from text to make attention-grabbing videos. In this way, it allows you to narrate your videos without using your own voice.
You can review a number of YouTube videos using the Vidnami software, only to find robot-like sounding voices.
Though the quality of sound in most of these videos is not as good as that of Speechelo still it can be improved by adjusting their tone more appropriately. It can convince some people to feel like the voice of an actual person.
Moreover, Vidnami offers various types of voices from men, women, and kids in British and American accents to choose from for creating voiceover for your videos. Although the sounds of some of the accents are not perfect still you can choose the best one from other available options.
Recommended reading: Video marketing blaster is the perfect companion software to Speechelo.
How Vidnami Software Works
The software Vidnami uses its license-free library to insert a number of images, videos and slides automatically on the basis of the keyword of your input script.
It also allows you to upload your own voice or your videos and images to use on the videos of other users.
In this way, Vidnami is a good alternative software to Speechelo but its price may not be affordable for all. However, they offer a free trial option for 14 days so that you can make up your mind before buying it.
Speechelo – Frequently Asked Questions
Speechelo is text-to-speech software that can convert any text into a natural-sounding human voice.
Speechelo uses artificial intelligence to generate the most realistic sounding voices from any text.
What languages does Speechelo support?
Speechelo supports over 24 different languages including English, Spanish, French, German, Italian, Portuguese, and more.
Is It Possible To Download Speechelo For Free?
No, Speechelo is not available even for a free trial. But they offer coupon codes to offer its Pro version at discounted prices. But this offer is for a limited period.
The discounted price of the Pro version of Speechelo is $47 per quarter. The original price of the Pro version of this software is $100 but with promotional discounts, you can save up to 53% of the original price.
Are there any Free Speechelo alternatives?
This is a quite difficult question to answer, to be honest. Because none of the free alternatives can match the features and value that you get with Speechelo. One option you could consider is Amazon Polly, but if you are serious about creating videos and making money with them, you should not settle for bad software.
When you are done adding voices and ready to publish your videos to Youtube, then you also should check out Thumbnail blaster for creating wonderful thumbnails.
How much does Speechelo cost?
Speechelo has a one-time fee of $67. There are no recurring charges or hidden fees.
Is there a money-back guarantee?
Yes, Speechelo comes with a 60-day money-back guarantee. If you're not happy with the software for any reason, simply contact our support team within 60 days and we'll refund your purchase.
How do I get started with Speechelo?
Getting started with Speechelo is easy. Just enter any text into the software and it will automatically generate a voice from it. You can then download the audio file or share it directly on social media.
What are the benefits of using Speechelo?
Speechelo can help you save time and money by automatically generating voices from any text. It's also great for creating audio content for your website or blog.
How do I create multiple voices with Speechelo?
Speechelo makes it easy to create multiple voices. Just enter the text into the software and select the different languages you want to generate voices for. Speechelo will then create a voice for each language you select.
Speechelo Review Conclusion
After going through the Speechelo review and the pricing plan discussed in this write-up it can be concluded easily that it is a perfect software to generate voiceovers to sound like a human being by using artificial intelligence.
Though its standard mode may not meet your requirements if you adjust it manually then it can be difficult to differentiate the sounds created by it and a human being.
This software also allows you to create text to voice in English and many more languages, without any additional cost to produce an English YouTube video, even if you are a non-English speaking person.
Moreover, you don't need to download and install this software on your computer as it runs on the cloud. So you can use any Smartphone or computer to access this tool anywhere in this world.
So, Speechelo is the best voiceover generating software right now. It can easily convert text to speech, so you can add them to your videos and make them more engaging for your viewers. Take this opportunity to get started today!
Final Verdict
Speechelo
Summary
The only software you need and want for handling text to voice tasks fast and easily. It's super user friendly and delivers quality results. Most but not all voices are of high quality and sound human-like, for the most part. Still room for some improvement, but Speechelo is better than alternative solutions.