Does your business need a landing page? If you care about getting new leads and sales, then there is a very good chance that it does. This article will show you the different Unbounce pricing plans and what features you can expect to get. Having a landing page can help boost any business, but remember that you can and should still keep your website. They work great together! Often times it makes much more sense to use landing pages when doing paid advertising and then use your website to do store general information and/or blogging for SEO purposes.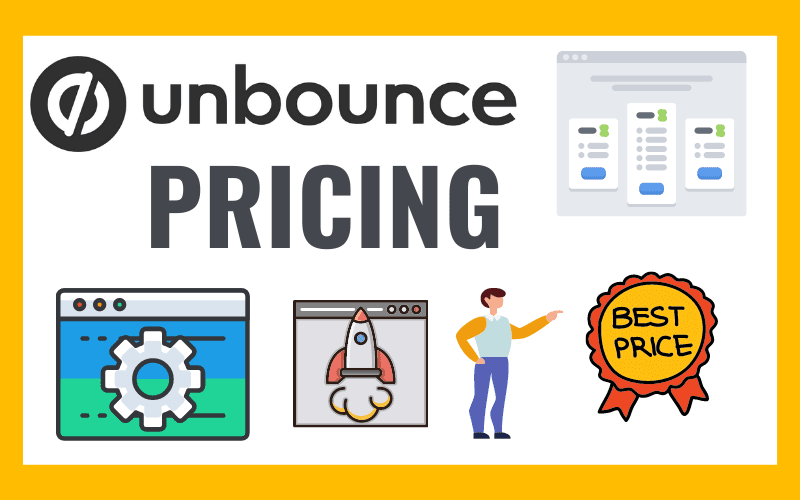 What is Unbounce?
Unbounce is a platform for building landing pages. Unbounce offers professional landing pages for increasing leads, sales, PPC advertising, and optimized conversions.
Why do we need a landing page? A landing page will precisely target the outcome resulting from a user click-through. With the help of a landing page, you can improve and refine the user interaction. This way, the chances of conversion enhance in a big way.
Unbounce can create a landing page that is dedicated to a target goal. It will optimize your page, which prompts your users with this goal. This will avoid any distractions or wandering in a site.
Are landing pages beneficial? Yes, they are the most important factor for attracting people with their trust elements. The landing page is embedded with graphics, images, and videos that will make a good deal of impression to the user. Visuals are remembered more than reading content, and a landing page promotes the focus of the customer.
Unbounce Pricing Plans
Unbounce offers 4 primary pricing plans. Choose the one that best fits your business.
Launch: $80 per month
Optimize: $120 per month
Accelerate: $200 per month
Scale: $300 per month
All plans gives you a 14-day trial period.
Before I continue with going deeper into the features of the landing page builder, I want to mention that every Unbounce plan comes with:
Popup boxes.
Sticky bars.
Unlimited landing pages.
Many integrations like Hubspot, WordPress, and Zapier integration.
Now let's take a look at each plan individually.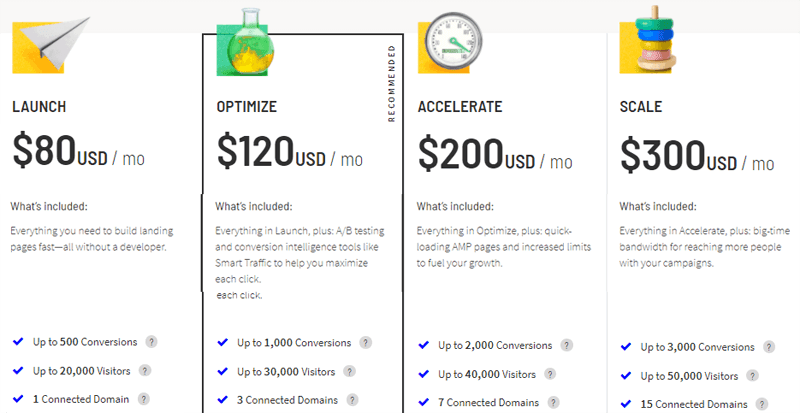 Unbounce Launch Pricing Plan
Pricing
$80 dollars per month
$72 dollars per year
Key Features
The essential plan provides tools that aid in building any page with a higher optimized conversion.
It is ideal for starters, small-sized and medium-sized businesses.
It gives access to unlimited landing pages. You can use the ready-made templates to suit your business idea with the help of a bunch of tools.
Eight Sticky Bars and Pop ups for your e-commerce needs. You can design the bars and popups for your landing page.
Over hundreds of templates here are customizable.
The landing pages are integrated into a WordPress site with the help of a WordPress plugin.
Unlimited domains for management of popups, sticky bars, and all landing pages.
Over 850,000 professional images free of any copyright are offered from Unsplash to use them for your page.
Dynamic Text Replacement (DTR) can help in more conversion by specific phrase incorporations for the relevancy of PPC ads/campaigns.
Split the traffic to different landing page versions with A/B testing to know which version is better for your business.
Connects to over 60 apps and more than 900 via Zapier Integration.
HubSpot and Infusionsoft Integration for instant redirection of leads.
Customer support through live chat, phone, and email.
Easy SSO, Single sign-on with Google.
Addition of unlimited users to your account
Google speed boost for your landing page.
GDPR data compliance that is secure.
Two-Factor Authentication and SSL Encryption for enhanced security.
The Optimize Plan
Pricing
$120 dollars per month
$108 dollars per year
Key Features
Recommended for fast-developing agencies and businesses.
Unlimited landing pages
Sticky Bars and Popups
Accelerated Mobile Page-AMP landing page
Sub-Accounts for clients by setting popups, sticky bars, and multi-user permissions.
Page redirect for traffic redirection from landing page to URL
Salesforce and Marketo Integration for sending leads.
Scheduled Launch by setting time.
Sticky bar target and advanced popup for location, cookie, and referral targeting.
Unbounce Accelerate Pricing Plan
Pricing
$200 dollars per month
$180 dollars per year
Key features
Recommended for large corporations and businesses.
Limitless landing pages
Great looking sticky bars and popups
Page Migration from an existing page to Unbounce without stat variations.
Dedicated customer success manager for release features notification, onboard training, personal assistance, and one-on-one support to guide you.
Audit Logs for user activity monitoring.
Launch Specialist for setting up your training sessions.
Call to action Unbounce ticket
Are Unbounce Features Worth The Cost?
Unbounce is certainly worth using for any revenue-generating agency or business. It is worth the price for the given features and assistance that you get post-purchase. This software saves you time and money over the long run. It is easy to use, has plenty of resources, and good support. You should not think that it's just a landing page builder since over the years features have grown greatly, so today the software is more of an all-in-one type platform. There are many amazing alternative landing page builders. Unbounce has a lot of the same features as Leadpages, so if you want to check out the pricing for Leadpages before you make up your mind, then go ahead and do that. At the end of the day, you can't go wrong with choosing Unbounce or Leadpages.
FAQ – (Frequently asked questions)
How Does The Unbounce Free Trial Work?
The pricing system for Unbounce is like many of its competitors that it's a pay as you go offer. You start out with a 14-day free trial and after that, you start paying for the package that you want to continue with.
What Type of Payment Does Unbounce Accept?
Unbounce accepts oayment from: Visa, Paypal, Mastercard or American Express. It's up to you.
Is Unbounce GDPR Compliant?
Yes, you can rest assured that they have thought hard about this issue and made sure that they are 100% GDPR compliant. Your business should never experience any problems with this unless you do some shady business that has not anything to do with Unbounce.
Final Words on Unbounce Pricing
Unbounce is a building platform for landing pages conversion-driven to enhance sales, leads, and business awareness. It has become one of the top options for businesses and marketers who want to make use of landing pages for their business development. Each of the Unbounce pricing plans offers features that are worth the price.