Welcome to my review of CartFlows, a WordPress sales funnel plugin that is super easy to use and gives you a wide range of possibilities. At the moment of this writing, there are more than 75 million WordPress sites on the internet. Think about that for a moment.
WordPress is known for its easy-to-use and hundreds of user-friendly tools which gives business owners the ability to create and manage any type of website they want from a corporate website or eCommerce. The thousands of themes and plug-ins WordPress offers; make all of this surprisingly easy to manage.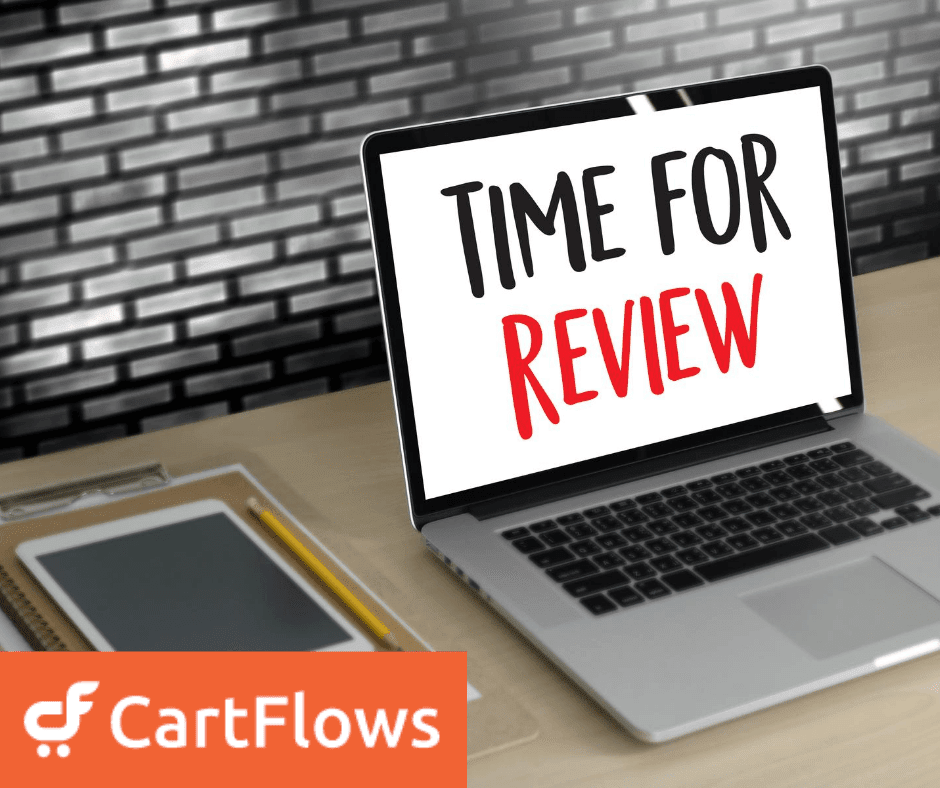 When you think of eCommerce for WordPress websites, WooCommerce comes to mind as the leader in the field. There are however weaknesses to WooCommerce. And the biggest disadvantage is that it's lacking a funnel option. This is where a WordPress sales funnel plugin will help you greatly in moving the consumer's path forward, which is why I'm talking about CartFlows in this article.
CartFlows enables you to not only have a responsive platform but actually a very effective way to enhance the sales process for your customer and potential customers. The more satisfactory the customer experience is, the more your sales revenue will increase.
What is CartFlows?
CartFlows is a WordPress Funnel Builder or more accurately a WordPress Sales Funnel Plugin, made easy with eCommerce specifically in mind whether it's upselling or abandoning carts and more, CartFlows makes it easy for you to control the customer experience from A to Z.
With Woocommerce's weak performance, the eCommerce business owners needed and wanted a more robust WordPress Funnel builder, that can effectively create WordPress funnels in order to reach, motivate, captivate, and persuade their target market turning potential customers into actual buyers.
CartFlows is the new WordPress Sales Plugin. CartFlows is an easy-to-use, powerful, and effective WordPress funnel builder. It is a tool to integrate complex sales funnels into your WordPress website powered by the WooCommerce platform, the digital storefront on the internet.
Integrates Perfectly With WooCommerce
CartFlows works perfectly with WooCommerce. It works with the WooCommerce plug-in to build sales funnels and enhance Customer buying experiences. This WordPress funnel gives its users complete control over their data and content. Users more easily build the funnel by using the WordPress interface.
Where CartFlows excels is in its ability as a WordPress Funnel Builder, we're creating a sales funnel even if you're not techy whether you're using one of the many templates CartFlows offers or creating your own pages such as a landing page, a checkout page, an upsell page, a down-sell page and whatever else you can think off, is it's as easy as a few clicks of a button, helping you maximize customer conversions.
The founder of the Astra WordPress theme participated in the development of CartFlows, the WordPress Sales Funnel plugin. Development took account of the experiences of traditional online eCommerce platforms in lacking customer conversions. CartFlows was created, the WordPress funnel builder to overcome the lack in format and achieve maximum levels of customer conversions.
Setting up CartFlows
Step 1: Create Your Products
On your WordPress dashboard, go to your products tab, click on 'Add New', and simply fill in the information then the prices, and check the boxes for virtual and downloaded (if you're offering an e-product). Once you're finished, click on the Woo Commerce tab, click 'Coupons', and fill in the coupon data to your specifications.
Tip: if you're still practicing. do this: create 2 main products (an initial product and a bump product) then an upsell. Don't forget the coupon. This will help you in the next step.
Step 2: Creating the Flow with CartFlows
On your WordPress dashboard, go to your CartFlows tab, click on 'Flows' then click on 'Add New' – click ready templates and pick 'Inline Checkout' as our example. When you preview it, you will see two-page samples a 'checkout page' and a 'thank you page.'
If you scroll down the checkout page, you will see that it already has a section on billing details – this is proof that CartFlows has you in mind. Making it easy for you to change whatever you want without a speck of code.
Step 3: Import the Template
Once you've chosen your template, CartFlows will integrate the product pages that you've made before into a 'Flow' – you can rearrange the pages in the order that you want. Now, flow is just another word for funnel. No need to get confused, when you go and view each product – you will see that CartFlows has integrated or interlinked or basically done all the work for you from bump products to billing details, additional products, testimonials, a FAQ section, and more.
This is important to note down because each page has its own settings if you're selling a digital product. You must go to your checkout page's settings and tick off the boxes in 'Checkout Fields' that relate to a physical address. Now, all that is left for you to do is just play around. Don't worry, you will not break anything. Practice and practice until you are familiar with everything
KEY FEATURES of CartFlows
1. Sales Funnel Templates – Ready To Import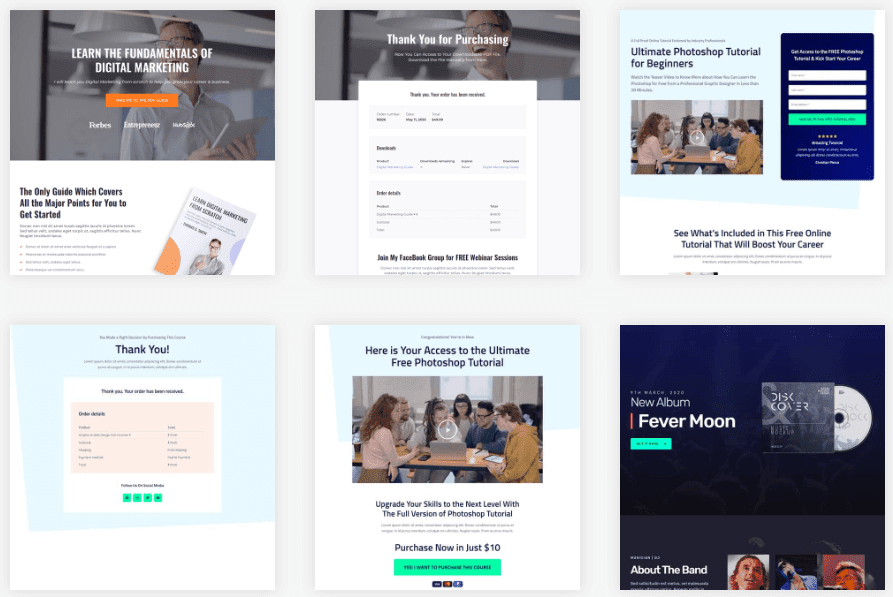 CartFlows has a template library with modern, responsive, and quality templates. proven high-converting, professional designs. You can select the flow that best suits your product and marketing goals. Edit your product's content. The templates are organized into categories, namely landing pages, checkout, upsell and downsell pages, thank you pages. This facilitates your selection as you build the funnels.
Ready to Import Templates, available in Free and Pro versions. CartFlows provides 4 free templates and 6 premium templates so you can create your first flow/funnel at once. Offers a wide range of high-converting templates. These templates work for most page builders including Elementor, Beaver Builder, Divi Builder, Thrive Architect.

These professional templates provide you with a multi-step flow or you can build your own flow and choose individual templates. There is a smooth user interface with the drag-and-drop functionality provided by CartFlows, if you need to revise the order of your steps in the flow. Such as testing the order of upsells and downsells to maximize profit.

Create a flow with CartFlows' templates or essentially a funnel of product pages that you can easily rearrange in the order that you want.

When the templates are imported, you can easily drag and drop to rearrange them. You can also delete or duplicate a step.
Support For Popular WordPress Page Builders
Cartflows works with major page builders. It enables you to use any page builder like Divi, Elementor, Thrive Architect to create your completely customized design. CartFlows provides templates you can download and use with Thrive Architect. Therefore, you can start at once, using templates or creating your own.

CartFlows works with WordPress Page Builders. Available in free and pro versions. Each template is edited with regular page builders. if you're already using one, you can go ahead and edit each page of your funnel with your page builder.

The Pro version includes added options, such as applying for a coupon. It enables variations on products and options on product quantity. For instance, for the checkout page, you can add a product image, edit texts, and change the layout with a page builder.
2. Conversion Tested Checkout Page

CartFlows offers a more efficient checkout process, eliminating complicated checkout. Instant results of the optimized checkout are conversions, thus increasing your business earnings. The checkout page contains only essential information to persuade your buyer.
This page has none of the pitfalls of the Old Way, such as too many distractions, too many fields, and no guarantees. Optimized check-out offers laser-focused modes, guarantees, and reassurances everywhere. presents only the essential items. You can even tick off the boxes or fields that don't apply to your product e.g. physical address.
E-Commerce Strategies on the Checkout Page
These added features are available in the CartFlows Pro version only.
a. Checkout Custom Fields
Store owners need to have additional checkout form fields namely subscription options to their newsletter; age, gender, others

CartFlows Pro version enables this, in just a few clicks. In the checkout page editor, scroll down, click Checkout Fields. The options are in the box beside Enable Custom Field Editor. You can edit the "Billing and Shipping Checkout Fields", so you can re-position each field or change the label or width. A custom field can also be added, with a few clicks.
b. Global Checkout
The Global Checkout page shows all your products on your site. This checkout page can be assigned the default checkout template.

You can use the checkout page made with CartFlows instead of the traditional WooCommerce checkout page. Every time someone buys your products, they will be directed to your custom-made CartFlows checkout page, not WooCommerce. To achieve this, create a new flow with CartFlows. The first step in this flow is your checkout page but leave this page blank. Give it a name you recognize, for example, "Global Checkout".
c. Easy-to-Add Order Bumps
You can add order bumps to your checkout pages. Here, you can offer related products at a discount, such as training, related courses, and extended warranties. This leads to an increase in your customers' total purchase value.
3. Integrations
This is a strong aspect of CartFlows. It is a plugin powered by WooCommerce, which makes all the official WooCommerce extensions and integrations available for your use. And unlike other funnel builders, you do not have to wait long for native integration with your favorite tool.
4. Unlimited Upsells / Downsells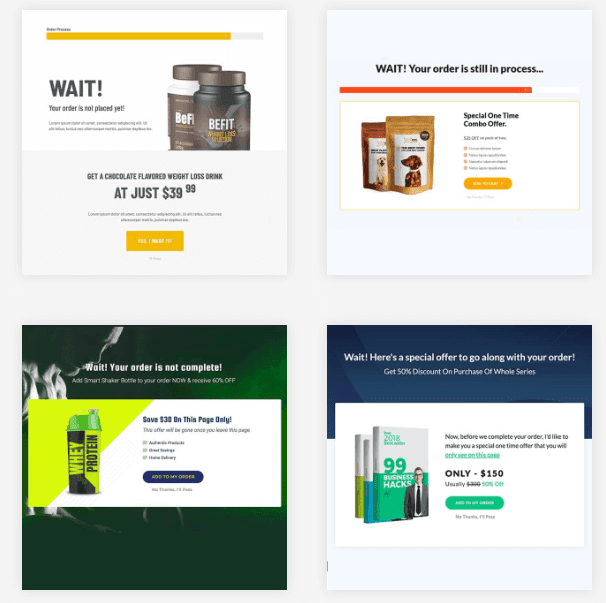 Available in CartFlows Pro.
One-Click Upsells effectively improve your average order value. Upsells and downsells increase a customer's transaction value. Checkout is not the end of a buyer's journey. CartFlows provides a way to create a series of additional offers. Your customers have made the purchase, so there is a higher likelihood that they will continue to add value to their orders.
Upsell offers are:
One-time offers
Course Creators to sell a Mastermind
Cross-Sell Related Product Offers
Software With A Higher Pricing Plan
Health Supplements Selling Large Quantities
Tripwire offers
CartFlows provides templates for upsells and down-sell pages. Or you may decide to create or import your own.
To add an upsell or down-sell page, simply edit the flow and click Add New Step. You'll see the templates for upselling and down-sell pages. Or if you wish to create your own page, click Create Your Own.
Cartflows make the process easy where you can string your needed upsells and downsells together. Use of the Stripe or Paypal integrations will not necessitate you to ask for their credit card number. One-click completes the transaction.
5. A/B Split Testing:
A/B testing is an essential tool for marketers. So it's great news that this WordPress sales funnel has this functionality.
Two or more checkout processes are designed. They compete against one another. See how each performs. Different headlines, prices, descriptions, offers, and more. A winner comes out of the competition. CartFlows gives the numbers so you don't have to guess which is better.
6. Cart Abandonment
Available in CartFlows Pro version.
Cart abandonment commonly occurs, at a rate of 60% to 80% Abandoned carts mean lost profit, and recovery tactics are now an urgent concern. CartFlows integrates with your CRM, buyer's information is given to your CRM, to send an email when a buyer does not complete the checkout process.
7. Custom Script Support
Available in Free and Pro versions.
Any custom script can be added, that you feel is appropriate to power your sales funnel. This can be a live chat, customized pixels, bots, shortcodes, and others. To do this, edit a step/page. Scroll down. Click the option called Custom Script and paste your code.
8. Analytics & Tracking
CartFlows tracks everything and provides detailed analytics on high-performance or weak results to improve conversions.
CartFlows Provides Good Support For Its WordPress Sales Funnel Plugin
Immediate response to user queries within the day. Writing custom scripts unique to the user's needs are also provided. Other support venues are through live chat for pre-sales questions on the pricing page, documentation, or tutorial videos on Youtube, on the funnel features
Building 7 Effective Funnels with CartFlows
WordPress funnels are built inside WordPress. This makes it easy for the user as there is no need to learn new software
Lead Magnet Funnel- a funnel by which you get leads by giving something in exchange for their email address. as a video, report.
Tripwire Funnel – a marketing strategy that persuades customers to make a small purchase to get them to make larger purchases. By creating a low-ticket offer that can't be refused, you're able to get your clients in a funnel where you can upsell, downsell, or send to a confirmation page.
Affiliate Funnel – in
Free List Funnel
Sales Series: level one
Sales Series : level two
Survey Funnel
Consultant Funnel
Benefits of using CartFlows
1. Better user experience
CartFlows puts the right products into the hands of funnel visitors by providing an engaging experience.
The customer also will feel the benefit, with one value offered to them as they make their purchase. This value is to help them solve their problem.
1. CartFlows Increases the value of an average buyer's order
With Cartflows and effective WordPress sales funnels, selling starts with an item's price. However, it does not end here and can lead to increased buying behavior. Your best selling products can move further up a step in performance, with additional bump offers, upsells, downsells, or carving a global funnel or specific funnels for these products
2. Cartflows : improves conversion rate optimization
Marketing concerns such as acquiring a new customer; conversion rate of new visitors into customers on their first visit; the average order value of new customers returning are data-carrying critical numbers. But numbers that are difficult to accurately measure by using traditional e-commerce methods
CartFlows enables you to have your entire sales process mapped out and monitored. You can measure your key performance indicators (KPIs) with accuracy. The CartFlows dashboard shows you the performance of your funnel. It zooms in on visitors' behavior through each step of the funnel (conversion rate), tracking your prospective profit at each step of the sales climb.
3. Cartflows and the "evergreen" sales process
A big launch, with several months of preparation – where you invite affiliates, go into new tech, and opening and closing the cart entails a lot of stress, especially for entrepreneurs.
CartFlows is building the functionality of an evergreen sales funnel into its platform. This entails a launch for each new visitor instead of a major launch. This has all the incentives for a major launch, less the headache. An evergreen funnel is a type of email sales funnel that is automated – that is, whenever one signs up for your email list, they receive the funnel without your active involvement. The sequence of emails would involve a welcome to the visitor, an offer of the products, testimonials on the product, an appeal to buy.
4. Cartflows: you can focus on higher value activities
With an automated and effective sales funnel, when you can split test, and optimize an evergreen sales funnel, you can now focus on important activities. Like spending valuable time with your audience. Creating more products.
5. Cartflows and Scaling your marketing efforts
Building on the solid grounds of your key performance indicators, KPIs, you can map out aggressive marketing thrusts for your business while maintaining its profitability. Monitor expenses on advertising. Follow the CartFlows dashboard. Create your aggressive campaign.
Disadvantages of CartFlows & a WordPress Sales Funnel
The knowledge base lacks in-depth tutorials and troubleshooting articles to help users achieve what they want within time constraints.
There is a need for a built-in affiliate program. This is essential for the online course and digital product sellers and an additional plugin like AffiliateWP becomes necessary.
CartFlows Pricing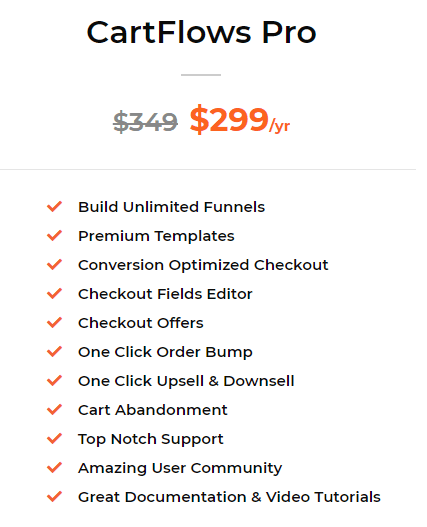 CartFlows pro version costs $299 per year. Its rate is lower when compared to other hosted solution funnel builders with a price range of $99 to $297 per month. Being based on WordPress, there is room for flexibility.
As Woocommerce is a free plugin and a free version of the Elementor page builder is enough, by adding good quality hosting, at monthly $5 to $8 cost, you now have access to a funnel builder. At half the price of similar products.
CartFlows offers a free plan with lesser features. Features will help you create a basic sales funnel with a checkout page and thank you page.
CartFlows Pro currently has a special launch offer of $299 annual fee, with all the free and paid features, plugin updates, technical support, an online user community.
CartFlows Review – Conclusion
CartFlows

Summary
If you are planning to use WordPress for hosting your sales funnels, then you owe it to yourself to try CartFlows. It won't let you down.
It's hard to find any other WordPress Funnel Builder that is this easy, intuitive, and user-friendly. And because it's built right inside WordPress meaning it's a plug-in, CartFlows gives you full control over the content, data and best of all, you don't have to learn a new platform – it's all right in your WordPress dashboard.
If you had to ask me what are the reasons why I recommend CartFlows, I have 3:
3 Reasons Why I See CartFlows As The Best WordPress Sales Funnel Plugin
Affordable – Most Sales Funnel Software is expensive. With CartFlows, you can use it for free. Limited yes, but still.

User-Friendly – Creating a sales funnel with CartFlows is as easy as 1,2,3 clicks and I'm not even joking.

Open Platform – Because CartFlows is a plugin of WordPress and/or WooCommerce, it's not a close platform, meaning you're not limited.
If you have questions regarding the CartFlows, please contact me and I'll get back to you soon.