If you are looking for the best hosting service for a WordPress website, then this WPX hosting review is going to help you out. Here I will tell you all the details about WPX hosting, and why it is absolutely the best choice right now or not. After reading this article, you will have a clear understanding of WPX features, pricing, and all the other aspects you need to know regarding the service.
For the online success of any business, it is highly essential you start considering hosting services that are rudimentary for providing your business website with the platform it needs to get itself out in the world to attract audiences around the globe.
Just like other domains, WordPress also requires hosting – in that regard, WPX hosting serves to be one of the most authentic and popular hosting features for your site.
So, without any further ado, let's dive deeper into further details.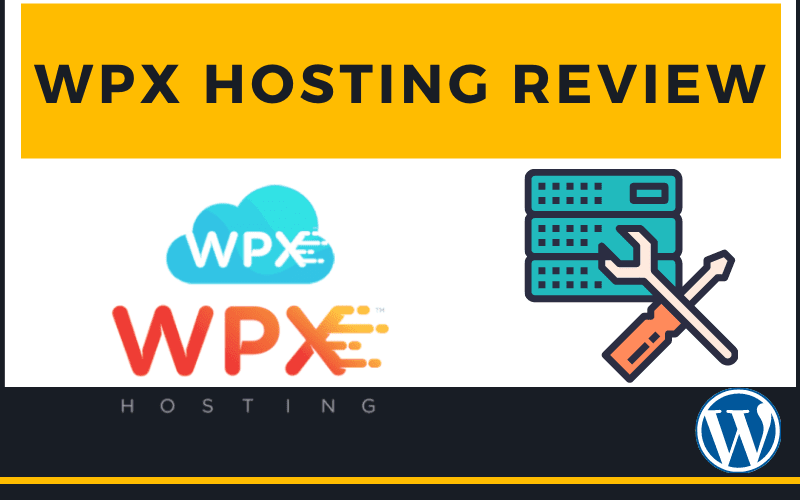 Why Do you Need a Site that Runs Fast?
A lot of consumers make their minds up about getting the product from the company site. They are checking out within a few minutes. These minutes are highly crucial as if anything goes wrong, they can come up with gazillions of options from other sites where they can purchase the same product from any other brand – to save yourself from such loss, it is essential you amplify the performance of your website as much as you can.
All studies show that having a fast website is extremely important for everything from user experience, to how well your website will rank in the search engines.
The better your website is running, the better is your revenue through online marketing. If you are setting up a sales funnel for WordPress, then you need to make sure your hosting is not holding you back. The importance of website speed can not be underestimated. You can lose a lot of potential customers if your site loads too slow. A good site should load faster than 3 seconds. Any longer than that is considered slow.
What is WPX Hosting?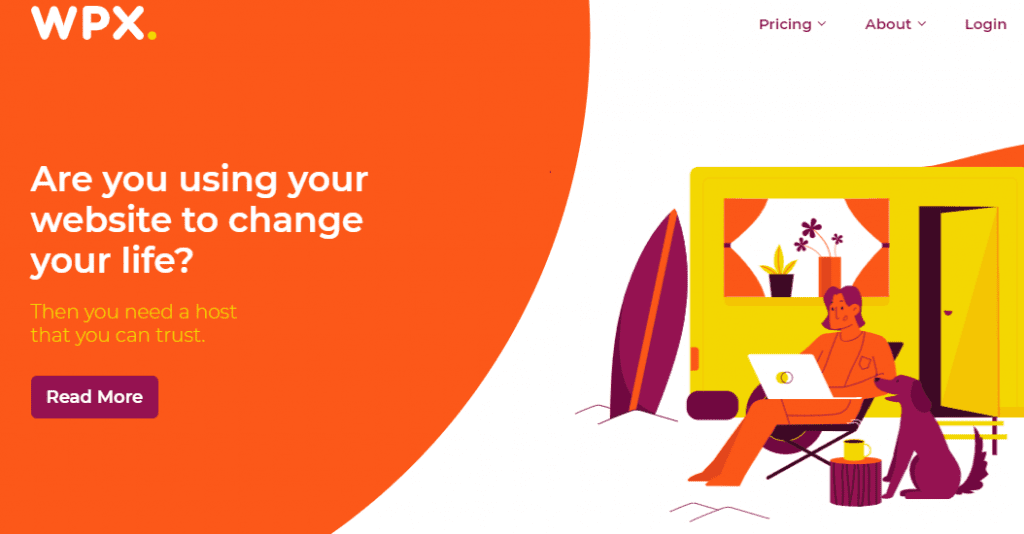 WPX hosting, as we have stated, is a hosting service for all websites powered by the WordPress domain and is known for its exceptionally high performance. It was launched in 2013 by Terry Kyle and came with three primary goals for businesses running through online tools.
Excellent provision of page loading speed
Customer support 24/7 provision
Accessibility and convenience at its finest
Simple and user-interactive site
Next up comes the important part, as this WPX hosting review will go deeper into the different features and benefits you are getting with this hosting company. Keep reading below.
Exclusive Feature Review of WPX Hosting
WPX hosting comes as an excellently manageable provider for WordPress hosting that is able to load a site in a matter of less than a second. It comes with a lot of features that make it different as compared to other hosting providers for WordPress.
Backups for your Website
WPX hosting gives backups for websites regularly. The reserves of the site are stored on servers separately, so there comes no risk for loss of consumer data. Such backups are stored for two weeks.
Free Migration Services Regarding WordPress
You can migrate from your current host to a WPX hosting account absolutely free of cost while also moving any associated emails at the same time.
Email Services
WPX hosting also provides email services for your business in addition to providing hosting services for your business. This way, you can send and receive incoming emails with the help of the email address, which is linked with the domain of the website.
User-Interactive Dashboard
The WPX hosting dashboard is highly convenient and efficient for use. There are no technicalities associated with the panel that makes it challenging to analyze and operate.
All these features are exclusively available in WPX hosting and are not found in most of the hosting services available to users, let alone WordPress hosting services are absolutely devoid of such features.
WPX Hosting Pricing Plans
WPX hosting pricing options are pretty much exciting and user-friendly with its plans and discounts for businesses of different levels. They come with hosting plans for a yearly and monthly basis. The hosting plans are as follows:
Business WPX Hosting Price
Five websites
10 GB storage
100 GB bandwidth
WPX Cloud CDN
The plan comes with the payment of $20.83 US dollars per month if you subscribe to this plan for a yearly basis. However, you can buy the plan for one month for $24.99 US dollars.
Professional WPX Hosting Price
15 websites
20 GB storage
200 GB bandwidth
WPX Cloud CDN
The plan comes with the payment of $41.58 US dollars per month if you subscribe to this plan for a yearly basis. However, you can buy the plan for one month for $49.99 US dollars. This plan is the most popular one among the three WPX hosting pricing plans, and a fair range of medium to large-scale businesses often use this plan to carry on their online website services.
Elite WPX Hosting Price
35 websites
40 GB storage
Infinite bandwidth
WPX Cloud CDN
The plan comes with the payment of $83.25 US dollars per month if you subscribe to this plan on a yearly basis. However, you can buy the plan for one month for $99.00 US dollars. This plan is specially built for businesses with lots of demand for storage of their data on the server and needs a whole stack of servers for their business handling.
The infinite bandwidth option is great for businesses that have to deal with an unlimited influx of data from consumers and need a tactical solution to take care of such situations in a better way.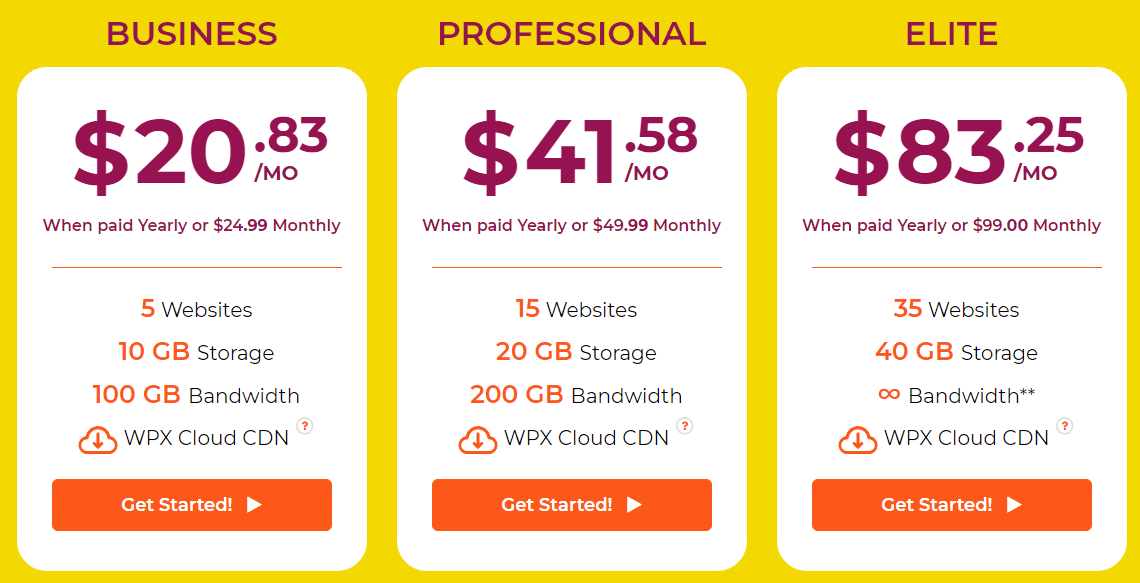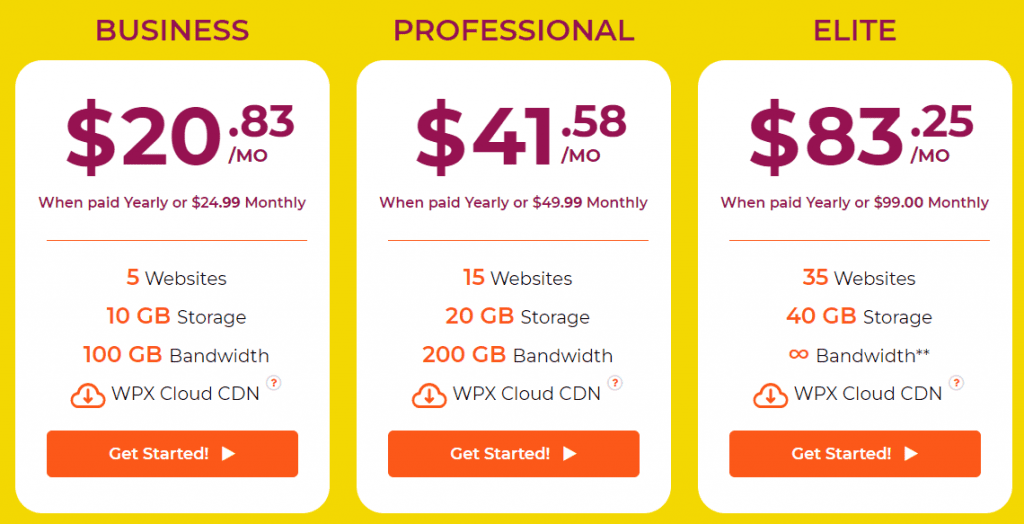 Pricing Comparison with Other Hosting Providers
WPX hosting is fully functional as well as managed hosting services for WordPress. That is why it has a much higher cost in comparison to other hosting services that provide shared hosting services such as SiteGround, Hostgator, and Bluehost.
However, when the hosting service pricing plan for WPX is compared with the other successful hosting companies for the domain in the market such as WPEngine and Kinsta, we can pretty much give a thumb up for the WPX hosting pricing in terms of reliability.
The actual pricing plan for WPX hosting, as mentioned above, starts at around $24.99 US dollars per month. When it is billed by the end of the year, it costs just $20 dollars each month. In the WPX hosting pricing plan for the startups and novices, you can host up to five different websites, which ultimately means you are paying $5 US dollars for hosting one site, and that too with exceptional features.
The other sites for hosting like Kinsta and WPEngine will cost you approximately $30 dollars each month. Unfortunately, all of these 30 dollars are consumed on a single site rather than five different ones.
To get hosting services for five different sites, you will need to pay around $150 dollars each month. The comparison in terms of pricing is obvious here, and you can see why WPX hosting is becoming more popular than its opponents in the market of web hosting service providers.
WPX Hosting Features with All Plans
All WPX hosting prices include the following options:
Excellent running speed
Content Delivery Network in the customary range
Fast response support for unlimited website migration
Email accounts linked with the domain name
SSLs available in the unlimited category
Backups in the manual range
DDoS safety
Scanning and removal of malware
Money-back guarantee for one month
Backups for 28 days (fully automatic)
99.95 percent guarantee for uptime
Installations with one click
Hosting locations present in the US and UK
These are the services that come free of cost to all clients of WPX. They give hosting plans that are highly beneficial and needed in some way or the other, even if these WPX features were not on your priority list. All of these features will be made available to you as soon as you consider buying any of the options given in the pricing list for the hosting.
All of these services will be made available to you, whether you are paying around $20 dollars a month or $100 dollars a month. Let's continue this WPX hosting review by looking at some of the key infrastructure components behind their operation.
Performance
WPX hosting comes with a management dashboard that is highly convenient and easy to use in comparison to other hosting services as they have a complicated and technical dashboard that is often time-taking.
The WPX hosting dashboard, on the contrary, is efficient and gives fast responses even on heavier websites. Be it heavy traffic dealing or handling any upsurge of unconventional traffic on the site, WPX hosting comes with excellent performance.
Data Centers
WPX hosting comes with two data centers for users – UK-based in London and US-based in Chicago. Both of the centers come with the same integrity when it comes to speed and performance.
Security
With the provision of SSL certificates, WPX hosting comes with excellent security systems as it provides google sponsorships absolutely free of cost. The value-added service through hosting is a big yes for businesses that have particular concerns over security. With an SSL certification, the website is rendered authentic for use, which increases the confidence of the traffic for the site. So, SSL assists in providing secure communication for users.
What's more, getting SSL activated for your site roughly requires a few clicks and 10 seconds to the most. The hassle-free process does not come with any form-filling requirements as well.
Support for Customers
There are a lot of points for the WPX hosting plans when it comes to customer support. While you have to wait for a lot of time to get WPX hosting support for customers, WPX hosting plans are pretty much fast and efficient when it comes to providing services to clients. Getting a support ticket is also relatively easier while using WPX hosting.
Pros and Cons – WPX Hosting Review
WPX hosting has a lot of interesting and exclusive features. However, it comes with some drawbacks as well that you might need to take a look at when considering a web host for your website.
Pros for WPX Hosting
Excellent speed and performance capacity
Efficient customer support
Relatively reasonable hosting plans with WPX hosting pricing
Better traffic management
Convenient and easy database
Virus filtering services and other anti-spam services
Cons for WPX Hosting
Not recommended for startup bloggers with a strict budget
The admin dashboard could be better
This is conventionally speaking, the only considerable disadvantage of using WPX hosting. It's recommended that you have a budget for hosting higher than the cheapest plans.
WPX Hosting Discount Offers
WPX hosting, in addition to its plan tiers, provides another opportunity for its users in terms of pricing and that is offering discounts, for example, there are coupons available on the blogs for WPX hosting that provides up to 50 percent. What's more, you might get lucky and get a huge discount for 95 percent on a Black Friday Sale.
Alternatives
If you want to check out some of the alternative choices to WPX hosting, you can check out plans such as Pressidium, Engine, Pressable, and Kinsta.
Final Word – WPX Hosting Review
With the exception of the tweak related to pricing for fresh bloggers, WPX hosting is a fine example of what you should expect from a hosting service. A lot of visitors can visit your site without bringing any downtime, such as a site crash. Also, with smooth migration from any previously used hosting to WPX hosting and transparent analyses of the work done through the hosting, the exclusive features add value to the overall plan you decide to purchase from the company.
In the end, I hope that you found this WPX hosting review helpful and that you found the answers you were looking for. If not, then please reach out and tell me how I could improve this article, or if you have any general questions about this topic.
Overall, the WPX hosting comes with exceptionally working web hosting for customers – and if you want something that works fast and efficiently, WPX hosting is the one service you might consider using.
WPX Hosting Verdict
Summary
The fastest WordPress hosting comes with a large number of features at a great price. You can't go wrong with choosing WPX as your WebHost.